East Daley is reimagining oil market data to provide a better perspective. Other analysts often break down crude oil forecasts by PADD or basin – but the market doesn't work that way.
Our unique Crude Network Model analyzes the commercial operations of the crude network. We balance and forecast flows pipeline by pipeline, in and out of the major crude hubs and at export docks across North America to dissect the crude oil energy value chain.
East Daley leverages our understanding of contractual relationships, tariff rates, preferred routes, as well as data from multiple state and federal regulators to understand fundamentals and key counterparties behind each pipeline. We continually monitor, aggregate and organize this data into a balanced model for each area (Inflow + Production = Outflows + Demand).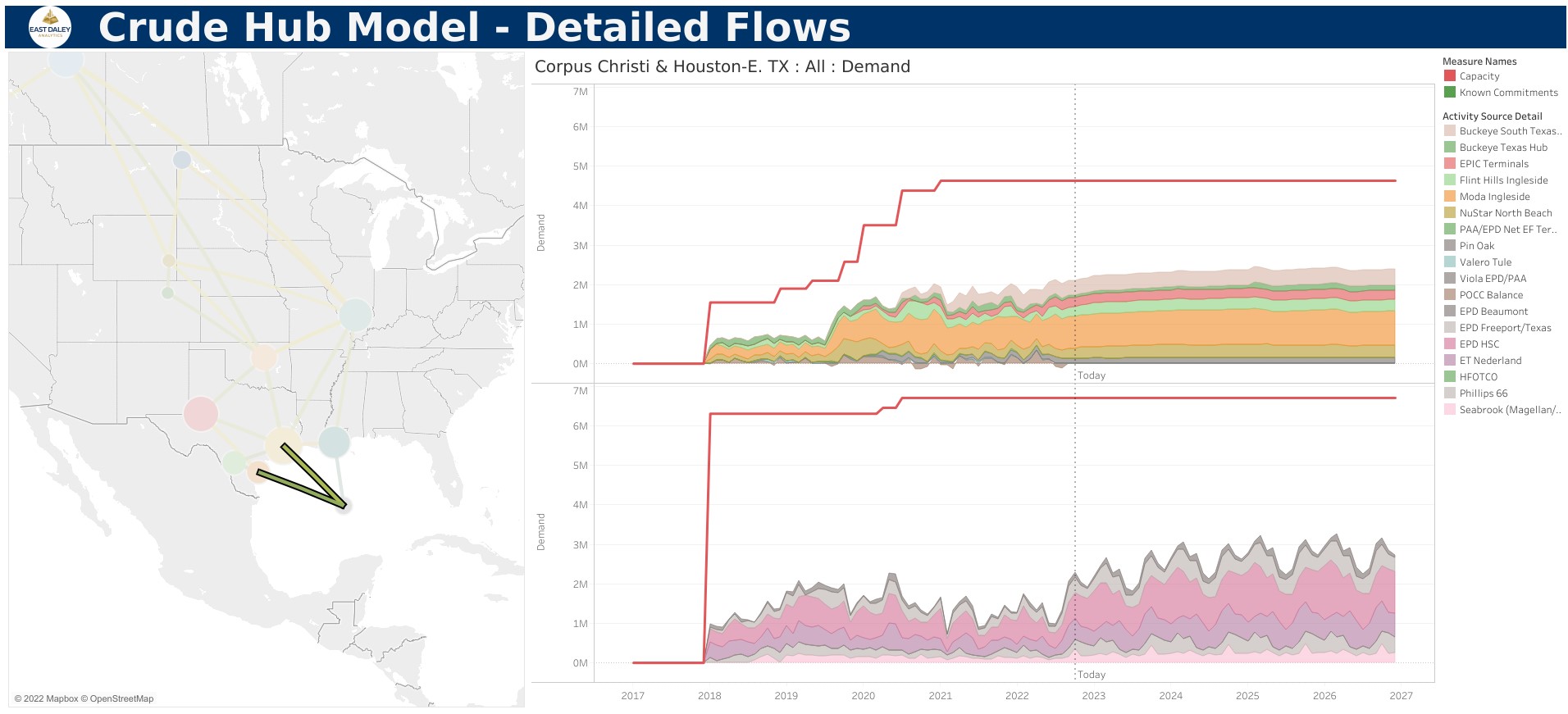 Crude Network Model users can:
Analyze crude pipeline flows and capacity by major hubs across the U.S.

Monitor monthly crude production by basin

Distinguish between nameplate capacity and effective capacity

Understand impacts to the major crude export ports from supply growth and pipeline flows

Determine the ripple effect of supply growth on different pipe corridors

Analyze month-over-month basis forward curves and compare to East Daley's price forecasts

Quickly see factors like, origin and destinations markets, current tariff rates (committed, uncommitted, and incentive), as well as known shippers
This monthly publication is deliverable in multiple data formats and through a suite of visual dashboards on our Energy Data Studio. To request a free trial or tutorial of our Crude Network Model and dashboard, please contact AJ O'Donnell at aodonnell@eastdaley.com.
The Daley Note
Subscribe to The Daley Note (TDN) for midstream insights delivered daily to your inbox. The Daley Note covers news, commodity prices, security prices and EDA research likely to affect markets in the short term.