Natural Gas Watch: October 6, 2022
Natural Gas Watch is East Daley's weekly review of natural gas market fundamentals, provided free to subscribers each Thursday morning ahead of the EIA storage release. Subscribe to Natural Gas Watch. "Cut through the noise, take action."
Updated 10/6/2022, 2:00 PM MT: EIA reported a 129 Bcf withdrawal for the Sept. 30 week following our post, bringing storage to 3,106 Bcf.
Trunkline continues to flow gas northbound out of the Haynesville, which is atypical at this time of the year. East Daley assumes these flows are the result of a call to fill storage before winter. This data backs our assumption of 100+ Bcf storage builds in the next few weeks.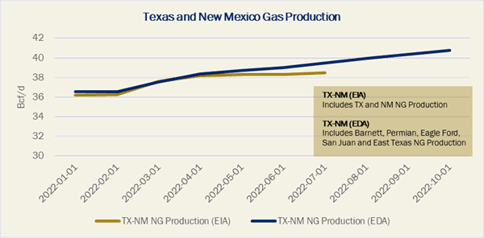 The latest EIA state data indicates a slower supply ramp than we expected. EIA's gross gas for Texas and New Mexico shows combined production of 38.5 Bcf/d in July, slightly below our regional forecast (39.5 Bcf/d). East Daley is confident that our September/October production estimates are accurate based on price signals from Waha over the past few weeks. We see steadier growth from April to August 2022, while the EIA estimates suggest lower output in July with a more significant ramp in August and September. This does not change our view through 2023, as we are seeing increased rig activity that will contribute to supply growth.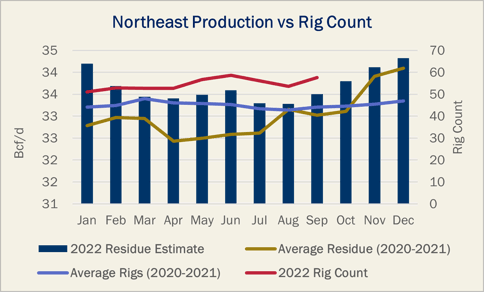 We forecast higher Northeast gas supply in 4Q due to a normal seasonal ramp. Northeast rig counts are up from mid-August, averaging 58 rigs in September, which adds confidence to our forecast for regional production growth of 823 MMcf/d through year-end.
Northeast producers often back-load well completions to take advantage of higher winter demand and prices. For example, Coterra guided to finishing 65% of its completion in 2H22. In 2020 and 2021, Northeast production grew by 1.5 Bcf/d on average in 4Q.
Dry production for the 9/29 – 10/5 week averaged 100.2 Bcf/d according to flows. We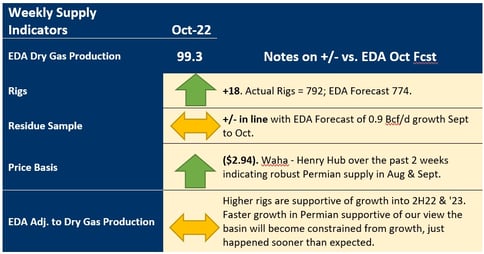 estimate October production to average 99.3 Bcf/d in our Macro Supply and Demand Forecast.
We forecast storage to end October at 3,442 Bcf, implying 426 Bcf of injections during the month of October. Our forecast would leave inventories 189 Bcf short of the 5-year average.
Upcoming Webinar: Dissecting U.S. Natural Gas Production

Join us at 12 p.m. ET on Wednesday, October 12 for a webinar discussion of U.S. natural gas supply and demand. In this 30-minute webinar, East Daley analysts will go behind the curtain and share our unique production methodology. Click here to register and for more information.
Natural Gas Watch
Subscribe to Natural Gas Watch Cut through the noise, take action." NGW highlights East Daley's high-level perspective on weekly natural gas market changes.