The Daley Note: December 12, 2022
Kinder Morgan (KMI) is guiding to a strong performance in 2023, a somewhat surprising development given our perspective on the year ahead. In our company Blueprint Financial Model, East Daley is well under KMI's outlook for 2023.
KMI released guidance for 2023 last Thursday (Dec. 8). The company expects EBDA of $8.2 billion, ~7% above East Daley's current forecast of $7.65 billion in our KMI Blueprint (see chart). KMI attributes the gains to demand for gas transport and storage services, tariff escalations on liquids pipelines, G&P and products growth, as well as Jones Act tanker recontacting.
Dirty Little Secrets is only two days away! East Daley will host the Dirty Little Secrets webinar on Dec. 14, 2022 at 12:30 EST, reviewing key market trends that will shape the US energy sector in the years ahead. To learn more, please register for the Dirty Little Secrets webinar.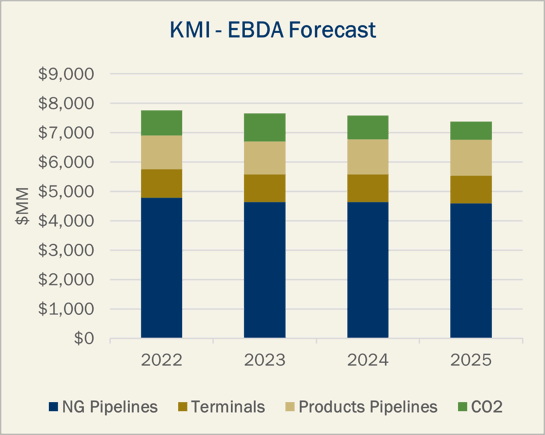 East Daley's Blueprint Financial Models build companies from the bottom up by asset-level volumes and rates, allowing users to understand a midstream company as complex as KMI. Based on the new guidance provided by the company, we're trying to understand the gap in our outlook for 2023.

For example, East Daley models tariff escalations at 12% on liquids pipelines in our KMI Blueprint, when the maximum increase allowed is currently 13.5%. If we raise these tariffs up to the maximum ceiling, it would move up our 2023 EBDA forecast by $5 million.
We also assume flat rates for KMI from the recontacting of Jones Act tankers. Were KMI to obtain higher rates for the tankers in line with the 2019 average, EBDA in 2023 would increase by $30 million in our Blueprint model.
Looking at commodity prices, KMI assumes $85/bbl WTI prices in 2023, while the current forward strip sits at $79. Increasing our WTI assumption to $85 would increase 2023 EBDA by $28 million. Lastly, East Daley assumes refined products demand stays below 2019 levels due to recession fears and higher prices in California. Even if we add up all these rosier assumptions, we struggle to arrive at the $8.2 billion guidance provided by KMI. – Zack Van Everen Tickers: KMI.

Dirty Little Secrets 2023 – Is Another Infrastructure Wave Ahead?
Is Midstream on the cusp of another infrastructure wave? East Daley will explore the potential in our annual Dirty Little Secrets webinar on December 14 at 12:30 EST.
Sign up to view the 2023 Dirty Little Secrets Webinar
The Russia-Ukraine conflict has pushed commodity prices higher and spurred greater global demand for US energy products. Meanwhile, more disciplined growth from the upstream has infrastructure finally filling up across commodities. Will exports power the next infrastructure boom?
Dirty Little Secrets is East Daley's annual report on energy markets and the road ahead for Midstream. We share our macroeconomic outlooks for US oil, natural gas and NGLs, highlight key infrastructure opportunities, update on the state of the Energy Transition, and share our view on Midstream's future role in energy.
For updates on the 2023 Dirty Little Secrets report, please click here.

3Q22 Earnings Previews and Earnings Reviews Now Available
East Daley has published a complete group of 3Q22 Earnings Previews and Blueprint Financial Models for midstream companies within our coverage. We also are publishing 3Q22 Earnings Reviews as companies report comparing our forecasts vs results. Quarterly Earnings Previews and Blueprints are now available for Antero Midstream (AM), Crestwood Equity (CEQP), Enbridge (ENB), EnLink Midstream (ENLC), Enterprise Products (EPD), Energy Transfer (ET), Equitrans Midstream (ETRN), Kinder Morgan (KMI), Kinetik Holdings (KNTK), Magellan Midstream (MMP), MPLX (MPLX), ONEOK (OKE), Plains All American (PAA), Summit Midstream (SMLP), Targa Resources (TRGP), TC Pipelines (TRP), Western Midstream (WES) and Williams (WMB).
Our Earnings Previews include quarterly earnings forecasts compared to Street consensus, a detailed list of the top assets that will impact the quarter, analysis of near- and long-term risks to future earnings, along with forecasts for Adj. EBITDA by segments. Please log in to access these reports.
The Daley Note
Subscribe to The Daley Note (TDN) for midstream insights delivered daily to your inbox. The Daley Note covers news, commodity prices, security prices and EDA research likely to affect markets in the short term.