The Daley Note: August 25, 2023
A federal appeals court has halted permitting for a rail line that would expand markets for the unique crude oil produced from the Uinta Basin in Utah.
Last Friday (August 18), a federal appeals court revoked permits issued by the Surface Transportation Board, the federal agency overseeing US rail operations, approving the Uinta Basin Railway project. The court ruled a final exemption for the project to be arbitrary and capricious and failed to adequately assess its environmental impacts.
Located in northeastern Utah, the Uinta Basin produces about 140 Mb/d of crude oil and 700 MMcf/d of natural gas, according to East Daley's Energy Data Studio (see figure). But growth is stunted by takeaway issues rooted in the unusual properties of the basin's crude.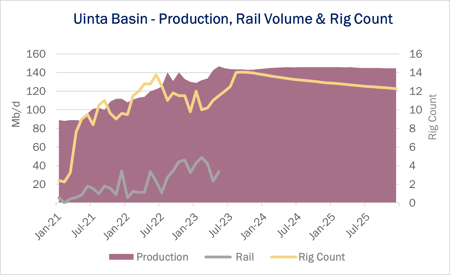 The Uinta produces a waxy crude oil with a high pour point of ~110 Fahrenheit, which rules out transport by pipeline. Most Uinta oil is delivered by truck to refineries based in Salt Lake City and to two small rail terminals that deliver to Gulf Coast refiners. When transported by rail, the waxy crude is heated to a liquid form, transported as a solid wax, then reheated at the unloading destination.
The Uinta Basin Railway would address these constraints. The project includes ~80 miles of new train tracks from Myton City, UT to a Union Pacific Railway common-carrier service near Kyune, UT. From Kyune, shippers would move crude east to a rail hub in Denver, CO, then rail volumes to the vast Gulf Coast refinery market. The project is privately funded and expected to cost $1.2-1.5B.
The proposed railway would be able to move up to ten trains per day, or up to 350 Mb/d of crude. The Seven Counties Infrastructure Coalition, the group of producers and Utah counties backing the project, estimates Uinta crude production could grow by 100 Mb/d over three years if the railway were available.
The proposed rail route would pass through Colorado along Interstate 70 and near the Colorado River, raising the environmental stakes. In 2021, the Surface Transportation Board exempted the Uinta Basin Railway from a more comprehensive review under the National Environmental Protection Act, and ultimately granted the project environmental permits following the expedited review. The appeals court took issue with this decision, finding the agency failed to consider several potential environmental impacts in its review of the project, including the risk of a spill in the Colorado River basin.
Producers affected by this ruling include Finley Resources, Crescent Energy, Ovintiv (OVV) and Uinta Wax. On the midstream side, Kinder Morgan (KMI), Western Midstream (WES) and MPLX (MPLX) are some of the companies providing G&P services in the Uinta Basin, according to Energy Data Studio. – Kristine Oleszek Tickers: KMI, MPLX, OVV, WES.
Subscribe to the Crude Oil Edge
East Daley's Crude Oil Edge provides bi-monthly updates on the US Crude Oil Market including supply and demand fundamentals, basin-level views, and analysis of market constraints and infrastructure proposals. We explore sub-basin dynamics and provide market insights on crude oil flows, production growth, and import and export characteristics. Sign up now for the Crude Oil Edge.
New Webinar:

Crude Oil Market Update: 5 Reasons to be Bullish and 1 Not to Be
August 31, 2023 | 10:30 AM MT | Online Webinar
Join East Daley for a webinar exploring US Crude Oil market fundamentals. We provide reasons why expect a strong and healthy outlook for US crude. We will dissect global and domestic economic headwinds and what these mean for US midstream companies, as well as the effects of production growth in the US and infrastructure projects to support it. RSVP HERE
Energy Data Studio
East Daley Analytics has launched Energy Data Studio, a platform for our industry-leading midstream data and commodity production forecasts. All clients have access to the new client portal. If you have not yet logged in, please fill out the form to request a registration email be resent.
Energy Data Studio leverages our G&P data set for insights into midstream assets across every major oil and gas basin in North America. Users can navigate detailed visual dashboards by region, pipeline, or individual asset to understand crude oil, natural gas and NGL supply at the most granular level.
Energy Data Studio is available through data downloads from the visual interface, in Excel files, or as a direct feed delivered into subscribers' workflow via secure file transfer. To learn more about Energy Data Studio, please contact insight@eastdaley.com.
Review the Year Ahead in Dirty Little Secrets
The 2023 Dirty Little Secrets is Now Available! Is Midstream on the cusp of another infrastructure wave? Find out in our new annual report.
Dirty Little Secrets reviews the outlook for Midstream and commodity markets in 2023 and the years ahead. East Daley discusses the outlook for crude oil, natural gas and NGLs and the impacts to midstream assets in our 2023 Dirty Little Secrets annual market report. Click here for a copy of the 2023 Dirty Little Secrets report.
The Daley Note
Subscribe to The Daley Note (TDN) for midstream insights delivered daily to your inbox. The Daley Note covers news, commodity prices, security prices and EDA research likely to affect markets in the short term.