The Daley Note: May 4, 2023
Energy Transfer (ET) warned it may lose a customer for Lake Charles LNG after the Department of Energy (DOE) denied a second request to extend an export license deadline for the project.
ET management ripped the DOE ruling on its 1Q23 earning call, calling it an "arbitrary and capricious political decision." ET is "upset and frustrated and shocked and surprised," co-CEO Marshall McCrea said, noting one project customer has given notice to "go another direction" after the ruling. ET plans to appeal the DOE decision, he said.
Counterparties signed with Lake Charles LNG include Shell, China Gas, ENN, Gunvor, and South Korea's SK Gas Trading. The project has signed sales and purchase agreements (SPAs) totaling nearly 8 million tons per annum (MMtpa) of LNG (~1 Bcf/d of demand).
The denial by DOE comes as the agency's Department of Fossil Energy announces a new policy intended to tighten export licensing to countries without US free trade agreements (non-FTA).
Under the new statement, DOE affirmed its current policy of allowing for up to seven years between when the agency grants approval to export to non-FTA countries (typically for 20-year terms) and the start of exports by a new LNG facility. But DOE said it will no longer consider requests to extend the deadline beyond seven years, unless applicants can show that construction work on a project has begun and that they faced "extenuating circumstances" preventing them from meeting the deadline. Companies that see their export authorizations expire after seven years can submit a new non-FTA application, which DOE said will be considered "without prejudice".
DOE said the policy change will address a growing number of non-FTA export approvals for LNG projects still in commercial development. The agency cited a 25.6 Bcf/d gap between total authorized non-FTA exports (49.8 Bcf/d), and authorizations for LNG projects operational or under construction (24.2 Bcf/d). DOE said the "overhang" of approvals creates uncertainty and is disruptive to its planning and market analysis of LNG exports. The revised approach will create space for new LNG projects seeking to gain a foothold in the US market, DOE argues.
DOE's ruling against Lake Charles was decided separately but consistent with the new policy. ET had sought a three-year extension to the deadline for its non-FTA license, from Dec. 16, 2025 to Dec. 16, 2028, to align with the latest construction schedule in its FERC application. DOE had previously okayed a similar request, but in this case ruled that Lake Charles failed to show good cause for granting a second deadline extension.
The decision leaves the Louisiana project in limbo. Under the new DOE policy, ET still has two years to begin construction and then file for an extension to its non-FTA authorization. However, ET would likely need to make a final investment decision (FID) on Lake Charles before construction can start, and lenders and counterparties may balk on a final package now that the DOE export license is no longer certain. Indeed, ET cited in its request to DOE "complex FID financing arrangements" and commitments in offtake agreements as the need to extend the deadline a second time. The fact a customer is ready to abandon the project serves to confirm this fear.
As East Daley details in 2023 Dirty Little Secrets, the long-term outlook for LNG exports is extremely bullish. We see US gas demand for exports as a potential 30 Bcf/d market by 2030, supporting an eventual call for more supply. But there are plenty of other contenders beside Lake Charles (see table), and LNG buyers may seek out other Gulf Coast projects with fewer existential issues. – Andrew Ware Tickers: ET.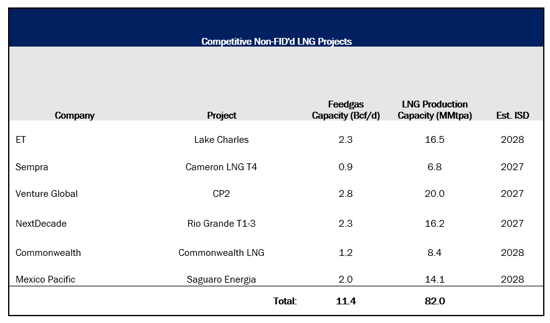 1Q23 Earnings Previews Now Available in Energy Data Studio
East Daley Analytics has published 1Q23 Earnings Previews and Financial Blueprint Models for all midstream companies in our coverage. Our industry-leading Blueprints provide historical and forecasted volumes and financial information for 1,300+ midstream infrastructure assets by individual company.
1Q23 Earnings Previews and updated Financial Blueprints models are available for the following companies: AM, CEQP, DTM, ENB, ENLC, EPD, ET, ETRN, GEL, KMI, KNTK, MMP, MPLX, OKE, NS, PAA, PBA, SMLP, TRGP, TRP, WES and WMB.
Subscribers can access these reports on the Energy Data Studio platform. For more information about East Daley's Financial Blueprints, please reach out.
Track Midstream Performance in 1Q23 Earnings Reviews
East Daley Analytics is publishing 1Q23 Earnings Reviews as companies provide updates. Use the Earnings Reviews to evaluate performance against our Financial Blueprint Models for the midstream sector. Our industry-leading Blueprints provide historical and forecasted volumes and financial information for 1,300+ midstream infrastructure assets by individual company.
1Q23 Earnings Reviews are now available for AM, CEQP, DTM, EPD, ET, and TRP. Subscribers can access these reports on the Energy Data Studio platform. For more information about Earnings Reviews, please reach out.
Request Access to Energy Data Studio
East Daley Analytics has launched Energy Data Studio, a platform for our industry-leading midstream data and commodity production forecasts. All clients have access to the new client portal. If you have not yet logged in, please fill out the form to request a registration email be resent.
Energy Data Studio leverages our G&P data set for insights into midstream assets across every major oil and gas basin in North America. Users can navigate detailed visual dashboards by region, pipeline, or individual asset to understand crude oil, natural gas and NGL supply at the most granular level.
Energy Data Studio is available through data downloads from the visual interface, in Excel files, or as a direct feed delivered into subscribers' workflow via secure file transfer. To learn more about Energy Data Studio, please contact insight@eastdaley.com.
Review the Year Ahead in Dirty Little Secrets
The 2023 Dirty Little Secrets is Now Available! Is Midstream on the cusp of another infrastructure wave? Find out in our new annual report.
Dirty Little Secrets reviews the outlook for Midstream and commodity markets in 2023 and the years ahead. East Daley discusses the outlook for crude oil, natural gas and NGLs and the impacts to midstream assets in our 2023 Dirty Little Secrets annual market report. Click here for a copy of the 2023 Dirty Little Secrets report.
The Daley Note
Subscribe to The Daley Note (TDN) for midstream insights delivered daily to your inbox. The Daley Note covers news, commodity prices, security prices and EDA research likely to affect markets in the short term.