The Daley Note: November 28, 2022
The outlook for LNG exports has never been brighter. By the end of this decade, US liquefaction capacity could expand to nearly 30 Bcf/d, East Daley reveals in 2023 Dirty Little Secrets, fueling long-term demand growth for natural gas.

LNG markets entered 2022 with momentum as global economies exited Covid lockdowns. Then Russia attacked Ukraine on February 24, pouring gasoline on the fire in markets. Our latest forecast reflects the rapid commercial progress made in 2022 by LNG projects based mainly on the Gulf Coast, including several new entrants to the field.
In May, East Daley published a Midstream Navigator highlighting the rapid surge in natural gas demand via LNG exports (log in to see our May 10 Navigator, "Gas Market Eyes New LNG Project Wave). Total US LNG exports hit multiple record highs in early 2022, peaking at 12.1 Bcf/d in March before an outage at the Freeport facility hobbled export capacity. Demand from Europe has driven exports as utilities there sought alternatives to Russian gas. European Union countries took in 74% (8.4 Bcf/d) of the LNG sent overseas in March and April, according to Energy Information Administration (EIA) data. This compares to Europe's average 34% market share for US LNG exports in 2021. The war in Ukraine has sent a strong signal that Russia cannot be depended upon for energy resources, making US LNG an attractive substitute.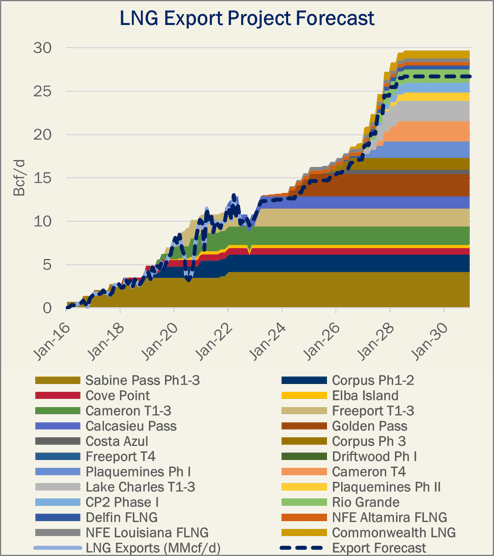 East Daley in May projected 4 Bcf/d of new export demand set to come online by YE2025, led by ExxonMobil's (XOM) Golden Pass near Port Arthur, TX and a continued ramp at Venture Global's Calcasieu Pass project in southwestern Louisiana. Looking beyond 2025, East Daley was tracking eight LNG projects expected to add 10 Bcf/d of additional demand. Including 4-5 years of construction lead time, we estimated the next wave of LNG projects could bring total LNG export capacity to over 25 Bcf/d by 2030.
Since that report, our outlook for LNG exports has moved higher (see figure). To be sure, it hasn't been a straight line. We've downgraded the prospects for Tellurian's (TELL) Driftwood LNG given its problems securing project financing. We also removed Freeport LNG's Phase 4 expansion from our "long list," assuming the explosion at the plant in June will dampen commercial interest.
But these downgrades are more than made up for by commercial progress at other projects. New entrants include Venture Global's Plaquemines LNG, Sempra Energy's (SRE) Costa Azul, and Commonwealth LNG. Delfin LNG and New Fortress Energy (NFE) have also lined up customers for offshore projects using floating LNG (FLNG) technology, which aims to shorten the lead time required to bring online new LNG demand. Developers have reached a final investment decision (FIDs) greenlighting construction on two projects so far in 2022: Cheniere Energy's (LNG) Phase III expansion at Corpus Christi and Venture Global's Plaquemines Phase I. We anticipate more FIDs ahead in 2023.
In total, East Daley forecasts nearly 30 Bcf/d of export capacity by 2030. Assuming 90% utilization, we expect 26.7 Bcf/d of LNG exports by 2028, a 260% increase over recent volumes. Our outlook on natural gas and LNG will be further revealed in the upcoming 2023 Dirty Little Secrets, East Daley's annual market report summarizing trends we expect to shape the US midstream energy sector during the year ahead. We publish the report each December, highlighting our analysis of macro themes that give subscribers an edge in the energy market. We also hold a webinar with our analysts that covers the details of the annual report. Click here to view last year's Dirty Little Secrets 2022 report and webinar and learn about our upcoming Dirty Little Secrets 2023. — Oren Pilant Tickers: LNG, NFE, SRE, TELL, XOM.
Dirty Little Secrets 2023 – Is Another Infrastructure Wave Ahead?
Is Midstream on the cusp of another infrastructure wave? East Daley will explore the potential in our annual Dirty Little Secrets market report on December 14 at 12:30 EST.
Sign up to view the 2023 Dirty Little Secrets Webinar
The Russia-Ukraine conflict has pushed commodity prices higher and spurred greater global demand for US energy products. Meanwhile, more disciplined growth from the upstream has infrastructure finally filling up across commodities. Will exports power the next infrastructure boom?
Dirty Little Secrets is East Daley's annual report on energy markets and the road ahead for Midstream. We share our macroeconomic outlooks for US oil, natural gas and NGLs, highlight key infrastructure opportunities, update on the state of the Energy Transition, and share our view on Midstream's future role in energy.
For updates on the 2023 Dirty Little Secrets report, please click here.

3Q22 Earnings Previews and Earnings Reviews Now Available
East Daley has published a complete group of 3Q22 Earnings Previews and Blueprint Financial Models for midstream companies within our coverage. We also are publishing 3Q22 Earnings Reviews as companies report comparing our forecasts vs results. Quarterly Earnings Previews and Blueprints are now available for Antero Midstream (AM), Crestwood Equity (CEQP), Enbridge (ENB), EnLink Midstream (ENLC), Enterprise Products (EPD), Energy Transfer (ET), Equitrans Midstream (ETRN), Kinder Morgan (KMI), Kinetik Holdings (KNTK), Magellan Midstream (MMP), MPLX (MPLX), ONEOK (OKE), Plains All American (PAA), Summit Midstream (SMLP), Targa Resources (TRGP), TC Pipelines (TRP), Western Midstream (WES) and Williams (WMB).
Our Earnings Previews include quarterly earnings forecasts compared to Street consensus, a detailed list of the top assets that will impact the quarter, analysis of near- and long-term risks to future earnings, along with forecasts for Adj. EBITDA by segments. Please log in to access these reports.
The Daley Note
Subscribe to The Daley Note (TDN) for midstream insights delivered daily to your inbox. The Daley Note covers news, commodity prices, security prices and EDA research likely to affect markets in the short term.