The Daley Note: November 22, 2022
Happy Thanksgiving to our clients and readers. This season East Daley is thankful for family, friends and the energy industry, which makes all else possible. In the spirit of the season we share an old market call, flagging the bankruptcy and debt-pricing risk at Ruby Pipeline LLC. Joint asset owner Pembina Pipeline (PBA) late Friday (Nov. 18) announced a settlement agreement that would see the company pay $102 million to settle its liabilities.
East Daley believes investors should never be surprised by a knowable market event. In October 2021 we warned clients that "we see bankruptcy as a distinct possibility for Ruby as early as April 2022 without a restructuring deal." Five months later, Ruby Pipeline filed for Chapter 11 bankruptcy protection March 31, 2022.
Have concerns about risk on other midstream assets? East Daley Advisory Services is a unique data and analytics solutions service leveraging our in-house integrated commodity and financial data and modeling capabilities to bring clients comprehensive answers. Reach out to East Daley Advisory Services for more information.
The following Midstream Navigator, "Bankruptcy Battle Looms for Ruby Pipeline," was published by East Daley on October 18, 2021.
Ruby Pipeline Faces Uphill Struggle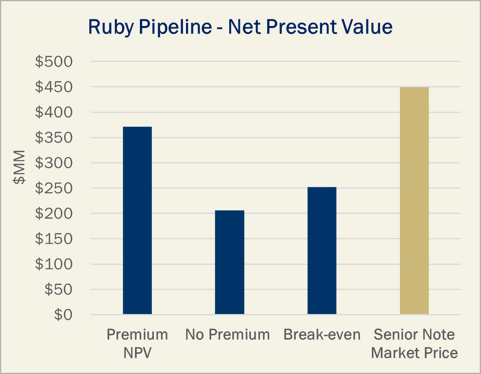 Joint 50% owners Kinder Morgan (KMI) and Pembina Pipeline (PBA) may be at risk of losing control of Ruby Pipeline as they continue negotiations with bondholders to restructure the asset's debt. Contracts accounting for nearly 60% of Ruby's capacity rolled off at the end of July, leaving the pipeline system in dire financial straits. We project a 65% decline in annual revenue following the contract cliff, and we see bankruptcy as a possibility for Ruby as early as April 2022 without a restructuring deal. Both KMI and PBA have already recorded significant write-downs on the book value of Ruby. However, we question whether debt markets are properly pricing the contracting risk that Ruby confronts if debtholders take ownership of the asset....
To continue reading this Midstream Navigator, please click here...
Dirty Little Secrets 2023 – Is Another Infrastructure Wave Ahead?
Is Midstream on the cusp of another infrastructure wave? East Daley will explore the potential in our annual Dirty Little Secrets market report on December 14 at 12:30 EST.
Sign up to view the 2023 Dirty Little Secrets Webinar
The Russia-Ukraine conflict has pushed commodity prices higher and spurred greater global demand for US energy products. Meanwhile, more disciplined growth from the upstream has infrastructure finally filling up across commodities. Will exports power the next infrastructure boom?
Dirty Little Secrets is East Daley's annual report on energy markets and the road ahead for Midstream. We share our macroeconomic outlooks for US oil, natural gas and NGLs, highlight key infrastructure opportunities, update on the state of the Energy Transition, and share our view on Midstream's future role in energy.
For updates on the 2023 Dirty Little Secrets report, please click here.

3Q22 Earnings Previews and Earnings Reviews Now Available
East Daley has published a complete group of 3Q22 Earnings Previews and Blueprint Financial Models for midstream companies within our coverage. We also are publishing 3Q22 Earnings Reviews as companies report comparing our forecasts vs results. Quarterly Earnings Previews and Blueprints are now available for Antero Midstream (AM), Crestwood Equity (CEQP), Enbridge (ENB), EnLink Midstream (ENLC), Enterprise Products (EPD), Energy Transfer (ET), Equitrans Midstream (ETRN), Kinder Morgan (KMI), Kinetik Holdings (KNTK), Magellan Midstream (MMP), MPLX (MPLX), ONEOK (OKE), Plains All American (PAA), Summit Midstream (SMLP), Targa Resources (TRGP), TC Pipelines (TRP), Western Midstream (WES) and Williams (WMB).
Our Earnings Previews include quarterly earnings forecasts compared to Street consensus, a detailed list of the top assets that will impact the quarter, analysis of near- and long-term risks to future earnings, along with forecasts for Adj. EBITDA by segments. Please log in to access these reports.
The Daley Note
Subscribe to The Daley Note (TDN) for midstream insights delivered daily to your inbox. The Daley Note covers news, commodity prices, security prices and EDA research likely to affect markets in the short term.