The Daley Note: November 21, 2022
On its 3Q22 earnings call, Targa Resources (TRGP) announced plans to build Daytona, a new Permian NGL pipeline with an initial capacity of 400 Mb/d. While NGL pipeline egress out of the basin is overbuilt, according to East Daley's NGL Network Model, Daytona makes sense for TRGP as it rapidly grows its Permian G&P systems and NGL production.
The new project will add a twin line to the 550 Mb/d Grand Prix pipeline. Like Grand Prix, Daytona would be a 75/25 joint venture between TRGP and Blackstone Energy Partners. According to our NGL Network Model, Grand Prix throughput will near capacity by YE24, which means Daytona's expected in-service date of 4Q24 would be perfect timing.
Get a complete view of NGL markets in The NGL Roundup, now available FREE from East Daley Analytics. The NGL Roundup reviews monthly NGL data from EIA and East Daley's own basin-level supply forecasts of Y-grade and NGL purity products. We provide a FREE snapshot of data from our NGL Network Model and Purity Product Dataset. Sign up to receive the NGL Roundup.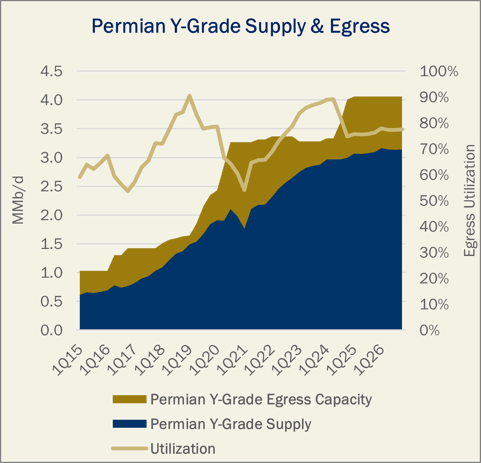 Management said the Daytona project will cost $650 million and will follow expansions to the company's downstream and upstream NGL projects. TRGP expects to complete its 120 Mb/d Train 9 fractionator in 2Q24 and is expanding its LPG export capacity by 1 MMbbl per month by mid-2023. Targa is also bringing online over 1.13 Bcf/d of Permian natural gas processing capacity through 2024. At full capacity and assuming a conservative 5.0 gallons of NGLs per Mcf of natural gas (GPM), those new processing plants could generate 135 Mb/d of Y-grade to send on Daytona and Grand Prix to Gulf Coast fractionators.
Over the next few years, Targa also has commitments rolling off competing Permian NGL pipelines for its existing Permian processing plants. Our NGL Network Model shows DCP Midstream's (DCP) Sand Hills and ONEOK's (OKE) West TX LPG pipelines are set to lose ~80 Mb/d and ~60 Mb/d of Y-grade volumes from TRGP plants through 2024. We use forecasts from the NGL model to inform the outlook for DCP, OKE, TRGP and other midstream companies in our Blueprint Financial Models. Fortunately for DCP and OKE, FERC-indexed rate increases and continued growth in overall Permian NGL supply should limit the financial impact of these contract roll-offs, according to our company Blueprints.
The bigger issue for DCP and OKE will be trying to grow volumes on those pipes. The competition for volumes is certainly heating up for long-haul Permian NGL pipelines, and having control of the barrel at the plant will be crucial to ensuring continued volume growth. TRGP's acquisition of Lucid and Enterprise Products' (EPD) acquisition of Navitas are prime examples of this trend, as now both companies have announced expansions to Permian NGL egress capacity. — Ajay Bakshani, CFA Tickers: DCP, EPD, ET, OKE, TRGP.
Dirty Little Secrets 2023 – Is Another Infrastructure Wave Ahead?
Is Midstream on the cusp of another infrastructure wave? East Daley will explore the potential in our annual Dirty Little Secrets market report on December 14 at 12:30 EST.
Sign up to view the 2023 Dirty Little Secrets Webinar
The Russia-Ukraine conflict has pushed commodity prices higher and spurred greater global demand for US energy products. Meanwhile, more disciplined growth from the upstream has infrastructure finally filling up across commodities. Will exports power the next infrastructure boom?
Dirty Little Secrets is East Daley's annual report on energy markets and the road ahead for Midstream. We share our macroeconomic outlooks for US oil, natural gas and NGLs, highlight key infrastructure opportunities, update on the state of the Energy Transition, and share our view on Midstream's future role in energy.
For updates on the 2023 Dirty Little Secrets report, please click here.

3Q22 Earnings Previews and Earnings Reviews Now Available
East Daley has published a complete group of 3Q22 Earnings Previews and Blueprint Financial Models for midstream companies within our coverage. We also are publishing 3Q22 Earnings Reviews as companies report comparing our forecasts vs results. Quarterly Earnings Previews and Blueprints are now available for Antero Midstream (AM), Crestwood Equity (CEQP), Enbridge (ENB), EnLink Midstream (ENLC), Enterprise Products (EPD), Energy Transfer (ET), Equitrans Midstream (ETRN), Kinder Morgan (KMI), Kinetik Holdings (KNTK), Magellan Midstream (MMP), MPLX (MPLX), ONEOK (OKE), Plains All American (PAA), Summit Midstream (SMLP), Targa Resources (TRGP), TC Pipelines (TRP), Western Midstream (WES) and Williams (WMB).
Our Earnings Previews include quarterly earnings forecasts compared to Street consensus, a detailed list of the top assets that will impact the quarter, analysis of near- and long-term risks to future earnings, along with forecasts for Adj. EBITDA by segments. Please log in to access these reports.
The Daley Note
Subscribe to The Daley Note (TDN) for midstream insights delivered daily to your inbox. The Daley Note covers news, commodity prices, security prices and EDA research likely to affect markets in the short term.