The Daley Note: November 17, 2022
Don't look now, but rig counts in the Anadarko Basin are up 25% Y-o-Y, from 72 to 90 rigs in early November, contributing to East Daley's thesis that the natural gas market will be oversupplied in 2023 without a correction in price. Anadarko rig counts were as high as 98 rigs in October, according to our Midstream Activity Tracker.
View East Daley's FREE Natural Gas Watch Report



Continental Resources (CLR), Citizen Energy and Devon Energy (DVN) currently combine for 16 rigs operating in the Anadarko. Producers adding rigs over the past year include Paloma Resources (+3), BCE-Mach (+3) and DVN (+2). In 3Q22, Anadarko samples rose 6% vs the year-ago quarter. Over that same period, most G&P system operators in the Anadarko have seen modest growth Y-o-Y including ONEOK (OKE), EnLink Midstream (ENLC) and DCP Midstream (DCP).
Sign up to view the 2023 Dirty Little Secrets Webinar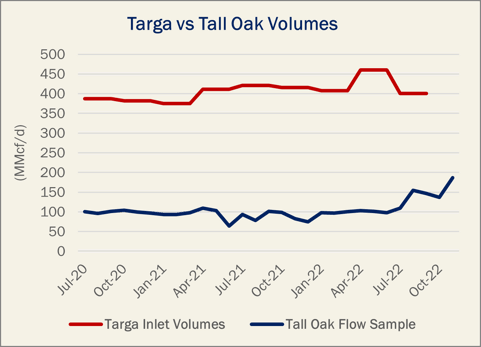 Targa Resources (TRGP) is the exception, with the company's SouthOK G&P system posting a 5% Y-o-Y volume decline in 3Q pipeline samples. TRGP reported in its 3Q22 earnings call that SouthOK volumes fell 13% Q-o-Q due to contract roll-offs.

East Daley believes that Tall Oak Midstream is the likely inheritor of these volumes from Targa. In 3Q, we saw a jump in volumes supplied by Tall Oak on MarkWest's Arkoma Connector Pipeline, from ~100 MMcf/d to ~150 MMcf/d. According to Tall Oak, the Panther Creek processing plant (200 MMcf/d) was completed in 2019 and currently moves residue gas onto the Arkoma Connector line.
While we are uncertain as to the exact shrink rate between gross and residue gas at the Panther Creek plant, the relative volumes are consistent. TRGP reported a drop of 60 MMcf/d in SouthOK plant inlet volumes, while via pipe samples, Tall Oak is showing an increase of ~50 MMcf/d in residue gas output (see figure). Given that East Daley expects nearly all of TRGP's $1 billion in operating profit over the next two years to come from the Permian Basin, according to our company Blueprint Financial Model, Tall Oak's gain is certainly more significant than Targa's loss. – Rob Wilson Tickers: CLR, DCP, DVN, ENLC, OKE, TRGP.
Dirty Little Secrets 2023 – Is Another Infrastructure Wave Ahead?
Is Midstream on the cusp of another infrastructure wave? East Daley will explore the potential in our annual Dirty Little Secrets market report in early December. Click here to learn about our 2023 Dirty Little Secrets report.

The Russia-Ukraine conflict has pushed commodity prices higher and spurred greater global demand for US energy products. Meanwhile, more disciplined growth from the upstream has infrastructure finally filling up across commodities. Will exports power the next infrastructure boom?
Dirty Little Secrets is East Daley's annual report on energy markets and the road ahead for Midstream. We share our macroeconomic outlooks for US oil, natural gas and NGLs, highlight key infrastructure opportunities, update on the state of the Energy Transition, and share our view on Midstream's future role in energy.
For updates on the 2023 Dirty Little Secrets report, please click here.

3Q22 Earnings Previews and Earnings Reviews Now Available
East Daley has published a complete group of 3Q22 Earnings Previews and Blueprint Financial Models for midstream companies within our coverage. We also are publishing 3Q22 Earnings Reviews as companies report comparing our forecasts vs results. Quarterly Earnings Previews and Blueprints are now available for Antero Midstream (AM), Crestwood Equity (CEQP), Enbridge (ENB), EnLink Midstream (ENLC), Enterprise Products (EPD), Energy Transfer (ET), Equitrans Midstream (ETRN), Kinder Morgan (KMI), Kinetik Holdings (KNTK), Magellan Midstream (MMP), MPLX (MPLX), ONEOK (OKE), Plains All American (PAA), Summit Midstream (SMLP), Targa Resources (TRGP), TC Pipelines (TRP), Western Midstream (WES) and Williams (WMB).
Our Earnings Previews include quarterly earnings forecasts compared to Street consensus, a detailed list of the top assets that will impact the quarter, analysis of near- and long-term risks to future earnings, along with forecasts for Adj. EBITDA by segments. Please log in to access these reports.
The Daley Note
Subscribe to The Daley Note (TDN) for midstream insights delivered daily to your inbox. The Daley Note covers news, commodity prices, security prices and EDA research likely to affect markets in the short term.