The Daley Note: November 16, 2022
Until this week, daily Northeast pipeline samples had been trending opposite our expectation heading into winter, prompting East Daley to revise lower our latest regional supply forecast. Leading Marcellus shale producer EQT also provided disappointing guidance for the rest of 2022, which could have read-throughs for other producers in the region.
So far in November, Appalachian Basin pipeline samples have averaged ~0.4 Bcf/d lower than October. East Daley is forecasting an ~0.8 Bcf/d production ramp from October to January in our monthly Northeast Supply and Demand Forecast, in line with producer behavior in past winters (see figure). Regional pipe scrapes hit a low on Nov. 5 and since have increased by 2 Bcf/d, trending towards the supply ramp we've been anticipating.
Sign up to view the 2023 Dirty Little Secrets Webinar
Some of the decline in Northeast samples is related to pipeline maintenance. An outage on TETCO Line 73 cut capacity on the Nexus pipeline by ~0.5 Bcf/d in early November. That outage was resolved on Tuesday (Nov. 15), leading to a 130 MMcf/d rebound in the regional sample. The Transcontinental (Transco) and Stagecoach pipelines also have been conducting maintenance.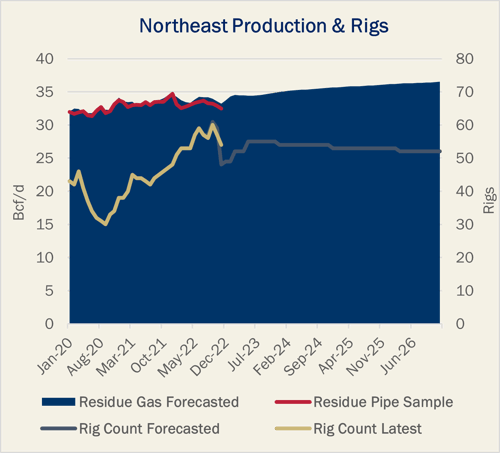 Additionally, we suspect balmy temperatures in the Midwest and Northeast have played a role. By cutting into early seasonal heating demand, the mild weather has pressured regional natural gas prices lower and removed the incentive for E&Ps to add more supply to the market. Producers in the Marcellus and Utica shales could be delaying new wells until market conditions improve.
But other signs are more ominous. Notably, leading Marcellus producer EQT reported that contractor issues in the back half of the year have slowed its well completion program and will lead 2022 output to the low end of company guidance. In its 3Q22 earnings update, EQT cited difficulties obtaining water for well completions and other issues with third parties. Equitrans Midstream (ETRN) is the primary gatherer for EQT.
It's unclear if the problems affecting EQT are specific to the company or more pervasive in the region. Given the latest guidance, East Daley this week lowered the near-term Northeast production outlook in our monthly Production Scenario Tools. We now project Northeast production to average 33.8 Bcf/d in 4Q22, down 0.4 Bcf/d from our previous forecast (see figure). ETRN could also see some downside in our next Blueprint Financial Models company update. In the meantime, forecasts show the season's first notable cold front moving through the Northeast this weekend; we'll be watching to see if the rebound in regional pipeline samples can be sustained. – Alex Gafford Tickers: EQT, ETRN.
East Daley to Present at Nov. 17 Bank of America Securities Conference
Dirty Little Secrets 2023 – Is Another Infrastructure Wave Ahead?
Is Midstream on the cusp of another infrastructure wave? East Daley will explore the potential in our annual Dirty Little Secrets market report in early December. Click here to learn about our 2023 Dirty Little Secrets report.

The Russia-Ukraine conflict has pushed commodity prices higher and spurred greater global demand for US energy products. Meanwhile, more disciplined growth from the upstream has infrastructure finally filling up across commodities. Will exports power the next infrastructure boom?
Dirty Little Secrets is East Daley's annual report on energy markets and the road ahead for Midstream. We share our macroeconomic outlooks for US oil, natural gas and NGLs, highlight key infrastructure opportunities, update on the state of the Energy Transition, and share our view on Midstream's future role in energy.
For updates on the 2023 Dirty Little Secrets report, please click here.

3Q22 Earnings Previews and Review Now Available
East Daley has published a complete group of 3Q22 Earnings Previews and Blueprint Financial Models for midstream companies within our coverage. We also are publishing 3Q22 Earnings Reviews as companies report comparing our forecasts vs results. Quarterly Earnings Previews and Blueprints are now available for Antero Midstream (AM), Crestwood Equity (CEQP), Enbridge (ENB), EnLink Midstream (ENLC), Enterprise Products (EPD), Energy Transfer (ET), Equitrans Midstream (ETRN), Kinder Morgan (KMI), Kinetik Holdings (KNTK), Magellan Midstream (MMP), MPLX (MPLX), ONEOK (OKE), Plains All American (PAA), Summit Midstream (SMLP), Targa Resources (TRGP), TC Pipelines (TRP), Western Midstream (WES) and Williams (WMB).
Our Earnings Previews include quarterly earnings forecasts compared to Street consensus, a detailed list of the top assets that will impact the quarter, analysis of near- and long-term risks to future earnings, along with forecasts for Adj. EBITDA by segments. Please log in to access these reports.
The Daley Note
Subscribe to The Daley Note (TDN) for midstream insights delivered daily to your inbox. The Daley Note covers news, commodity prices, security prices and EDA research likely to affect markets in the short term.