The Daley Note: October 20, 2022
DT Midstream (DTM) is doubling down on Millennium Pipeline, reaching a deal to buy out co-partner National Grid for $552 million. The acquisition contributes to our relatively bullish outlook for DTM, which has seen strong performance recently from other assets in the Northeast.
DTM and National Grid announced the deal on September 29. DTM will acquire National Grid's 26.25% stake, doubling the company's ownership in Millennium to 52.5%. TC Energy (TRP) owns the remaining 47.5% and manages pipeline operations. DTM will finance the transaction with cash on hand and drawings from a revolving credit facility. The companies expect to close the transaction in 4Q22.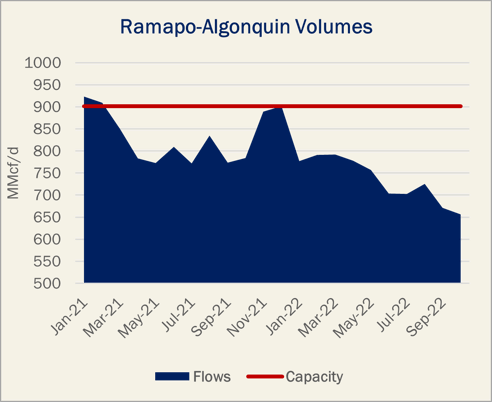 DTM is a founding developer and owner in the 263-mile Millennium, a key route for gas supply from Canada and Appa
lachia to feed Northeast demand centers. Millennium runs through southern New York from Steuben to Rockland County and connects to several underground storage fields.
DTM guided to an additional $12-14 million in 2022 EBITDA as a result of the purchase from National Grid. In our updated Blueprint Financial Model for DTM, East Daley estimates a larger $15.7 million Adj. EBITDA contribution. Looking ahead, DTM estimates a 10x EBITA multiple once its larger Millennium stake hits full run rate, equating to $110 million in EBITDA for the 52.5% share. This compares to East Daley's estimate of $121 million, or an implied 9x multiple for the deal.
Separately, Millennium announced an open season to expand firm transport to the Ramapo, NY interconnect with the Algonquin pipeline system by rerouting 125 MMcf/d of existing capacity from Wagoner-Columbia. The project would add compression at the Minisink compressor station. At a rate of $0.65/Mcf (+$0.55 over Wagoner rates), we estimate the expansion generates ~$7.5 million in revenue per quarter for Millennium, creating upside for DTM as well as TRP. Pending sufficient customer interest, the project is targeting an in-service of Nov. 1, 2025.
The proposed expansion of Millennium comes as regional demand has grown for power generation. Between December 2019 and December 2021, New York's Indian Point nuclear facility retired both reactors; in that period, Millennium's peak seasonal deliveries to power generators rose by 100 MMcf/d.
Millennium directly supplies power plants in the greater New York City region, and the recent growth has limited gas availability at Ramapo to Algonquin by ~250 MMcf/d since December 2021 (see figure). The increased upstream demand has prevented some shippers from capitalizing on premium Algonquin citygate prices. In winter, the eastern portion of Millennium consistently runs above 95% utilization. The expansion would allow shippers to receive a more attractive price for their gas while still meeting essential power generation demand.
DTM plans to announce its 3Q22 results before the market opens on October 28. Please log in to see our latest 3Q22 Blueprint Financial Models and accompanying Earnings Previews for DTM and other companies under East Daley coverage. – Oren Pilant Tickers: DTM, TRP.
3Q22 Earnings Previews Now Available
East Daley has published a second group of 3Q22 Earnings Previews and Blueprint Financial Models for midstream companies within our coverage. Quarterly Earnings Previews and Blueprints are now available for Antero Midstream (AM), Crestwood Equity (CEQP), Enbridge (ENB), EnLink Midstream (ENLC), Enterprise Products (EPD), Energy Transfer (ET), Equitrans Midstream (ETRN), Kinder Morgan (KMI), Kinetik Holdings (KNTK), Magellan Midstream (MMP), Plains All American (PAA), Summit Midstream (SMLP), Targa Resources (TRGP), TC Pipelines (TRP) and Williams (WMB).
Our Earnings Previews include quarterly earnings forecasts compared to Street consensus, a detailed list of the top assets that will impact the quarter, analysis of near- and long-term risks to future earnings, along with forecasts for Adj. EBITDA by segments. Please log in to access these reports.
The Daley Note
Subscribe to The Daley Note (TDN) for midstream insights delivered daily to your inbox. The Daley Note covers news, commodity prices, security prices and EDA research likely to affect markets in the short term.
North American Energy Indicators & Equity Prices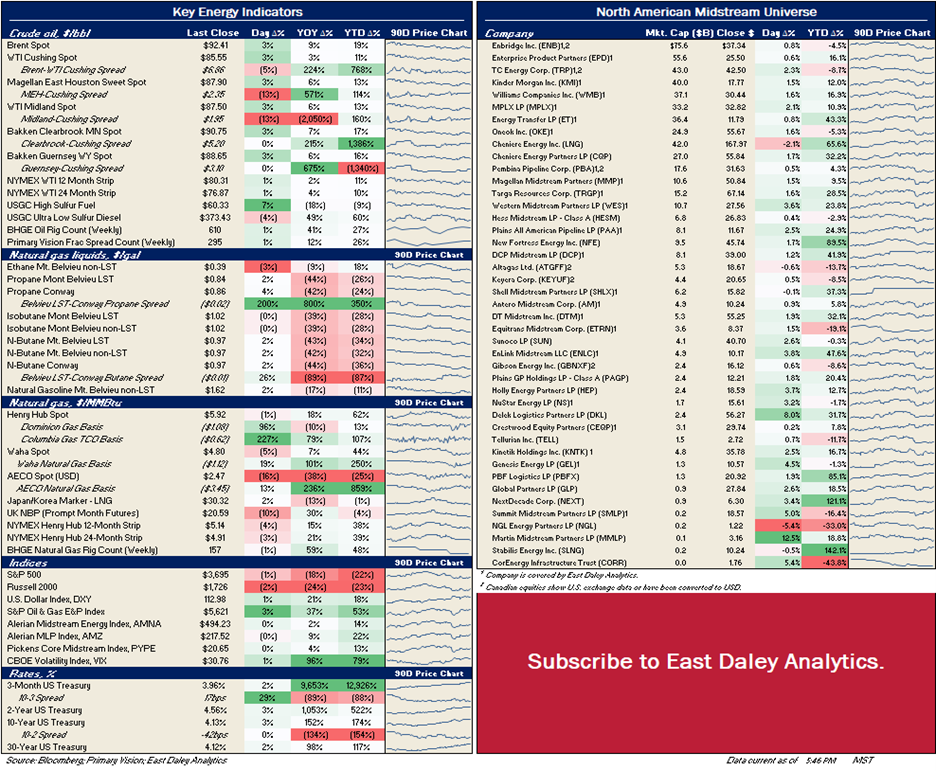 Key Private Debt Metrics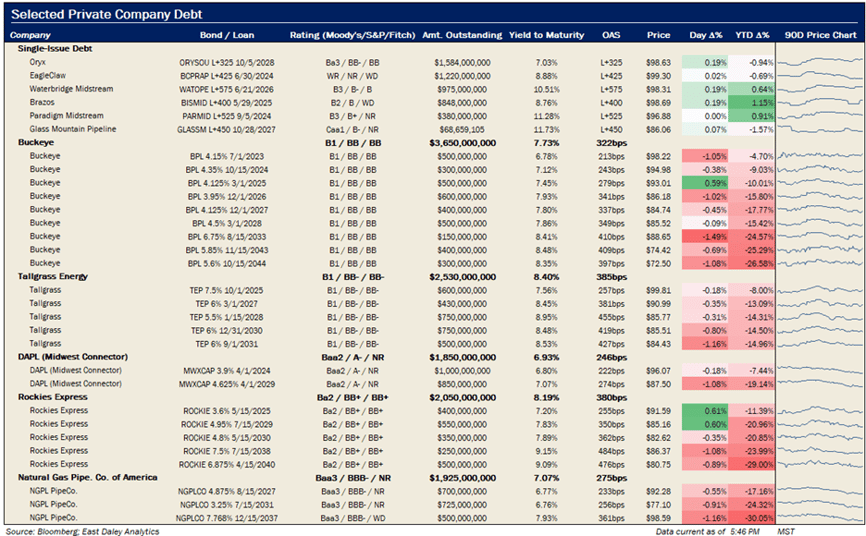 North American Natural Gas Prices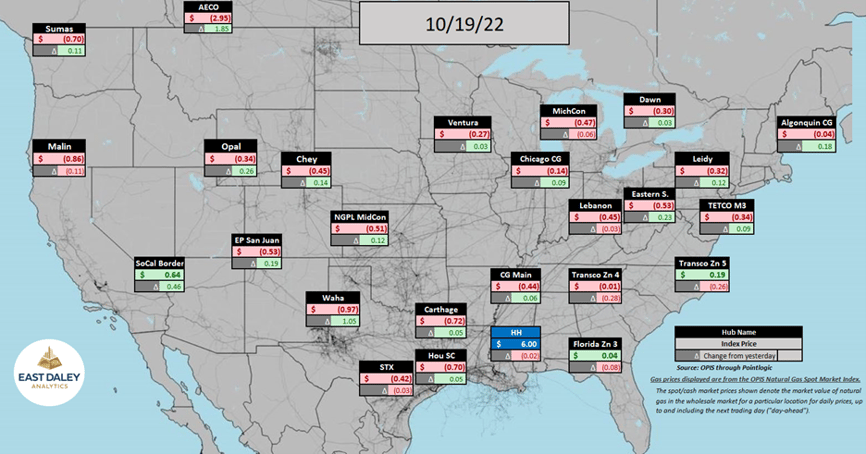 North American Crude Oil Prices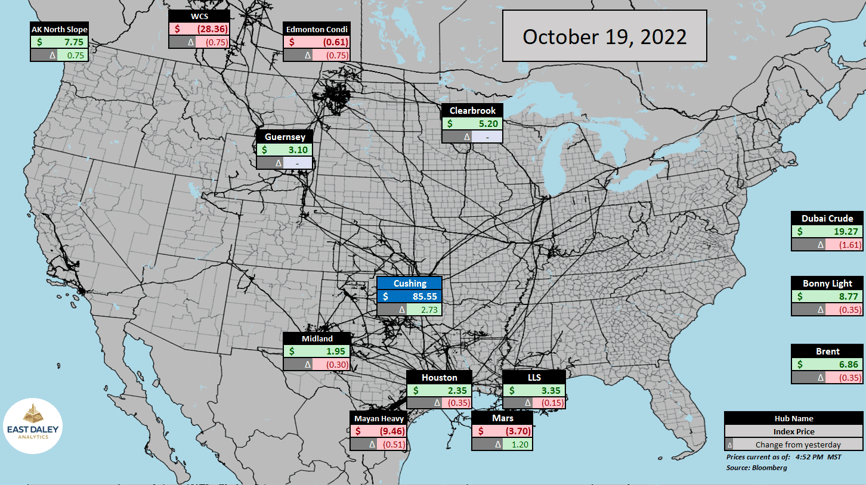 North American Natural Gas Liquids Prices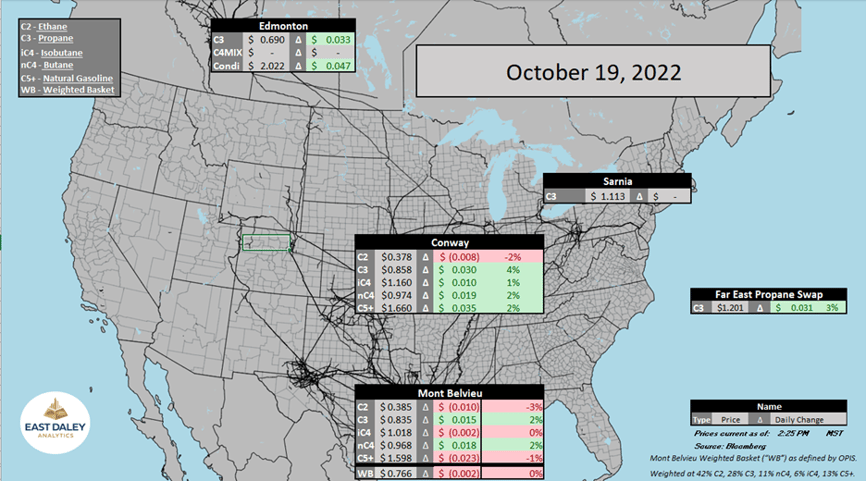 The Daley Note
Subscribe to The Daley Note (TDN) for midstream insights delivered daily to your inbox. The Daley Note covers news, commodity prices, security prices and EDA research likely to affect markets in the short term.