The Daley Note: November 30, 2022
The Eagle Ford shale may fly under the radar of many investors, but perhaps they should consider giving it a look. Producers continue to add rigs in the South Texas play, extending a rally that has lifted the oil and gas supply outlook.
A total of 97 rigs were active in the Eagle Ford for the Nov. 20 week, a gain of 5 rigs over the previous four weeks, according to East Daley's Midstream Activity Tracker released today. By contrast, the Permian Basin shed 23 rigs over the same four-week period. Permian rig counts averaged 328 rigs for the Nov. 20 week vs 351 rigs a month ago, according to the latest weekly MAT data.
E&Ps have recently added rigs to South Texas G&P systems operated by Energy Transfer (ET), Kinder Morgan (KMI) and Targa Resources (TRGP). The private Navarro system has also seen increased rig counts in the latest four weeks, according to system-level tracking by the MAT.
The Midstream Activity Tracker is the industry's leading product monitoring weekly and monthly changes in rig activity by G&P system and operator, offering a unique perspective merging upstream and midstream trends. Click here for a free MAT sample.
While often in the shadow of the larger Permian Basin, the Eagle Ford offers several advantages for would-be investors. Producers in South Texas are closer to Gulf Coast industrial demand centers and export terminals, resulting in higher realized prices for crude oil, natural gas and NGLs. And unlike the Permian, producers in the Eagle Ford aren't plagued by significant takeaway constraints for natural gas; limited pipeline egress and unplanned maintenance recently sent Permian gas prices trading into negative territory.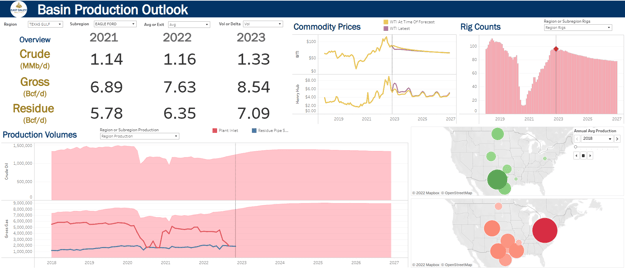 At 97 rigs, the latest Eagle Ford rig count is the highest since March 2019, according to historical data in East Daley's Energy Data Studio. The Eagle Ford is up 33 rigs compared to a year ago; outside of the Permian, that is the largest Y-o-Y rig increase for any US basin.
While we model future rig counts in the Eagle Ford to ease with lower commodity prices, the latest drilling boom should lead to supply gains in 2023. East Daley forecasts gross natural gas production from the Eagle Ford to grow by ~900 MMcf/d and crude production to increase by ~170 Mb/d in 2023 (see figure from Basin Production Outlook in Energy Data Studio).
Subscribers can review historical and forecasted rigs and commodity volumes for the Eagle Ford and other basins in East Daley's Energy Data Studio, as well as our system-level outlook for rigs and supply. Please log in for access to Energy Data Studio, or contact East Daley for access.
Midstream is poised to ride momentum from supply growth next year and into the future. Over the long term, fortunes in the Eagle Ford will be tied closely to the success of new LNG and crude export projects planned along the Texas Gulf Coast. East Daley will continue to monitor these projects and system-level activity to identify those assets best positioned to benefit. – Andrew Ware Tickers: ET, KMI, TRGP.

Dirty Little Secrets 2023 – Is Another Infrastructure Wave Ahead?
Is Midstream on the cusp of another infrastructure wave? East Daley will explore the potential in our annual Dirty Little Secrets market report on December 14 at 10:30 MST.
Sign up to view the 2023 Dirty Little Secrets Webinar
The Russia-Ukraine conflict has pushed commodity prices higher and spurred greater global demand for US energy products. Meanwhile, more disciplined growth from the upstream has infrastructure finally filling up across commodities. Will exports power the next infrastructure boom?
Dirty Little Secrets is East Daley's annual report on energy markets and the road ahead for Midstream. We share our macroeconomic outlooks for US oil, natural gas and NGLs, highlight key infrastructure opportunities, update on the state of the Energy Transition, and share our view on Midstream's future role in energy.
For updates on the 2023 Dirty Little Secrets report, please click here.

3Q22 Earnings Previews and Earnings Reviews Now Available
East Daley has published a complete group of 3Q22 Earnings Previews and Blueprint Financial Models for midstream companies within our coverage. We also are publishing 3Q22 Earnings Reviews as companies report comparing our forecasts vs results. Quarterly Earnings Previews and Blueprints are now available for Antero Midstream (AM), Crestwood Equity (CEQP), Enbridge (ENB), EnLink Midstream (ENLC), Enterprise Products (EPD), Energy Transfer (ET), Equitrans Midstream (ETRN), Kinder Morgan (KMI), Kinetik Holdings (KNTK), Magellan Midstream (MMP), MPLX (MPLX), ONEOK (OKE), Plains All American (PAA), Summit Midstream (SMLP), Targa Resources (TRGP), TC Pipelines (TRP), Western Midstream (WES) and Williams (WMB).
Our Earnings Previews include quarterly earnings forecasts compared to Street consensus, a detailed list of the top assets that will impact the quarter, analysis of near- and long-term risks to future earnings, along with forecasts for Adj. EBITDA by segments. Please log in to access these reports.
The Daley Note
Subscribe to The Daley Note (TDN) for midstream insights delivered daily to your inbox. The Daley Note covers news, commodity prices, security prices and EDA research likely to affect markets in the short term.