The Daley Note: October 27, 2022
Waha natural gas prices plunged into negative territory this week as planned and unplanned maintenance added to constraints on Permian takeaway. The wild Waha price volatility should be temporary as pipelines return to full service, but we see much bigger structural issues on the horizon, according to our Permian Supply and Demand basin forecast.
View our FREE Natural Gas Watch Report
Kinder Morgan's (KMI) Gulf Coast Express (GCX) and El Paso Natural Gas systems are responsible for the latest outages. GCX had scheduled maintenance this week to inspect and repair compressors, limiting pipeline throughput to 1.325 Bcf/d on Wednesday (Oct. 26). But in an updated post to customers, GCX cited "unforeseen circumstances" that would require an additional 100 MMcf/d cut on Wednesday. In addition, the El Paso system saw its Plains North interconnect with Natural Gas Pipeline of America (NGPL) unexpectedly lose service to North Texas. The incidents together amount to nearly 1.2 Bcf/d of lost Permian egress.
These maintenance events sent Permian natural gas prices plummeting. Waha day-ahead gas traded as low as -$1.34/MMBtu Wednesday, according to Bloomberg data, trailing the Henry Hub benchmark by $6.54. Waha recovered somewhat in trading Thursday to -$0.97/MMBtu, resulting in a spread of $6.23 to the Henry Hub. E&Ps without firm transport or pre-arranged sales are effectively paying third parties to take their gas in order to keep Permian oil flowing.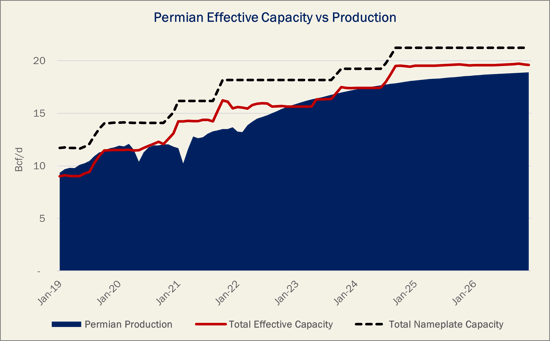 The latest outages compound takeaway issues for Permian shippers. El Paso's Line 2000 from West Texas to the Southern California border has been operating at reduced pressure following a rupture in late 2021. The work on GCX is scheduled to be completed by Friday (Oct. 28), which should bring some relief to Permian shippers. Nevertheless, the price volatility highlights the precarious balance as Permian gas production continues to grow.
East Daley reviews gas supply and pipeline egress every month in our Permian Supply and Demand basin report. Since the start of 2022, we've been warning of constraints on the horizon based on rising commodity prices and increasing Permian rigs. We break down Permian supply trends by G&P systems as well as pipelines; click here for a free sample of our Permian Supply and Demand basin report.
The figure shows East Daley's latest high-level forecast from the Permian Supply and Demand report. We model effective Permian egress capacity (considering outages like El Paso Line 2000, as well as market and seasonal factors) to run effectively full by late 2022 into early 2023. According to our forecast, the recent weakness seen in Permian prices is set to become a market fixture in 2023 rather than a temporary phenomenon. We anticipate more volatility, and potentially more flaring, ahead for Permian operators.
We plan to release our updated Permian Supply and Demand forecast next week; please reach out for additional information. – James Taylor Tickers: KMI.
View our FREE Natural Gas Watch Report
Join East Daley for a Spotlight Happy Hour
East Daley has published a complete group of 3Q22 Earnings Previews and Blueprint Financial Models for midstream companies within our coverage. Quarterly Earnings Previews and Blueprints are now available for Antero Midstream (AM), Crestwood Equity (CEQP), Enbridge (ENB), EnLink Midstream (ENLC), Enterprise Products (EPD), Energy Transfer (ET), Equitrans Midstream (ETRN), Kinder Morgan (KMI), Kinetik Holdings (KNTK), Magellan Midstream (MMP), MPLX (MPLX), ONEOK (OKE), Plains All American (PAA), Summit Midstream (SMLP), Targa Resources (TRGP), TC Pipelines (TRP), Western Midstream (WES) and Williams (WMB).
Our Earnings Previews include quarterly earnings forecasts compared to Street consensus, a detailed list of the top assets that will impact the quarter, analysis of near- and long-term risks to future earnings, along with forecasts for Adj. EBITDA by segments. Please log in to access these reports.
Subscribe to Natural Gas Watch
.
"Cut through the noise, take action." NGW highlights East Daley's high-level perspective on weekly natural gas market changes.
The Daley Note
Subscribe to The Daley Note (TDN) for midstream insights delivered daily to your inbox. The Daley Note covers news, commodity prices, security prices and EDA research likely to affect markets in the short term.