The Daley Note: October 19, 2023
East Daley Analytics has lowered our forecast for NuStar Energy (NS) ahead of the company's 3Q23 earnings following an underwhelming print last quarter by the Permian Crude segment.
In the latest NuStar Financial Blueprint, EDA revised down our forecast for crude oil volumes gathered by the NS Permian system in the Midland Basin. Given the volume impacts in 1H23, we have lowered our NS forecast for the year. We now expect Permian crude volumes to hit the low end of management's exit-2023 guidance of 570-600 Mb/d.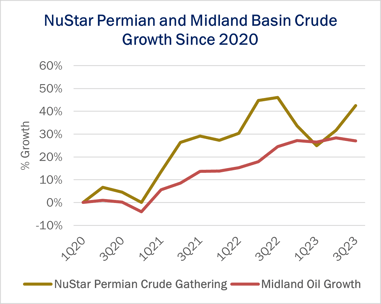 The NS Permian segment exited 2022 at a gathering rate of 584 Mb/d, but well shut-ins from Winter Storm Elliott and lower rig activity resulted in 2Q23 volumes coming in much lower at just over 500 Mb/d. In the latest NuStar Blueprint, EDA forecasts the Permian system exits 2023 at a rate of ~570 Mb/d, a 2% decline vs the 2022 exit rate.
Despite the downgrade, the Permian crude system continues to be a source of future revenue growth for NuStar. East Daley expects system volumes to grow by 5% through YE25. Prices have rallied recently, but the backwardated WTI curve and continued consolidation in the basin could pose some risk to those volumes. We have observed notable rig attrition this year from companies involved in Permian merger activity. – James Taylor Tickers: NS.
Sign Up for the Crude Oil Edge
East Daley's
Crude Oil Edge
provides weekly updates on the US crude oil market including supply and demand fundamentals, basin-level views, and analysis of market constraints and infrastructure proposals. We explore sub-basin dynamics and provide market insights on crude oil flows, production growth, and import and export characteristics.
Sign up now for the Crude Oil Edge
.
Energy Data Studio
East Daley Analytics has launched Energy Data Studio, a platform for our industry-leading midstream data and commodity production forecasts. All clients have access to the new client portal. If you have not yet logged in, please fill out the form to request a registration email be resent.
Energy Data Studio leverages our G&P data set for insights into midstream assets across every major oil and gas basin in North America. Users can navigate detailed visual dashboards by region, pipeline, or individual asset to understand crude oil, natural gas and NGL supply at the most granular level.
Energy Data Studio is available through data downloads from the visual interface, in Excel files, or as a direct feed delivered into subscribers' workflow via secure file transfer. To learn more about Energy Data Studio, please contact insight@eastdaley.com.
The Daley Note
Subscribe to The Daley Note (TDN) for midstream insights delivered daily to your inbox. The Daley Note covers news, commodity prices, security prices and EDA research likely to affect markets in the short term.