The Daley Note: September 15, 2022
Volumes on EnLink Midstream's (ENLC) Central Oklahoma (COK) system trend higher in our recently revised forecast due to a significant increase in STACK rig activity by operators including Devon (DVN), Citizen III, Ovintiv (OVV) and Camino. Volumes now approach capacity limitations by 4Q23.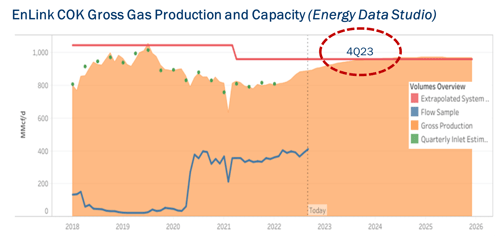 While this is great news for EnLink, it does create problems for overall COK system management. Processing capacity has declined since the company relocated the Thunderbird and Battle Ridge facilities from its COK system to the Midland Basin. Currently, the COK system's processing capacity sits at 960 MMcf/d.
East Daley projects heightened rig activity for the ENLC system, averaging 12 rigs through 2023 (up 7 rigs from a low of ~5 rigs in April 2022) that cause supply to overrun COK's processing capacity by 4Q23.
If high commodity prices and drilling activity persist, EnLink will need to keep pace with supply through a plant expansion or the purchase of another system nearby ENLC's footprint in the STACK. Blue Mountain Midstream, which has 250 MMcf/d of total capacity and is currently running at ~55% utilization, could fit the bill.
The figure shows East Daley's Energy Data Studio G&P System Analysis tool, illustrating EnLink – COK gross production and flow samples with current capacity limits. – James Taylor Tickers: DVN, ENLC, OVV.
Select Crude Exporters Poised to Benefit from Record Corpus Christi Exports
Enbridge's (ENB) Moda and Flint Hills Ingleside terminals, along with EPIC's terminals along the channel, are poised to grab the largest shares of Corpus Christi's projected growth through 2026.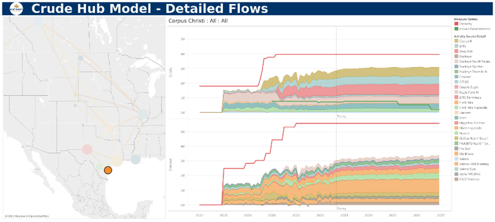 The Port of Corpus Christi reported total crude exports for June and July set two record highs, and East Daley predicts continued growth through 2026. Our Crude Network Model anticipates Corpus to grow 624 Mb/d average-to-average from 2021 to 2026.
Flint Hills Ingleside garners most of that growth. We forecast volumes more than doubling from 2021 average exports with an incremental 217 Mb/d at Flint Hills. Moda grows by 25% (169 Mb/d) in our forecast and EPIC grows by 84% (107 Mb/d). Please click the image or click here to view the chart in detail.
Additionally, certain crude pipelines will catch some of the upside from deliveries to Corpus. These pipes include EPIC, Cactus II and Koch.
Phillips 66's (PSX) Bluewater export terminal was denied a permit this past week due to potential pollution, dealing a blow to the proposed deepwater terminal. The setback helps affirm the strong growth opportunity for existing crude terminals in Corpus.
In East Daley's Crude Network Model, we balance domestic supply and demand from production to the docks to create our export forecast. We compile and monitor pipeline flows, contracts, facility location and historical market share to allocate that growth among the ports and individual facilities.
Reach out to AJ O'Donnell for a trial of Energy Data Studio. – Alex Gafford Tickers: ENB, PSX.
Upcoming Event
HART Energy – America's Natural Gas Conference 9 a.m. – Tuesday, Sept. 27 in Houston, TX
Click here to set up a meeting with Zack on Weds., Sept. 28 in Houston the day following EDA's presentation.
Subscribe to The Daley Note (TDN), "midstream insights delivered daily," covers news, commodity prices, security prices, and EDA research likely to affect markets in the short term.
North American Energy Indicators and Equity Prices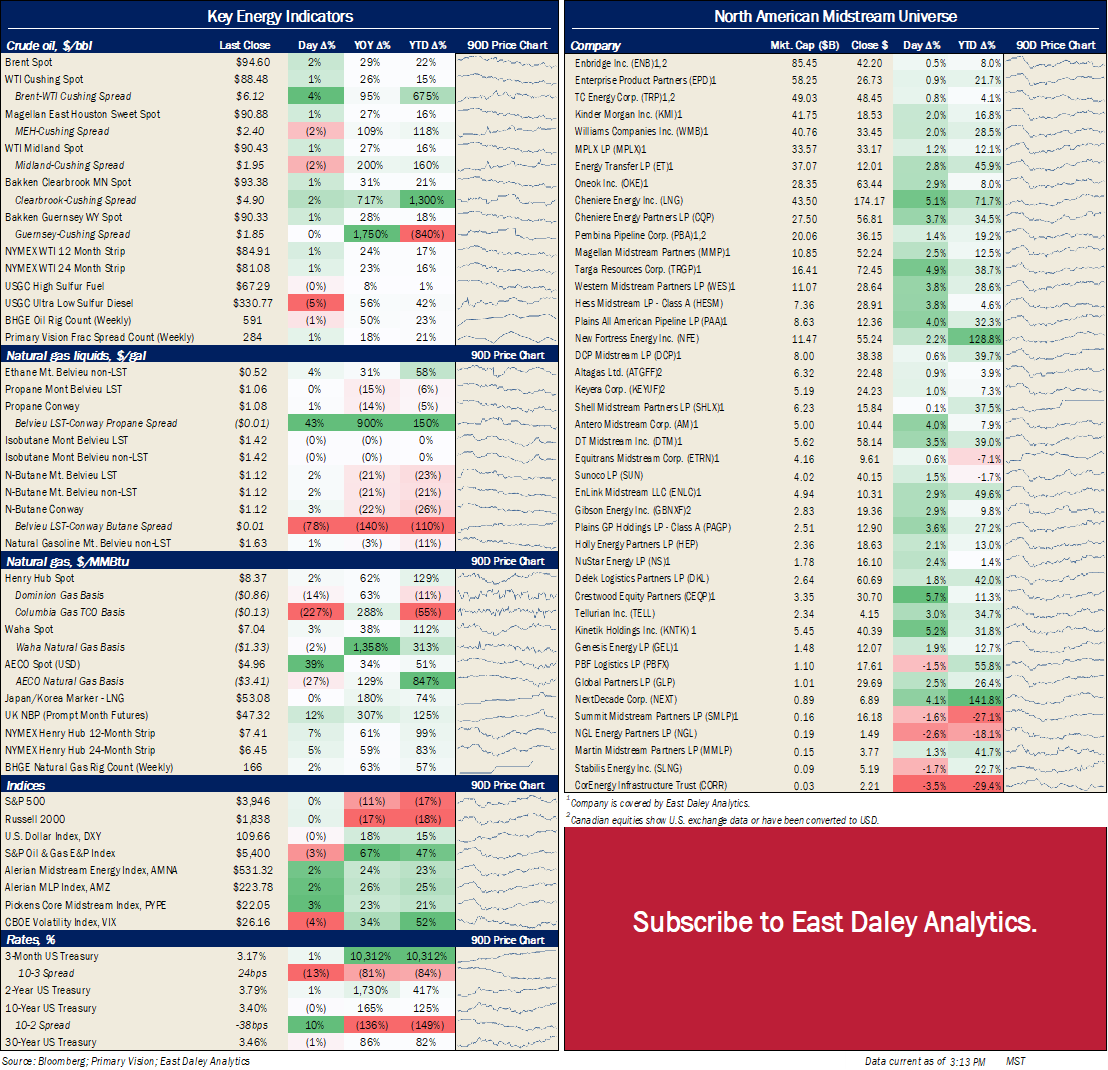 Key Private Debt Metrics
North American Natural Gas Prices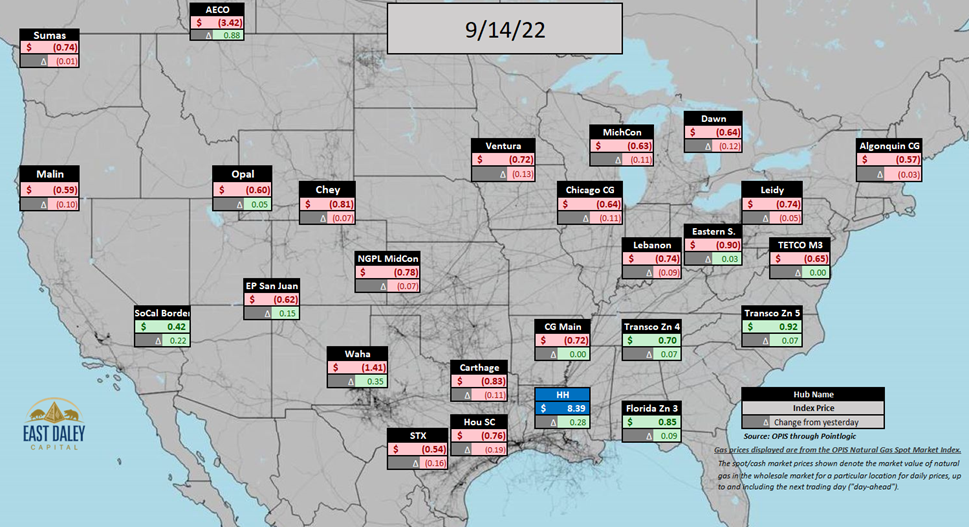 North American Crude Oil Prices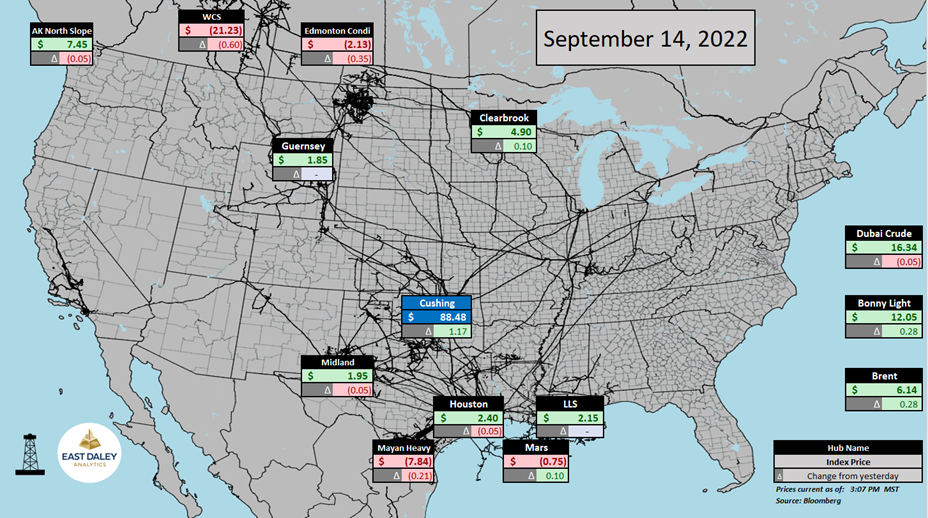 North American Natural Gas Liquids Prices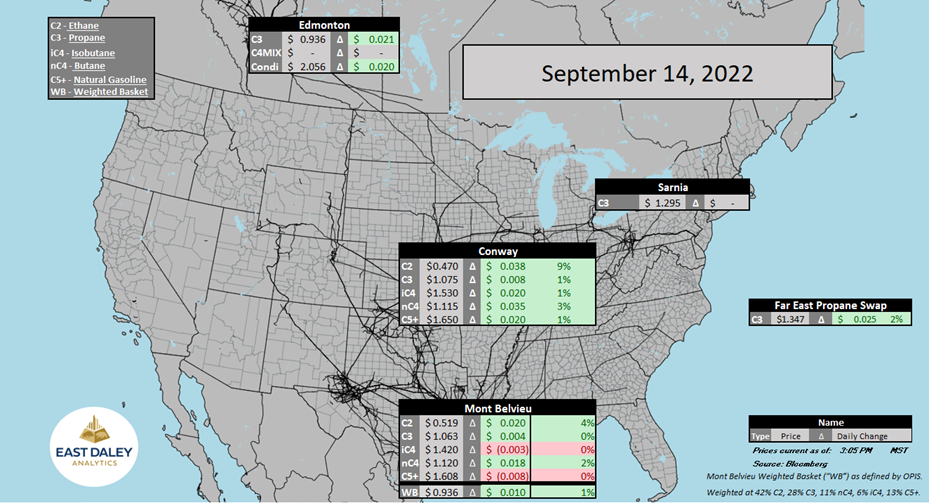 Subscribe to The Daley Note (TDN),"midstream insights delivered daily," covers news, commodity prices, security prices, and EDA research likely to affect markets in the short term.