Natural Gas Watch: September 15, 2022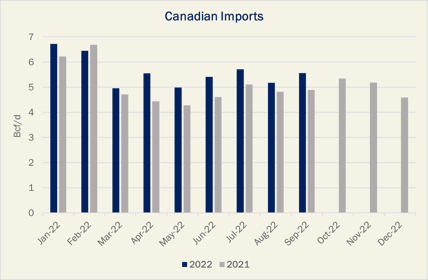 Net imports from Canada have averaged +700 MMcf/d vs 2021 so far in the 2022 injection season (see chart). Most of the increase has come from pipelines into the West (Kingsgate) and Midcon (Great Lakes/Nexus) regions. Supported by stronger drilling activity, East Daley estimates WCSB gross gas production grows 1.4 Bcf/d Y-o-Y in September. The Canadian supply push into the U.S. supports our bearish view on Henry Hub prices in 2023. As of June 2022, AECO storage inventories were 75 Bcf below the 5-year average.
Northbound Permian pipes are beginning to fill, supporting our thesis that basin egress will tighten in early 2023 (see chart below). We assume these northbound routes are the last to fill out of the Permian due to less favorable price netbacks. We model Permian shippers pushing another 500 MMcf/d of gas into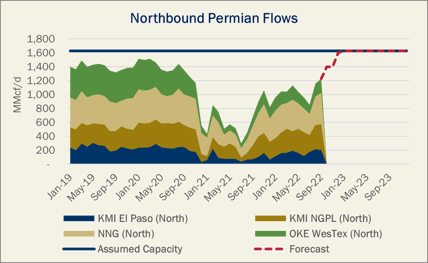 the Midcon, which could back out Canadian and Northeast supplies and pressure AECO
and Northeast prices lower.
As shown in the table below, the Anadarko gas sample has increased by 0.2 Bcf/d from August through the first two weeks of September. East Daley will discuss the drivers behind this in next week's Natural Gas Watch.
Dry production for the 9/8 – 9/14 week averaged 99.3 Bcf/d. We estimate September production to average 99.2 Bcf/d in our Macro Supply and Demand Forecast.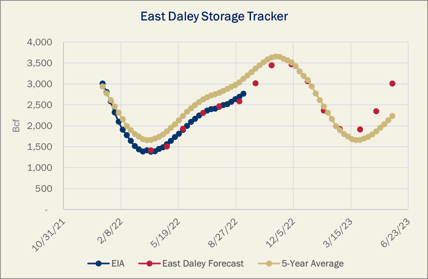 EIA reports a 77 Bcf storage injection for the week ending 9/9/22 vs consensus for a 73 Bcf build. We forecast storage to end September at 3,021 Bcf, implying 327 Bcf of injections during the month of September. By October 2022, East Daley forecasts storage fills to 3,447, just 67 Bcf short of the 5-year average.
Subscribe to Natural Gas Watch, "cut through the noise, take action," highlights East Daley's high-level perspective on weekly natural gas market changes.