Crude Oil Edge: November 8, 2023
Rigs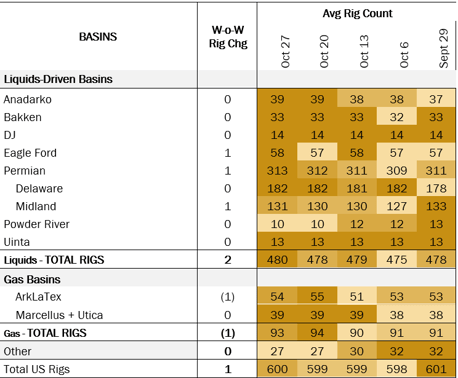 The US rig count slightly increased W-o-W with total rigs sitting at 600. Liquids basins gained 2 rigs. The Eagle Ford and Permian basins each gained 1 rig. Within the Permian, the Midland gained 1 rig and the Delaware remained flat.
The US rig count has remained flat for the month of October, fluctuating between 598-600 rigs. Despite the relatively flat behavior the US crude oil production has held at an all-time high of 13.2 MMb/d, according to weekly EIA data for the week of October 27, 2023. Based on the latest earnings call from top producers in liquids basins, many have been drilling longer laterals and moving rigs to the most productive zones, allowing operators to maximize their production. The productivity gains have helped offset the decline in rig counts this year.
Infrastructure
Enterprise Products (EPD) is converting the 210 Mb/d Midland-to-ECHO 2 (M2E2) pipeline from crude service back to NGLs. The project will hasten a tightening under way in pipeline capacity out of the Permian Basin as crude oil production grows.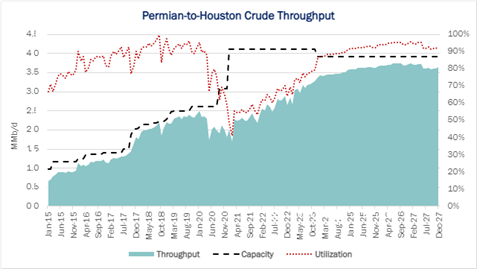 Based on our latest Crude Hub Model projections, oil pipelines headed to Houston saw an average utilization rate of 79% in October. Utilization will increase to 88% in January as capacity is lost and volumes are displaced from M2E2 to other pipes. EDA expects EPD's Midland-to-ECHO 1 and 3 lines will run close to full after the change, and competing pipes Wink-to-Webster, Permian Express, and BridgeTex should see small volume boosts as well. This is especially promising for the distressed BridgeTex Pipeline owned by ONEOK (OKE; 30%), Plains All American (PAA; 20%), and OMERS (50%), which has seen its volumes fall off a cliff when anchor shipper Occidental (OXY) opted to move its production on other pipelines.
While the future of M2E2's service is uncertain, the earliest the pipe could return to crude service would be in 1H25, once EPD brings its new 600 Mb/d Bahia NGL pipeline into service. EPD's management stated that it intends to keep the pipe "flexible" for either service offering, but we see a switchback in the future as unlikely. Instead, it's likely a positive signal for Gray Oak and EPIC to expand capacity to Corpus Christi
Storage
East Daley expects an injection of 4.1 MMbbl in commercial inventories for the week ending October 27. We expect total US stocks, including the SPR, will close at 773.8 MMbbl.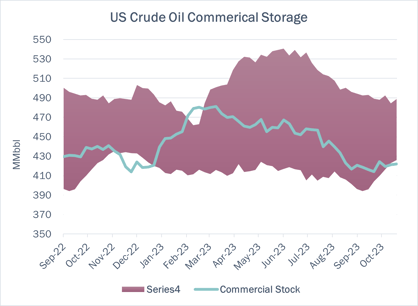 The US natural gas pipeline sample, a proxy for change in oil production, increased by 0.8% in liquids-focused basins. The Gulf of Mexico saw a significant change, gaining 6% W-o-W, while the Williston Basin saw a 6.36% reduction W-o-W. Both basins have high pipeline sample coverage. We expect US crude production to remain flat at 13.2 MMb/d.
According to US bill of lading data, US crude imports increased by ~366 Mb/d W-o-W to 6.8 MMb/d. More than 60% of the supply originated from Canadian pipelines into the US, with the remainder largely coming from ships carrying crude from Mexico, Argentina and Brazil.
As of November 3, ~1.2 MMb/d of refining capacity was offline, including downtime for planned and unplanned maintenance. EDA expects gross crude inputs into refineries to increase by 1.6% W-o-W, coming in at ~15.49 MMb/d.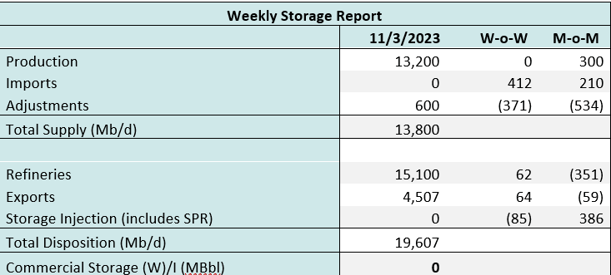 Vessel traffic monitored by EDA along the Gulf Coast decreased W-o-W. There were 23 vessels loaded for the November 3 week vs 27 vessels the prior week. EDA expects US exports to be 4.5 MMb/d.
Regulatory and Tariffs
Presented by ARBO
Tariffs:
NuStar Energy LP is adding new Incentive rates for Oakville Junction and Koch Pipeline Pettus Station deliveries to the Corpus Christi North Beach terminal, effective November 1, 2023. A $0.425/bbl incentive rate is applicable to shippers transporting a minimum guaranteed volume of 20 Mb/d for a multi-year term for transportation on the East Leg-South Texas Crude. (IS24- 10, filed October 17, 2023
The above information is provided by ARBO's Oil Pipeline Tariff Monitor. For more information on regulatory proceedings or tariff rates, please contact please contact Corey Brill via email at corey@goarbo.com or phone at 202-505-5296. https://www.goarbo.com/