The Daley Note: November 7, 2023
The race to capture molecules close to the wellhead continues in the Permian Basin. Enterprise Products (EPD) announced two new gas processing plants during its 3Q23 earnings call: the Orion plant in the Midland and the Mentone 4 plant in the Delaware Basin.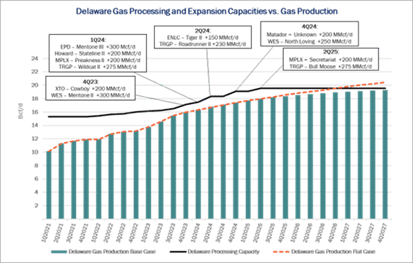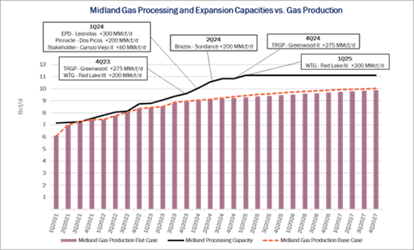 By 2026, East Daley estimates almost 6.1 Bcf/d of new processing plants will be added in the Permian, a 23% increase over processing capacity of 27 Bcf/d at the end of 3Q23. The charts below show the projects announced in the Midland and Delaware sub-basins; the plant data can be accessed in East Daley's Energy Data Studio. Gas production includes a base case scenario estimate (assumes declining rigs due to backwardated WTI forward curve) and a flat rig scenario.
East Daley will dive into NGL value-chain economics from the wellhead to the LPG export dock in our annual report, Dirty Little Secrets.
There are two types of midstream operators looking to capture Permian gas growth. One group includes the integrated midstream powerhouses like EPD, Energy Transfer (ET) and Targa Resources (TRGP) that benefit from capturing value-chain economics. The other are companies that would like to become acquisition targets for the former.
EPD and TRGP will capture 28% and 25% respectively of the new Permian gas processing capacity. The surprising omission from this building frenzy is ET. The remaining 47% of capacity comes from two sub-groups: a) private operators like Salt Creek, Durango, and Pinnacle who are likely be bought out by the larger midstream fish and b) non-integrated midstream operators like EnLink (ENLC), Western Midstream (WES) and MPLX.
Based on our production outlook for the Permian, G&P infrastructure should stay well ahead of supply growth. Instead, potential bottlenecks may be further downstream. That's a gamble companies like Targa and EPD are willing to make. At a minimum, the systems will serve as a loss leader for securing NGL barrels for transport, storage, fractionation and export to meet growing demand.
Should producers hold activity steady despite a backwardated crude price curve, we will be talking about new plant additions again in 2025. – Rob Wilson and Christina Adjiman Tickers: ENLC, EPD, ET, MPLX, TRGP, WES.
E

ast Daley, Hart Bring NEW Gas & Midstream Weekly on November 9th
East Daley is teaming up with Hart Energy on the NEW

Gas & Midstream Weekly newsletter

. This

new report

combines the strengths of Hart Energy's journalistic reporting and analysis on natural gas, LNG, midstream energy and deal-making with EDA's deep research and intelligence of hydrocarbons, storage and transportation.

Published every Thursday morning, this new

powerhouse newsletter

is an interactive and enlightening read highlighting breaking news, exclusive interviews, videos, charts, maps and more. The newsletter utilizes East Daley's Energy Data Studio tools for natural gas predictive analytics with Hart Energy's Rextag mapping tools to present a holistic view of pricing triggers, infrastructure growth, pipeline and processing bottlenecks, regulatory and legal hurdles, and the inevitable solutions.
Energy Data Studio
East Daley Analytics has launched Energy Data Studio, a platform for our industry-leading midstream data and commodity production forecasts. All clients have access to the new client portal. If you have not yet logged in, please fill out the form to request a registration email be resent.
Energy Data Studio leverages our G&P data set for insights into midstream assets across every major oil and gas basin in North America. Users can navigate detailed visual dashboards by region, pipeline, or individual asset to understand crude oil, natural gas and NGL supply at the most granular level.
Energy Data Studio is available through data downloads from the visual interface, in Excel files, or as a direct feed delivered into subscribers' workflow via secure file transfer. To learn more about Energy Data Studio, please contact insight@eastdaley.com.
The Daley Note
Subscribe to The Daley Note (TDN) for midstream insights delivered daily to your inbox. The Daley Note covers news, commodity prices, security prices and EDA research likely to affect markets in the short term.