The Daley Note: October 10, 2023
ExxonMobil (XOM) is reportedly near a deal to buy Pioneer Resources (PXD) for $60B. The blockbuster merger would be the biggest yet amid a consolidation trend that is slowing rig activity in the Permian Basin.
The XOM-PXD discussions were reported last Friday by the Wall Street Journal. Given the scale of the two companies' operations, the tie-up could potentially impact rigs on a dozen G&P systems in the Permian, according to rig allocations in East Daley's Energy Data Studio. However, we view Energy Transfer (ET) and Targa Resources (TRGP) as the most vulnerable of the lot.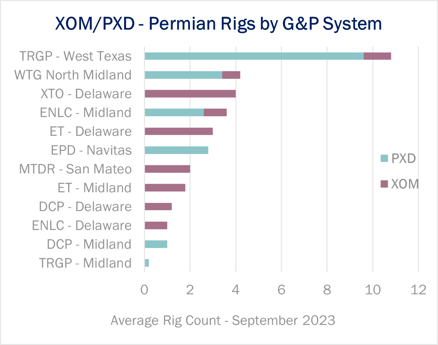 Pioneer sends most of its gas to Targa Resources (TRGP) and also owns 27.2% of the TRGP - West TX system. Exxon primarily sends gas to Energy Transfer (ET) and TRGP, as well as its own Delaware G&P system.
In late September, XOM and PXD operated a combined 38 rigs between the Delaware and Midland sub-basins, according to allocation in East Daley's Midstream Activity Tracker in Energy Data Studio. The TRGP – West Texas system saw the most combined XOM/PXD rigs for the month (~11 rigs), followed by WTG - North Midland (4 rigs) and EnLink's (ENLC) Midland system, according to the MAT allocations (see chart). We also allocate 4 Exxon rigs to its XTO – Delaware system.
While no details are available, recent Permian mergers have resulted in rig cuts. EDA's review of recent upstream deals finds buyers and sellers have dropped rigs by nearly 30% once companies combine. If the trend holds, a merged XOM/PXD would drop 11-12 rigs.
Which midstream companies would be vulnerable? G&P systems where rigs and acreage overlap are candidates, as XOM could consolidate Pioneer's drilling program to create synergies. On the other hand, a merged XOM/PXD would have an abundance of drilling targets in the Permian and could drop rigs in areas deemed marginal after a merger.
Exxon has been the most aggressive of the two producers in the Permian, targeting 10%/year production growth in 2023. ET and TRGP have benefited the most from XOM's investment in growth. Will the supermajor stay committed following a PXD bolt-on? East Daley sees particular risk here for these midstream companies.
Energy Data Studio subscribers can use our Shipper Contracts Across Gas Pipelines dashboard to see how these companies market their gas on interstate pipelines, and the G&P Comparative Analysis dashboard to see how the TRGP - West TX system overlaps with ET – Midland. – Ajay Bakshani, CFA and Andrew Ware Tickers: ENLC, ET, PXD, TRGP, XOM.
Sign Up for the Crude Oil Edge
East Daley's
Crude Oil Edge
provides bi-monthly updates on the US Crude Oil Market including supply and demand fundamentals, basin-level views, and analysis of market constraints and infrastructure proposals. We explore sub-basin dynamics and provide market insights on crude oil flows, production growth, and import and export characteristics.
Sign up now for the Crude Oil Edge
.
Energy Data Studio
East Daley Analytics has launched Energy Data Studio, a platform for our industry-leading midstream data and commodity production forecasts. All clients have access to the new client portal. If you have not yet logged in, please fill out the form to request a registration email be resent.
Energy Data Studio leverages our G&P data set for insights into midstream assets across every major oil and gas basin in North America. Users can navigate detailed visual dashboards by region, pipeline, or individual asset to understand crude oil, natural gas and NGL supply at the most granular level.
Energy Data Studio is available through data downloads from the visual interface, in Excel files, or as a direct feed delivered into subscribers' workflow via secure file transfer. To learn more about Energy Data Studio, please contact insight@eastdaley.com.
The Daley Note
Subscribe to The Daley Note (TDN) for midstream insights delivered daily to your inbox. The Daley Note covers news, commodity prices, security prices and EDA research likely to affect markets in the short term.