The Daley Note: September 8, 2022
Freeport LNG has extended by ~1 month the planned outage at the export facility, pushing the timeline to re-start initial service to early November at the earliest. In an Aug. 23 release, Freeport said it expects to resume initial operations in early to mid-November, not early October as previously announced. We estimate the delay will amount to ~60 Bcf of lost gas demand ahead of the 2022-23 heating season.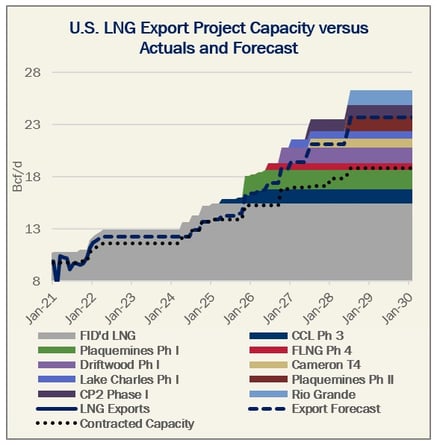 Freeport now estimates it will ramp to 2 Bcf/d of LNG production (representing 85% of capacity) by late November and return to full operations by March 2023. Previously, Freeport had estimated full service would resume by the end of the year. The Texas LNG facility went offline following an explosion on June 8. The outage has cut export capacity by ~2 Bcf/d, or ~20% of U.S. LNG exports, during a period of soaring LNG demand from Europe and Asia.
The extended downtime at Freeport should help ease market concerns about supply security ahead of next winter. That 60 Bcf will contribute to U.S. storage's expedited return to average or "safe" levels. Freeport initially declared a force majeure following the explosion but retracted it in early August, according to Reuters. Without the force majeure, the facility's customers will be on the hook to replace lost supplies through spot LNG purchases or other market arrangements.
As reported by Reuters, Freeport is not offering enough compensation to cover spot LNG cargoes at today's high prices. Current shippers at risk include BP, Osaka, Total, Trafigura and JERA among others. Looking ahead at the LNG market, a multitude of North American projects are trying to fill the global demand gap. East Daley currently estimates 13.42 Bcf/d of additional projects will come online by 2030.
Looking outside the U.S. and traditional LNG facilities, Mexico has an additional 6.6 Bcf/d of proposed projects beyond Costa Azul Phase I that we include in our forecast. Additionally, New Fortress has proposed FLNG terminals offshore including a terminal stationed 16 nautical miles off the Louisiana coast that would produce ~400 MMcf/d of LNG.
We currently monitor all proposed projects and sales and purchasing agreements (SPAs) to help build our forecast. Please contact sales@eastdaley.com for more information on East Daley's Macro and basin-level Supply & Demand Forecasts and Datasets.
Williams to Market 'Next Gen' Appalachian Gas
Williams (WMB) has entered into an agreement with Appalachia producer PennEnergy Resources to market and deliver certified low-emissions natural gas. The partnership aims to boost sales of "next gen" low-carbon natural gas to utilities, LNG export facilities and other clean energy users, the companies said in an August 8 release. PennEnergy Resources is an EnCap Investments portfolio company operating in the Appalachian Basin.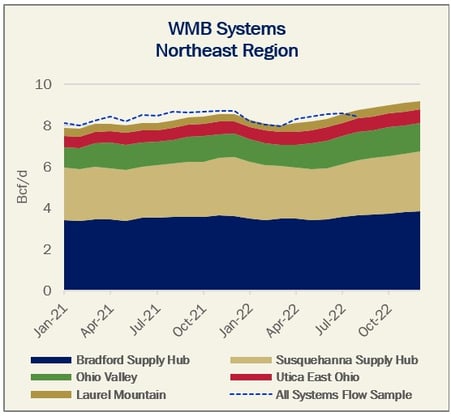 WMB will market the low-emissions gas through its Sequent marketing unit. The gas will be sourced from PennEnergy's 378 producing wells in southwestern Pennsylvania that have been certified under Project Canary's TrustWell certification process. The third-party certification by Project Canary verifies that best practices are being followed to minimize emissions and produce gas in the most environmentally responsible manner.
The agreement with PennEnergy follows WMB's collaboration with LNG producer Cheniere Energy (LNG) to implement quantification, monitoring, reporting and verification (QMRV) of emissions at natural gas gathering, processing, transmission, and storage systems. Low-carbon gas is one of several sustainability initiatives William is pursuing. WMB is also developing clean hydrogen and carbon capture and storage, as well as solar and renewable natural gas projects.
This analysis was first published for subscribers in our weekly Data Insights on Friday, August 19. Please log in to access the full Data Insights report or contact sales@eastdaley.com for subscription information. WMB operates twelve G&P systems across the U.S., of which five (Bradford Supply Hub, Laurel Mountain, Ohio Valley, Susquehanna Supply Hub, Utica East Ohio) are based in the Northeast. Major operators on these systems include Chesapeake Energy (CHK), Coterra Energy (CTRA) and Encino Energy.
Flows monitored by East Daley indicate inlets for August 2022 are trending around 8.5 Bcf/d on the WMB systems, slightly lower than August 2021 volumes (8.6 Bcf/d). Upstream activity on WMB's Northeast systems has averaged 10 rigs in August, comprising ~20% of the total rigs in the Appalachian Basin.
Subscribe to The Daley Note (TDN), "midstream insights delivered daily," covers news, commodity prices, security prices, and EDA research likely to affect markets in the short term.
North American Energy Indicators and Equity Prices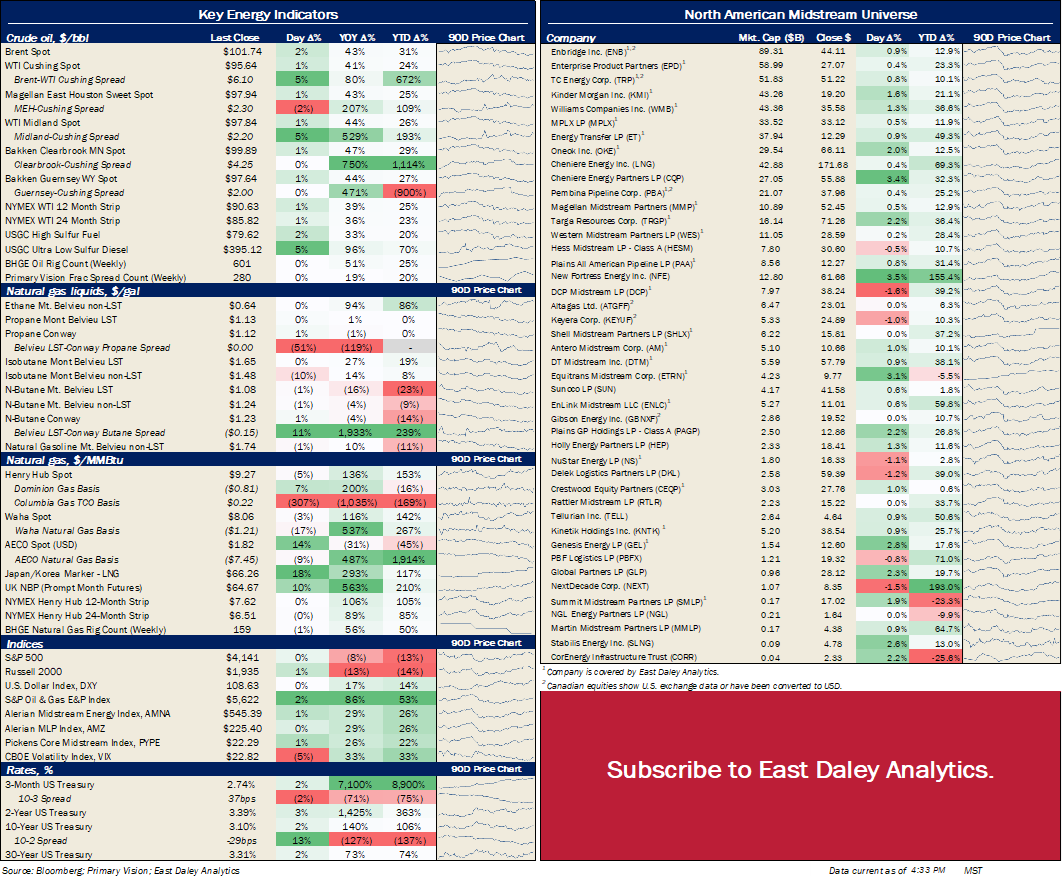 Key Private Debt Metrics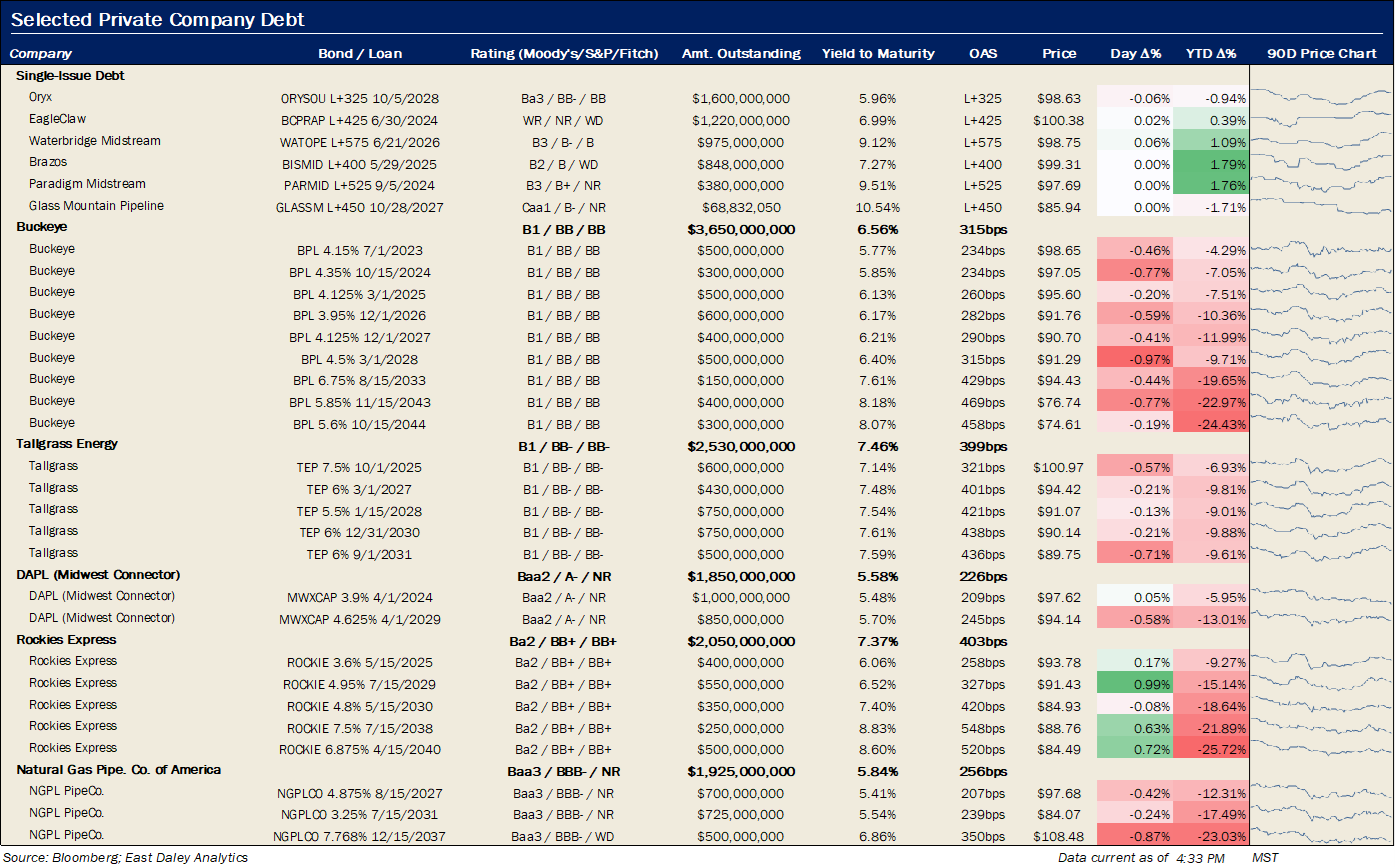 North American Natural Gas Prices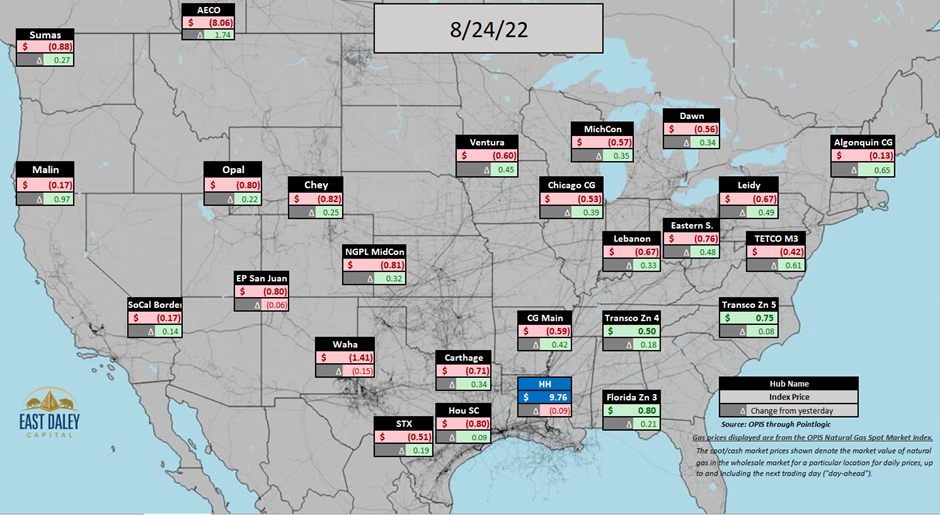 North American Crude Oil Prices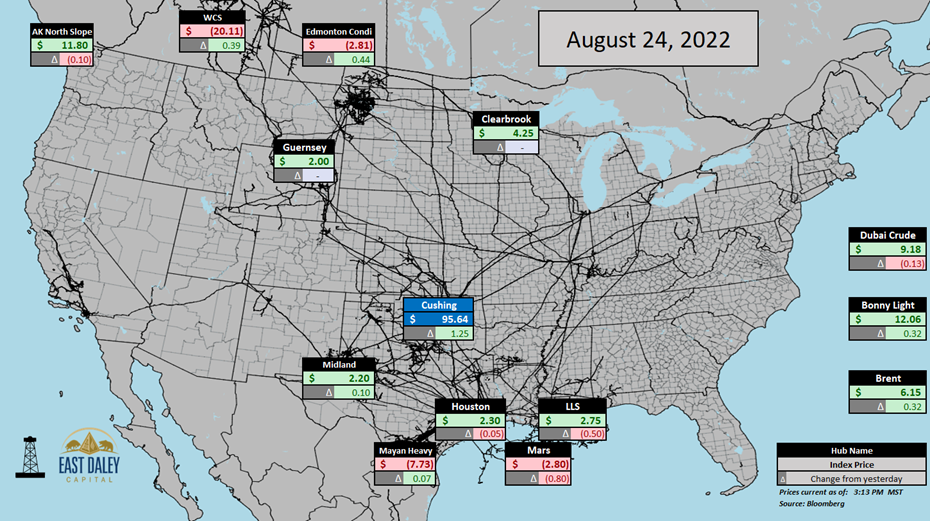 North American Natural Gas Liquids Prices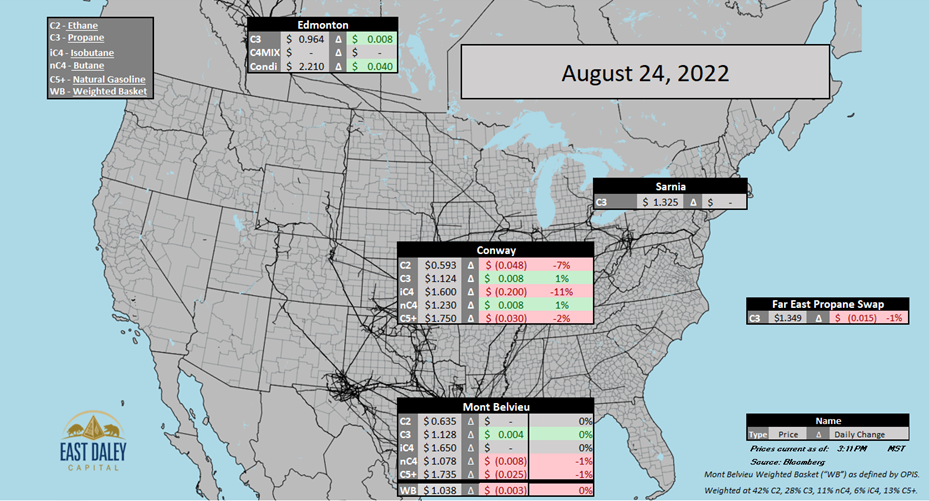 Subscribe to The Daley Note (TDN), "midstream insights delivered daily," covers news, commodity prices, security prices, and EDA research likely to affect markets in the short term.