The Daley Note: September 8, 2022
MPLX recently announced plans to expand its Harmon Creek processing plant in southwestern Pennsylvania. The expansion is slated to begin service in 1H2024. The planned 200 MMcf/d expansion will nearly double the plant's processing capacity. The Harmon Creek complex currently can process up to 220 MMcf/d of natural gas. This expansion lifts MPLX's processing footprint to a total of 6.5 Bcf/d in Appalachia.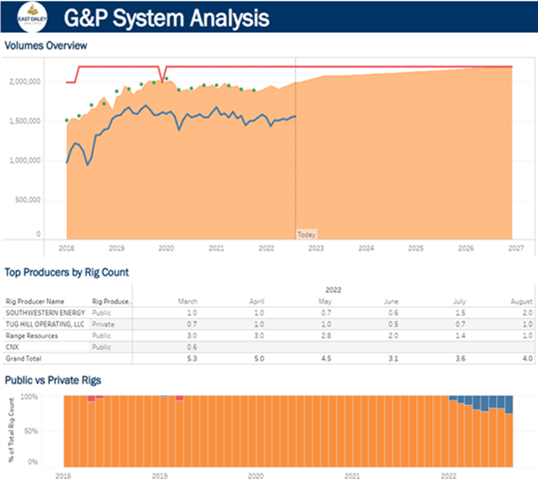 Due to proximity and connectivity, East Daley models MPLX's Majorsville, Houston and Harmon Creek facilities together as one complete system (MHH system). We currently model the MHH system to be 91% utilized by YE22 and 95% utilized by 1Q24, and we have called out the need for an expansion on the system before 2027. We currently model 65% of the volumes through the MHH complex are produced by Range Resources (RRC), with 31% sourced from Southwestern Energy (SWN).
The plan to expand the Harmon Creek plant suggests MPLX expects Northeast production to grow beyond current levels. Output has largely remained flat recently given egress constraints out of the region. Start-up of the long-delayed Mountain Valley Pipeline would help alleviate these constraints.
The plant expansion follows another Northeast investment by MPLX on the Smithburg de-ethanizer, which will add 68 Mb/d of capacity to support the Shell Monaca cracker that is scheduled to come online this quarter.
East Daley's Energy Data Studio is the new home for our industry-leading midstream data. Users now can access historical and updated system-level G&P data on our Energy Data Studio platform, providing unmatched data functionality and visuals for easy analytics. Subscribers can log in to their existing account or request access to Energy Data Studio.

Crude, NGL Pipelines File for Record Rate Hikes
Pipeline operators have updated rates with the Federal Energy Regulatory Commission (FERC) to reflect the new index inflator of 8.71%, the highest annual increase on record for crude, NGL and products pipelines under the tariff structure. With inflation continuing to surge in 2022, another round of rate hikes is likely in 2023 for these midstream assets.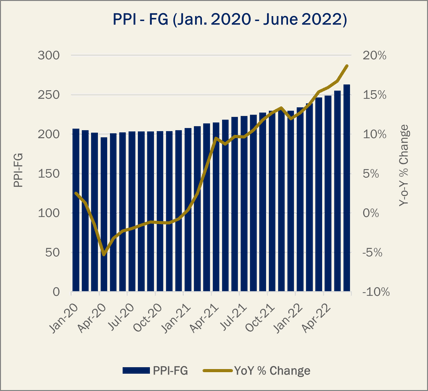 The new ceiling adjustment affects the rate indexing tariff many liquids pipelines use to set fees for shipper services. FERC calculates the annual ceiling adjustment based off the Producer Price Index for Finished Goods (PPI-FG), which is adjusted to reflect changes to the cost for goods and services typically used by the pipeline sector.
On May 17, FERC set the new ceiling index at 1.087107 and instructed liquids pipelines to update their tariffs as of July 1, 2022. The latest updated ceiling level reflects the strong inflation experienced in 2021 as global economies emerged from lockdowns.
East Daley's review of tariff filings shows many pipelines have elected to pass along the entire 8.71% rate hike allowed by FERC. DCP Midstream (DCP), Enterprise Products (EPD), Energy Transfer (ET), Magellan Midstream (MMP), NuStar Energy (NS) and Plains All American (PAA) are among the operators of pipelines that have filed for the full rate increase.
A more detailed review of rate updates for 25 pipeline systems is available in East Daley's August 11 Midstream Navigator, "Record Rate Hike Goes Into Effect for Liquids Pipelines". Please log in or contact sales@eastdaley.com for more information.
With PPI inflation running above 15% so far in 2022, these latest rate hikes are a positive sign for additional earnings momentum in 2023-2024, when an even higher ceiling adjustment is likely to go into effect.
Pipelines will be impacted by cost inflation, and the FERC-inflator is designed to account for those cost increases. However, we forecast midstreamers will be able to limit cost increases relative to pipeline rate increases, especially after industry-wide cost-cutting measures taken in 2020-2021.
In fact, our company Blueprint projections suggest the Street is underestimating the upside from future ceiling adjustments for pipelines with indexed rates. For more information on our Blueprint models of the midstream sector, contact sales@eastdaley.com.
Subscribe to The Daley Note (TDN), "midstream insights delivered daily," covers news, commodity prices, security prices, and EDA research likely to affect markets in the short term.
North American Energy Indicators and Equity Prices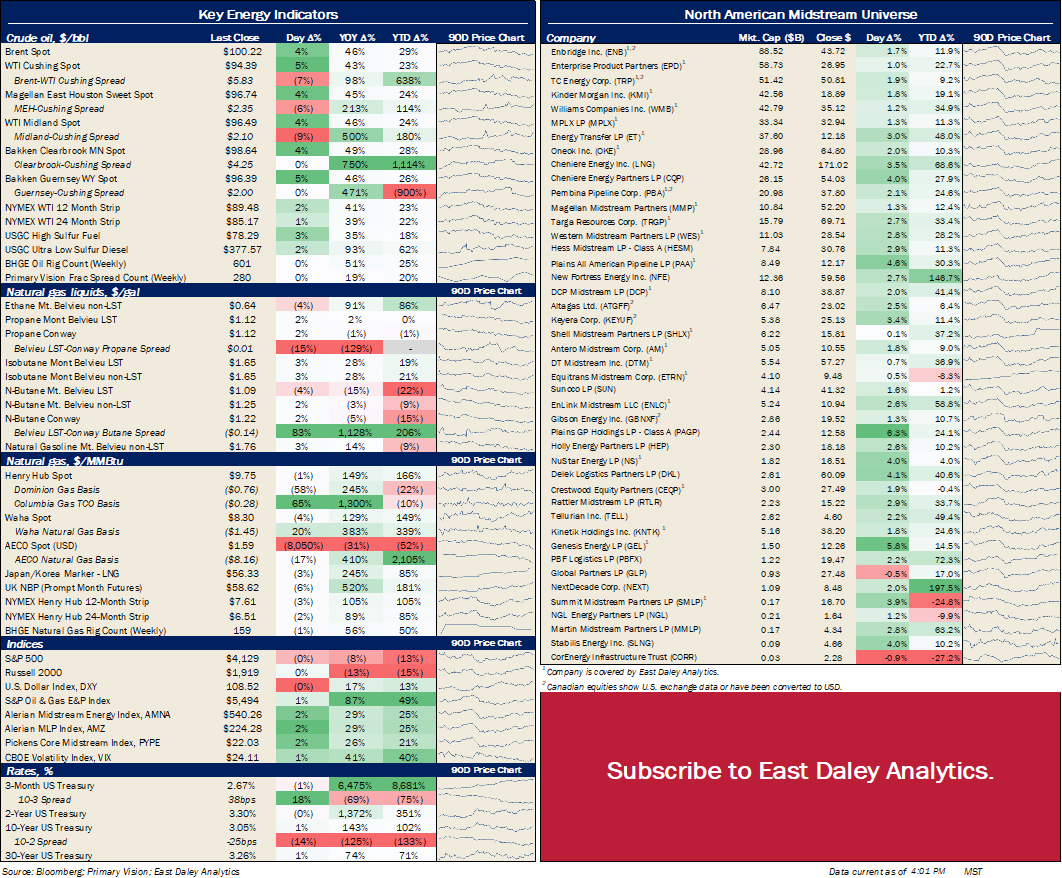 Key Private Debt Metrics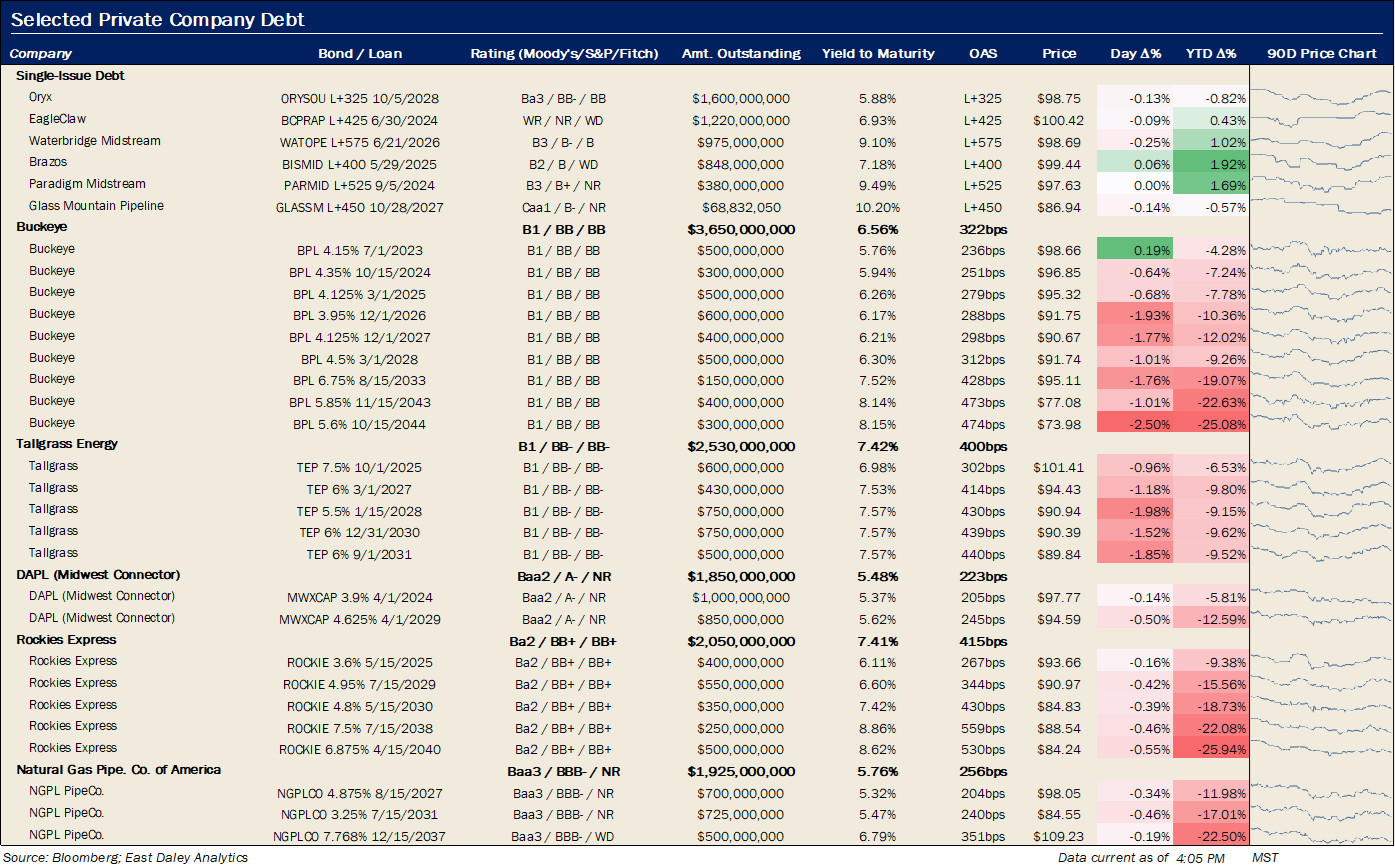 North American Natural Gas Prices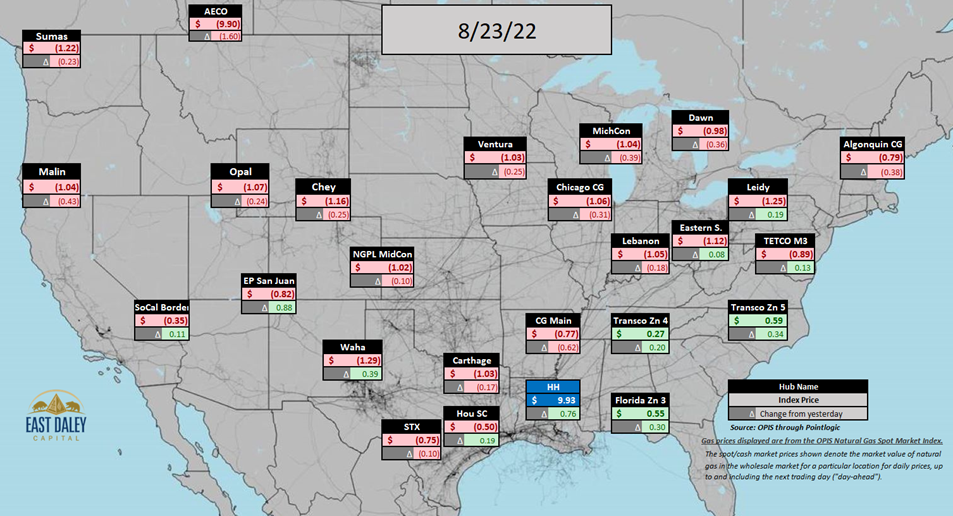 North American Crude Oil Prices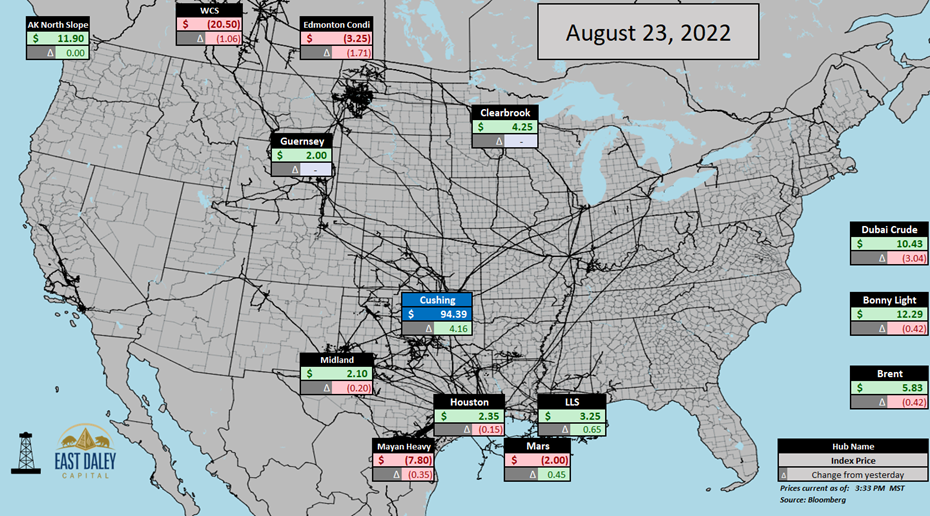 North American Natural Gas Liquids Prices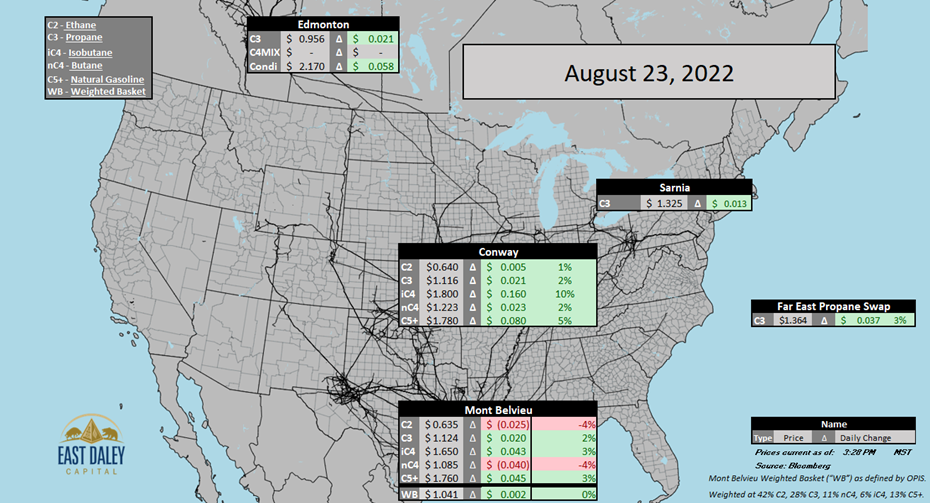 Subscribe to The Daley Note (TDN), "midstream insights delivered daily," covers news, commodity prices, security prices, and EDA research likely to affect markets in the short term.