The Daley Note: April 13, 2023
Recent tariff updates for Targa Resource's (TRGP) Grand Prix NGL pipeline suggest the company could be taking business from competitors in the Delaware Basin.
Grand Prix has canceled shipping rates from the Crestwood (CEQP) Sendero plant in Eddy County, NM to the Lone Star and Sand Hills NGL pipelines, according to revised tariff schedules filed with the Federal Energy Regulatory Commission (FERC). Grand Prix is keeping the $3.67/bbl rate for moving NGLs from the Sendero plant to TRGP's Mt. Belvieu storage and fractionation facilities.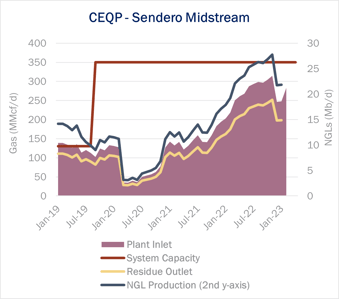 East Daley tracks the Grand Prix and Sendero assets in our TRGP and CEQP Financial Blueprints, and Y-grade flow on Grand Prix in our NGL Network Supply Model. The Sendero plant's NGL production increased to over 25 Mb/d in late 2022 (refer to blue line in chart), signaling growth on the Targa pipeline above and beyond the overall growth rate in the Delaware Basin.
Crestwood's newly acquired Sendero asset is not vertically integrated to the Gulf Coast, presenting an opportunity for Targa. TRGP can offer transport for producers behind Sendero, and also provide midstream services further downstream. NGL supply growth from the likes of ConocoPhillips (COP), Novo, Mewbourne, and Marathon (MRO) will benefit CEQP at the wellhead, and TRGP's Grand Prix as a conduit to NGL storage, fracs and export facilities on the Gulf Coast.
The magnitude of growth is reflected in our Energy Data Studio asset profile for the Sendero system, which currently has 3 active rigs. While we do not know how much NGL volume currently flows down Sand Hills and Lone Star, there is potential risk to legacy volumes through the effective tariff date of May 5, 2023. – Rob Wilson Tickers: CEQP, COP, MRO, TRGP.
Request Access to Energy Data Studio
East Daley Analytics has launched Energy Data Studio, a platform for our industry-leading midstream data and commodity production forecasts. All clients have been given access to the new client portal. If you have not yet logged in, please fill out the form to request a registration email be resent.
Energy Data Studio leverages our G&P data set for insights into midstream assets across every major oil and gas basin in North America. Users can navigate detailed visual dashboards by region, pipeline, or individual asset to understand crude oil, natural gas and NGL supply at the most granular level.
Energy Data Studio is available through data downloads from the visual interface, in Excel files, or as a direct feed delivered into subscribers' workflow via secure file transfer. To learn more about Energy Data Studio, please contact insight@eastdaley.com.
Join East Daley at the Southeast LDC Forum
East Daley Analytics will be participating at the LDC Gas Forums Southeast in Savannah, GA on April 12-14. Rob Wilson, VP of Product, will be speaking on April 12 to cover East Daley's outlook on the natural gas market and fundamentals. Learn more about the LDC Forum.
Review the Year Ahead in Dirty Little Secrets
The 2023 Dirty Little Secrets is Now Available! Is Midstream on the cusp of another infrastructure wave? Find out in our new annual report.
Dirty Little Secrets reviews the outlook for Midstream and commodity markets in 2023 and the years ahead. East Daley discusses the outlook for crude oil, natural gas and NGLs and the impacts to midstream assets in our 2023 Dirty Little Secrets annual market report. Click here for a copy of the 2023 Dirty Little Secrets report.
The Daley Note
Subscribe to The Daley Note (TDN) for midstream insights delivered daily to your inbox. The Daley Note covers news, commodity prices, security prices and EDA research likely to affect markets in the short term.