The Daley Note: April 12, 2023
With two new fractionator announcements in 1Q23, East Daley Analytics now expects developers to add 955 Mb/d of new fractionation capacity on the Texas Gulf Coast between 4Q22-2Q25. The expansions will create much-needed breathing space to handle NGL supply growth, according to our NGL Network Supply Model.
ONEOK (OKE) said in January it is building the 125 Mb/d MB-6 frac in Mont Belvieu. OKE expects the new frac to come online in 1Q25. In addition, the consortium of EnLink (ENLC), Targa (TRGP) and Phillips 66 (PSX) announced a plan to restart the 135 Mb/d Gulf Coast Fractionators (GCF) in 1Q24.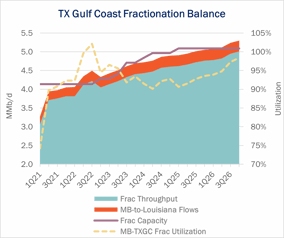 The latest announcements add to the wave of frac builds kicked off by PSX in 4Q22 with its 150 Mb/d Sweeny 4 fractionator. OKE expects to bring its 125 Mb/d MB-5 online in early 2Q23, followed by 300 Mb/d of combined capacity from Energy Transfer (ET) and Enterprise (EPD). Each company is bringing online a 150 Mb/d fractionator in 3Q23. In addition to its stake in the GCF restart, TRGP also expects to add the 120 Mb/d Frac 9 in 2Q24.
In the NGL Network Supply Model, we estimate frac utilization rates were at 100% in 3Q22 before the Sweeny frac came online. The additions will increase total frac capacity by 23% to 5.1 MMb/d. As a result, we expect Texas Gulf Coast fractionator utilization to decline back towards 90% (see figure). The new capacity should help frac utilization stay below 95% until mid-2026, when we might need to see another wave of fractionators.
There might be room for another project as utilization of 90%+ is still high for fractionators. Historically, rates have bounced between the 80-90% range. However, the industry has operated above 90% since 3Q21, and there may be a new baseline for what NGL markets consider "constrained". We have heard from market participants that spot frac rates have already started to come down.
Either way, NGL midstreamers are prepared to add capacity as needed. TRGP has already permitted its Frac 10, and stated the project is more a question of 'when' rather than 'if' to bring it online. For now, the industry can take its time. – Ajay Bakshani, CFA Tickers: ENLC, EPD, ET, OKE, PSX, TRGP.
Request Access to Energy Data Studio
East Daley Analytics has launched Energy Data Studio, a platform for our industry-leading midstream data and commodity production forecasts. All clients have been given access to the new client portal. If you have not yet logged in, please fill out the form to request a registration email be resent.
Energy Data Studio leverages our G&P data set for insights into midstream assets across every major oil and gas basin in North America. Users can navigate detailed visual dashboards by region, pipeline, or individual asset to understand crude oil, natural gas and NGL supply at the most granular level.
Energy Data Studio is available through data downloads from the visual interface, in Excel files, or as a direct feed delivered into subscribers' workflow via secure file transfer. To learn more about Energy Data Studio, please contact insight@eastdaley.com.
Join East Daley at the Southeast LDC Forum
East Daley Analytics will be participating at the LDC Gas Forums Southeast in Savannah, GA on April 12-14. Rob Wilson, VP of Product, will be speaking on April 12 to cover East Daley's outlook on the natural gas market and fundamentals. Learn more about the LDC Forum.
Review the Year Ahead in Dirty Little Secrets
The 2023 Dirty Little Secrets is Now Available! Is Midstream on the cusp of another infrastructure wave? Find out in our new annual report.
Dirty Little Secrets reviews the outlook for Midstream and commodity markets in 2023 and the years ahead. East Daley discusses the outlook for crude oil, natural gas and NGLs and the impacts to midstream assets in our 2023 Dirty Little Secrets annual market report. Click here for a copy of the 2023 Dirty Little Secrets report.
The Daley Note
Subscribe to The Daley Note (TDN) for midstream insights delivered daily to your inbox. The Daley Note covers news, commodity prices, security prices and EDA research likely to affect markets in the short term.