Natural Gas Weekly: August 10, 2023
Infrastructure - The Gulf of Mexico's first floating LNG (FLNG) project is only a month away from start-up, but don't expect a big change ahead in the natural gas market balance.
New Fortress Energy's (NFE) first FLNG platform has set sail for Altamira, Mexico. On the company's latest earnings call on Tuesday (August 8), management said commercial operations are expected to begin in September.
Touted by New Fortress as "Fast LNG", the Altamira project will take in slightly less than 0.5 Bcf/d of gas for Mexico's national utility, the Federal Electricity Commission (FCE). TC Energy's (TRP) Sur de Texas-Tuxpan Pipeline will supply gas to the FLNG facility. At the South Texas-Mexico border, gas will flow on Enbridge's (ENB) Valley Crossing Pipeline from Agua Dulce.

While the new demand in theory should tighten the Texas market, the timing of the FLNG launch coincides with an expansion of the Whistler Pipeline from the Permian Basin to South Texas. On its earnings call, pipeline partner MPLX (MPLX) said the Whistler expansion is on track to begin in September, taking total transport capacity to 2.5 Bcf/d. Agua Dulce prices should remain steady as the new 0.5 Bcf/d of supply from Whistler flows south to supply NFE's Altamira project.

Flows - East Daley's ArkLaTex sample is down by ~200 MMcf/d M-o-M through the first week of August, averaging 12.4 Bcf/d. We attribute this drop to real production declines. After May's record average flows of 13.4 Bcf/d, the daily samples fell sharply to 12.4 Bcf/d in June before rebounding slightly to 12.6 Bcf/d in July. The May-to-June drop was comparatively larger due to pipeline maintenance and an intrastate system expansion, which likely diverted some gas away from interstate pipelines.
Most of the decline in August (~110 MMcf/d) has occurred on DT Midstream's (DTM) Blue Union gathering system. In DTM's 2Q23 earnings last week, management reported that total gathered volumes averaged 1.53 Bcf/d in 2Q23, but rose to 1.6 Bcf/d in June. The samples show a bump in this period, but the recent declines indicate that Southwestern Energy (SWN), Blue Union's major producer, may not be ready to ramp production just yet.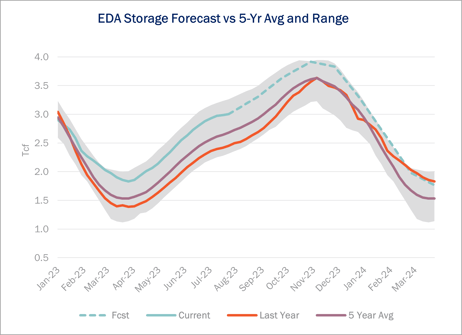 Storage - EIA reported a 14 Bcf storage injection for the July 28 week, putting working gas inventories at 3,001 Bcf. US storage has crossed the 3 Tcf threshold two months earlier than a year ago, underscoring the risk of high inventories on gas prices. Last year, working gas passed 3 Tcf the last week of September 2022.
Recent light storage builds have storage trending closer to seasonal levels, but storage still remains 322 Bcf above the 5-year average after the latest EIA report. East Daley had forecasted storage to end July at 3,056 Bcf/d, which will likely need to be revised downward given the latest data.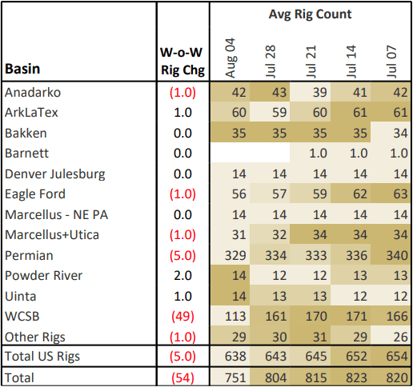 Rigs - US rigs decreased by 5 W-o-W to bring the total count to 638. The Permian Basin fell by 5 rigs, while the Marcellus+Utica, Eagle Ford, and Anadarko are all down 1 rig each. The Powder River added 2 rigs and the Uinta and ArkLaTex added 1 rig each.
On the midstream side, Enterprise Products (EPD) is up 9 rigs on its Permian systems. EnLink Midstream (ENLC) is down 3 rigs on its Anadarko and Permian systems. MPLX LP (MPLX) is down 2 rigs on its Bakken system.