The Daley Note: August 9, 2023
EnLink Midstream (ENLC) continues to build momentum in the emerging business of carbon capture and sequestration (CCS), signing up new customers and for the first time providing guidance on the CCS segment.
In its 2Q23 earnings update, EnLink announced more committed volumes as ExxonMobil (XOM) signed steelmaker Nucor (NUE) as its second customer for a carbon sequestration project in Louisiana. The new deal adds 800,000 metric tons/year of CO
Exxon has now secured 2.8 million tons per annum (Mtpa) of its initial 25-year 3.2 Mtpa take-or-pay contract with EnLink. The initial commitment could provide a substantial lift to ENLC's earnings once the CCS business becomes operational in 2025. In new disclosures from its 2Q23 earnings, ENLC projects the 3.2 Mtpa contract will provide a $25MM uplift to annual Adj. EBITDA.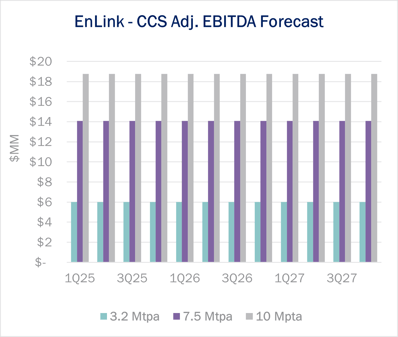 East Daley already included estimates for the CCS segment in the EnLink Financial Blueprint, and the latest guidance is in line with our initial forecast of $24MM in Adj. EBITDA (see figure).
There is potential upside to the Exxon partnership. ENLC has said its area of mutual interest (AMI) with XOM is for up to 10 Mtpa along the Mississippi River industrial corridor in southeastern LA. In its new guidance, ENLC said annual Adj. EBITDA would climb by $75MM if the company and XOM fulfill the full 10 Mtpa commitment. This guidance is also consistent with our ENLC Blueprint forecast.
ENLC's target is to secure 40 Mtpa of CO2 volumes by 2030, providing over $300MM of Adj. EBITDA. However, these ambitions may be tempered by XOM's recent purchase of Denbury Resources (DEN). The acquisition of DEN makes XOM the operator of the largest CO2 pipeline network in the US with over 925 miles of CO2 pipe in Louisiana, Texas and Mississippi, plus 10 onshore sequestration sites.
While the Denbury purchase signals Exxon's enthusiasm for the future of the CCS business, the newly acquired infrastructure puts upside from the relationship with EnLink at risk. ENLC has mentioned it is in discussions with several other counterparties, including large integrated as well as small and large private companies. With the Mississippi River industrial corridor currently the site of 80 million metric tons of emissions, there still is ample opportunity to meet future CO volume targets. Tickers: ENLC, NUE, XOM.
Upcoming Webinar:

Organically Grown: The Shifting Landscape For Growth in the Midstream Sector
August 16, 2023 | 10 AM MT | Online Webinar
Understanding how the commodity markets are influencing the business risk of the assets midstream companies own is a core component of the East Daley process and key to understanding how the market will evolve. This webinar will focus on reviewing the Base Business Risk Indicator (formerly the Treadmill) a key East Daley analysis that ties fundamental commodity analysis to the commercial outcomes of assets across the gas, oil, and NGL sectors. We will review where commodity markets are headed and which assets are capturing value, which are losing value, and pontificate on what could change. RSVP HERE
Energy Data Studio
East Daley Analytics has launched Energy Data Studio, a platform for our industry-leading midstream data and commodity production forecasts. All clients have access to the new client portal. If you have not yet logged in, please fill out the form to request a registration email be resent.
Energy Data Studio leverages our G&P data set for insights into midstream assets across every major oil and gas basin in North America. Users can navigate detailed visual dashboards by region, pipeline, or individual asset to understand crude oil, natural gas and NGL supply at the most granular level.
Energy Data Studio is available through data downloads from the visual interface, in Excel files, or as a direct feed delivered into subscribers' workflow via secure file transfer. To learn more about Energy Data Studio, please contact insight@eastdaley.com.
Review the Year Ahead in Dirty Little Secrets
The 2023 Dirty Little Secrets is Now Available! Is Midstream on the cusp of another infrastructure wave? Find out in our new annual report.
Dirty Little Secrets reviews the outlook for Midstream and commodity markets in 2023 and the years ahead. East Daley discusses the outlook for crude oil, natural gas and NGLs and the impacts to midstream assets in our 2023 Dirty Little Secrets annual market report. Click here for a copy of the 2023 Dirty Little Secrets report.
The Daley Note
Subscribe to The Daley Note (TDN) for midstream insights delivered daily to your inbox. The Daley Note covers news, commodity prices, security prices and EDA research likely to affect markets in the short term.