The Daley Note: August 8, 2023
TC Energy (TRP) has received a frosty reception from investors for a planned sale of an equity stake in the Columbia Gas and Columbia Gulf pipelines
TC Energy announced on July 24 the sale of its 40% equity interest in the Columbia Gas and Columbia Gulf systems for $5.2B. TRP shares fell 4.7% the following day and have continued to slide. TRP shares settled Monday (Aug. 7) at $35.79 in New York, down 7.3% since the announcement.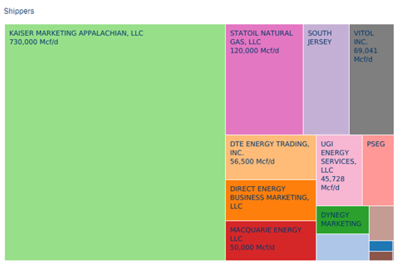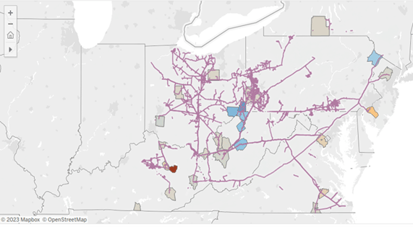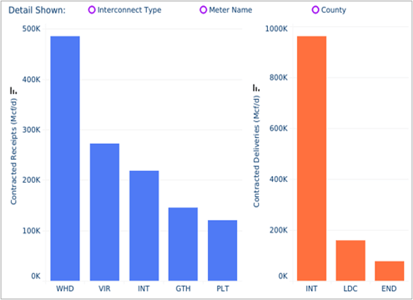 The market reaction suggests disappointment in the price received for premiere pipeline assets connecting the Gulf Coast and Northeast gas markets. The deal with Global Infrastructure Partners was quoted by TRP to have an EV/EBITDA multiple of 10.5x.
In our TRP Financial Blueprint, East Daley forecasts the Columbia Gas and Columbia Gulf assets to make Adj. EBITDA of $2,100MM and $260MM, respectively in 2023, for total '23 EBITDA of ~$2.36B CAD. Columbia Gulf generates about 20% of TRP's total Adj. EBITDA on a gross basis, not accounting for the pro forma 40% cutback in net controlling interest when the deal closes in 4Q23. Our base case for the pipeline is for slight growth of about 3% from 2023 to 2024.
In East Daley's First Take for clients following the announcement, we noted minimal rate risk for the Columbia Gas system, based on a FERC-calculated Return on Equity (ROE) of about 11% for 2022. Columbia Gas has a moratorium on any further rate changes until April 2025. Furthermore, we view the pipeline's primary contracted shippers as low risk. Of the 14 Bcf/d of total contracted capacity, only about 11% is termed out by marketers and traders.
The map shown is from East Daley's Energy Data Studio and highlights receipt points in blue-shaded regions and delivery points in red-shaded regions for the Columbia Gas system. Most contracts terminate at TCO Pool or TCO Leach storage hubs and are delivered into an interconnecting pipeline (labeled "INT" in the orange bar in Figure 2). Kaiser Marketing is by far the biggest single marketer, and its contracts expire in 2033 and 2034.
The remaining capacity is termed out to LDCs/utilities (45%) and producers and midstream companies (41%), shown in the chart from Energy Data Studio. We see LDCs and utilities as a low risk since they value security of supply and need the gas to meet consumer demand, while producers and midstream shippers are medium risk.
We view marketers as the highest-risk tranche because they are prone to re-contracting risk when arbitrage between origin and destination shipping points is traded away. Even the marketers like Kaiser on Columbia Gas have inked longer-dated tenors.
Between the ROE and high-quality shippers, we view the Columbia pipe system as a stable cash flow generator throughout our forecast horizon. – Rob Wilson, CFA Tickers: TRP.
Upcoming Webinar:

Organically Grown: The Shifting Landscape For Growth in the Midstream Sector
August 16, 2023 | 10 AM MT | Online Webinar
Understanding how the commodity markets are influencing the business risk of the assets midstream companies own is a core component of the East Daley process and key to understanding how the market will evolve. This webinar will focus on reviewing the Base Business Risk Indicator (formerly the Treadmill) a key East Daley analysis that ties fundamental commodity analysis to the commercial outcomes of assets across the gas, oil, and NGL sectors. We will review where commodity markets are headed and which assets are capturing value, which are losing value, and pontificate on what could change. RSVP HERE
Energy Data Studio
East Daley Analytics has launched Energy Data Studio, a platform for our industry-leading midstream data and commodity production forecasts. All clients have access to the new client portal. If you have not yet logged in, please fill out the form to request a registration email be resent.
Energy Data Studio leverages our G&P data set for insights into midstream assets across every major oil and gas basin in North America. Users can navigate detailed visual dashboards by region, pipeline, or individual asset to understand crude oil, natural gas and NGL supply at the most granular level.
Energy Data Studio is available through data downloads from the visual interface, in Excel files, or as a direct feed delivered into subscribers' workflow via secure file transfer. To learn more about Energy Data Studio, please contact insight@eastdaley.com.
Review the Year Ahead in Dirty Little Secrets
The 2023 Dirty Little Secrets is Now Available! Is Midstream on the cusp of another infrastructure wave? Find out in our new annual report.
Dirty Little Secrets reviews the outlook for Midstream and commodity markets in 2023 and the years ahead. East Daley discusses the outlook for crude oil, natural gas and NGLs and the impacts to midstream assets in our 2023 Dirty Little Secrets annual market report. Click here for a copy of the 2023 Dirty Little Secrets report.
The Daley Note
Subscribe to The Daley Note (TDN) for midstream insights delivered daily to your inbox. The Daley Note covers news, commodity prices, security prices and EDA research likely to affect markets in the short term.