The Daley Note: August 24, 2023
After a years-long permit struggle, the Mountain Valley Pipeline (MVP) has passed through the legal equivalent of Mordor. The US Fourth Circuit Court of Appeals recently dismissed two legal challenges against MVP, clearing a significant legal hurdle for the project.
The Fourth Circuit on August 11 dismissed two longstanding petitions from environmental groups. The court cited language in the 2023 Fiscal Responsibility Act that transferred jurisdiction over constitutional challenges to MVP to a DC appellate court.
MVP and lead developer Equitrans Midstream (ETRN) were thrown a lifeboat by Congress as part of the debt-ceiling compromise. Signed into law by President Biden on June 3, the Fiscal Responsibility Act directs federal agencies to issue and maintain all authorizations for MVP. The bill also includes Section 324, which moved jurisdiction for challenges to MVP from the Fourth Circuit to the US Court of Appeals for the District of Columbia.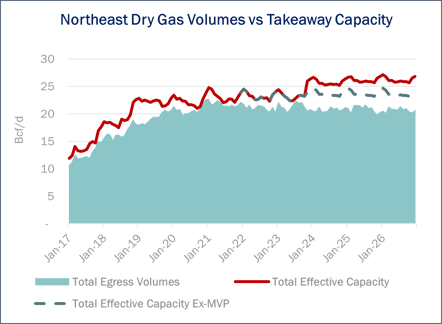 The ruling by the court ends a five-year legal struggle over construction permits that have raised costs and caused delay. Based in Richmond, the Fourth Circuit first vacated permits for MVP in 2018, and the court has continued to side with opponents of the project. Recently, the Fourth Circuit in April 2023 revoked permits for MVP to cross waterways in West Virginia. The court also issued a stay on construction in early July. That order was lifted by the Supreme Court on July 27, citing the pro-MVP language in the Fiscal Responsibility Act.
In the latest ruling, the Fourth Circuit's three judges agreed Section 324 had stripped their ability to continue hearing petitions filed against MVP. "Here, Congress has removed our jurisdiction to hear the merits of the present petitions," the Fourth Circuit panel wrote in the dismissal order.
The Supreme Court decision cleared the way for ETRN to restart construction on the 2 Bcf/d pipeline, and ETRN will continue to have the green light after the latest ruling from the Fourth Circuit. The pipeline is 94% complete, according to ETRN, which projects it can finish construction on MVP by YE23.
East Daley Analytics continues to see potential for delay, particularly if the project timeline slips into winter and cold temperatures disrupt construction work. In our Northeast Supply and Demand Forecast, we currently model a 2Q24 start-up for MVP.
We are skeptical of the near-term benefits of MVP to Appalachian producers since we expect most of the new capacity to be "phantom takeaway." Most producers in the Northeast are content to keep production flat, so we anticipate spare egress capacity regardless if MVP is built (see figure). Nevertheless, we view MVP as valuable to jumpstart new infrastructure investments required to connect the Northeast to the next wave of demand from LNG exports. – Andrew Ware Tickers: ETRN.
Sign Up for the Crude Oil Edge
East Daley's
Crude Oil Edge
provides bi-monthly updates on the US Crude Oil Market including supply and demand fundamentals, basin-level views, and analysis of market constraints and infrastructure proposals. We explore sub-basin dynamics and provide market insights on crude oil flows, production growth, and import and export characteristics.
Sign up now for the Crude Oil Edge
.
New Webinar:

Crude Oil Market Update: 5 Reasons to be Bullish and 1 Not to Be
August 31, 2023 | 10:30 AM MT | Online Webinar
Join East Daley for a webinar exploring US Crude Oil market fundamentals. We provide reasons why expect a strong and healthy outlook for US crude. We will dissect global and domestic economic headwinds and what these mean for US midstream companies, as well as the effects of production growth in the US and infrastructure projects to support it.

RSVP HERE
Energy Data Studio
East Daley Analytics has launched Energy Data Studio, a platform for our industry-leading midstream data and commodity production forecasts. All clients have access to the new client portal. If you have not yet logged in, please fill out the form to request a registration email be resent.
Energy Data Studio leverages our G&P data set for insights into midstream assets across every major oil and gas basin in North America. Users can navigate detailed visual dashboards by region, pipeline, or individual asset to understand crude oil, natural gas and NGL supply at the most granular level.
Energy Data Studio is available through data downloads from the visual interface, in Excel files, or as a direct feed delivered into subscribers' workflow via secure file transfer. To learn more about Energy Data Studio, please contact insight@eastdaley.com.
Review the Year Ahead in Dirty Little Secrets
The 2023 Dirty Little Secrets is Now Available! Is Midstream on the cusp of another infrastructure wave? Find out in our new annual report.
Dirty Little Secrets reviews the outlook for Midstream and commodity markets in 2023 and the years ahead. East Daley discusses the outlook for crude oil, natural gas and NGLs and the impacts to midstream assets in our 2023 Dirty Little Secrets annual market report. Click here for a copy of the 2023 Dirty Little Secrets report.
The Daley Note
Subscribe to The Daley Note (TDN) for midstream insights delivered daily to your inbox. The Daley Note covers news, commodity prices, security prices and EDA research likely to affect markets in the short term.