Natural Gas Weekly: April 6, 2023
Flows - Permian Basin pipeline samples hit a record high in March 2023, supporting East Daley Analytics' view that production is on the rise. Daily interstate pipeline scrapes of Permian receipt points averaged 5.9 Bcf/d in March, a M-o-M gain of ~260 MMcf/d.
The previous monthly high for Permian samples was 5.7 Bcf/d, set in November 2022. The return of Line 2000 on the El Paso system has opened more pipeline capacity and allowed producers to expand gas delivery.
Pipeline samples are an imperfect measure of Permian supply trends, accounting for ~35% of total basin gas production. Most Permian gas flows on Texas intrastate systems, which are not required to report flow data. Nevertheless, the latest samples show operators continue to bring supply online in the oil-focused basin despite low natural gas prices.
With several pipeline expansions planned in 2H23, East Daley expects more growth ahead. Our latest Permian Supply and Demand Forecast projects Permian residue gas supply increases to 17.0 Bcf/d by YE23, a gain of 1.8 Bcf/d from YE22.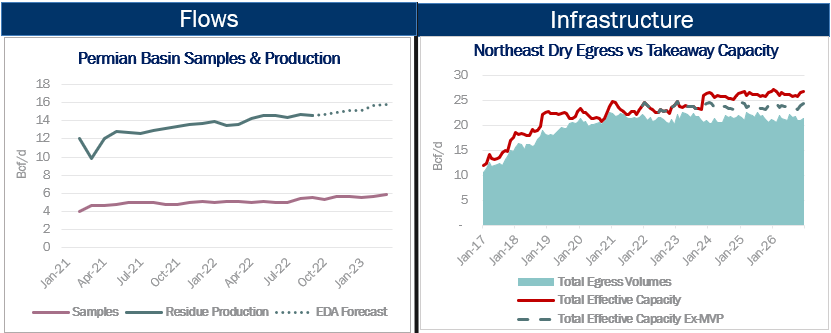 Infrastructure - A new court ruling has snuffed out hope for a 2023 start-up of the Mountain Valley Pipeline (MVP) in the Northeast.
The Fourth Circuit Court of Appeals on Monday (April 3) denied MVP a key permit to complete water crossings in West Virginia. In its ruling, the appellate court faults West Virginia regulators for re-issuing water-crossing permits to MVP without additional environmental safeguards. The court cites MVP's 139 violations of the state's own permit program and 46 water quality standard violations in West Virginia over the last two years, finding that state regulators failed to show how the pipeline would prevent future offenses.
The adverse ruling comes only weeks after MVP secured a Biological Opinion from the US Fish and Wildlife Service, opening a path to receive its outstanding permits and potentially complete construction this year. The latest ruling from the Fourth Circuit extinguishes any hope of a 2023 in-service date for MVP, and likely pushes completion to mid-2024 at the earliest.
The latest legal development is potentially bullish for natural gas prices; however, MVP is no longer critical to the Northeast supply outlook given producer guidance for flat production this year.


Rigs - Ovintiv (OVV) has reached a deal to acquire EnCap-backed companies Black Swan Oil and Gas, PetroLegacy Energy, and Piedra Resources in the Midland Basin for $4.275 billion in cash and stock. OVV said it plans to reducing drilling activity on the acquired acreage from 7 to 2 rigs while maintaining a total of 5 rigs across the Permian.
Midland activity has fallen from 160 rigs at the start of 2023 to 153 rigs currently, according to Blackbird BI data, and this acquisition will further reduce the overall count. The Permian Supply and Demand Forecast models the Midland Basin to see 150 rigs by YE23, but we are likely to revise estimates lower with the updated guidance.
Storage - EIA reported a 23 Bcf storage withdrawal for the March 31 week, putting working gas inventories at 1,830 Bcf. In our updated Macro Supply and Demand Forecast, we estimated storage inventories would end March at 1,815 Bcf. US storage is 298 Bcf above the 5-year average after the latest EIA report.
Natural Gas Weekly
East Daley Analytics' Natural Gas Weekly provides a weekly update to our monthly Macro Supply and Demand Forecast. The update covers rigs, flows, production, prices and capacity constraints that materially change our view on supply and demand. This update highlights what investors and traders need to monitor in natural gas to ensure they are on the right side of the market. Subscribe to the Natural Gas Weekly.