The Daley Note: March 21, 2023
The Mountain Valley Pipeline (MVP) could still begin service by year-end 2023 after scoring an important new permit. East Daley Analytics continues to tentatively model a 4Q23 in-service for MVP in our Northeast Supply and Demand Forecast, and the latest progress opens a window for the long-delayed pipeline to finish permitting and potentially complete construction by this target.
MVP secured a new Biological Opinion from the US Fish and Wildlife Service earlier this month, finding the pipeline project poses no threat to endangered species. The finding came after an appellate court had twice invalidated previous opinions from the agency.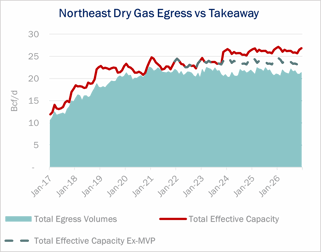 Lead developer Equitrans Resources (ETRN) reaffirmed in its 4Q22 earnings call a 2023 in-service date for MVP is still on the table. The Biological Opinion paves the way for approval of other outstanding permits that have halted construction work.
MVP is still waiting on individual water crossing permits from the Army Corps of Engineers, which management expects by mid-April. An amendment to the project's construction plans should make approval more likely. Last year, the Federal Energy Regulatory Commission (FERC) unanimously approved MVP's request to change some of its water crossing methods from open-cut to trenchless boring. The aim of the change is to limit environmental impacts when laying the pipeline under streams and wetlands.
MVP is also awaiting permits to cross the Jefferson National Forest in Virginia, which ETRN expects to have in hand by the end of May. MVP has less than six months of construction work remaining, ETRN noted, so the permitting timeline still provides a path for a 2023 in-service date.
East Daley Analytics continues to tentatively model a 4Q23 in-service date for MVP in our Northeast Supply and Demand Forecast. After years of legal delay, we no longer see the 2 Bcf/d pipeline as critical to the near-term supply outlook in the region given lower gas prices and relatively flat production in the Marcellus and Utica shales.
Reflecting the current political climate, another Northeast pipeline project, Williams' (WMB) more modest Regional Energy Access Expansion (REAE) on the Transcontinental pipeline, recently saw its own water quality permits challenged by environmental groups. The REAE project was certificated by FERC in January, but the expansion could still face delay before WMB can begin construction.
When first proposed, MVP backers had originally targeted a 2018 start-up. The permitting hurdles and endless legal challenges in recent years have effectively killed the potential for additional egress pipelines out of the Northeast, which in turn has capped Appalachian production.
As East Daley reviews in 2023 Dirty Little Secrets, the dynamic will limit the ability of regional producers to add volumes to feed the next wave of LNG demand in 2025 and beyond. The success of MVP, while far from assured, would at least allow for some participation. – Alex Gafford Tickers: ETRN, WMB.
Energy Data Studio Now Available
East Daley has launched Energy Data Studio, a platform for our industry-leading midstream data and commodity production forecasts. Users can navigate detailed visual dashboards by region, pipeline, or individual asset to understand crude oil, natural gas and NGL supply at the most granular level.
Energy Data Studio leverages our G&P data set for insights into midstream assets across every major oil and gas basin in North America. The interactive dashboard allows users to easily navigate weekly, monthly and quarterly updates to individual producers, midstream assets, and midstream company financials. Energy Data Studio is available through data downloads from the visual interface, in Excel files, or as a direct feed delivered into subscribers' workflow via secure file transfer.
To learn more about East Daley's Energy Data Studio please contact insight@eastdaley.com.
Review the Year Ahead in Dirty Little Secrets
The 2023 Dirty Little Secrets is Now Available! Is Midstream on the cusp of another infrastructure wave? Find out in our new annual report.
Dirty Little Secrets reviews the outlook for Midstream and commodity markets in 2023 and the years ahead. East Daley discusses the outlook for crude oil, natural gas and NGLs and the impacts to midstream assets in our 2023 Dirty Little Secrets annual market report. Click here for a copy of the 2023 Dirty Little Secrets report.
The Daley Note
Subscribe to The Daley Note (TDN) for midstream insights delivered daily to your inbox. The Daley Note covers news, commodity prices, security prices and EDA research likely to affect markets in the short term.