The Daley Note: March 17th, 2023
East Daley Analytics has made a conviction call for gas oversupply in 2023, and we are monitoring real-time rig data alongside guidance to see when E&Ps will respond. Pure gas plays are most at risk under these conditions, making both the Northeast and Haynesville targets for production cuts later this year.
Most Northeast producers remain in 'maintenance mode' and are guiding to steady output in 2023, leaving some room for single-digit declines or gains in the Marcellus and Utica shales.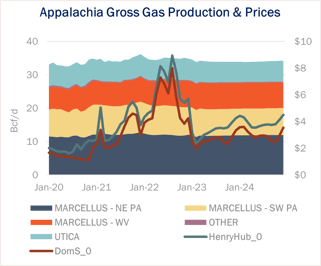 EQT (EQT) and Range Resources (RRC) acknowledged some flexibility and potential supply response if prices change. EQT guided to flat production at the midpoint, with prices to dictate any deviation. RRC guided to backloading more of its production toward the second half of 2023 to capture stronger prices in the forward strip.
Depending on the severity of the imbalance, producers could eventually shut-in wells later this year if gas prices stay low. In 2020, we saw EQT respond to poor spot pricing by shutting in one-third of its production when Dominion South prices fell below $1.40/MMBtu. On the other hand, Antero Resources (AR) claimed resilience to low prices in Appalachia, given a strong portfolio of firm transport (FT) on pipelines out of the basin and low break-even economics for its acreage. EQT noted that while some of its peers were slimming their FT capacity, EQT was expanding its own.
As of our February Northeast Supply and Demand Forecast, East Daley models a 3% average decline in 2023 in Northeast gross production vs 2022 (avg to avg), totaling 34.0 Bcf/d. – Alex Gafford Tickers: AR, EQT, RRC.
Energy Data Studio Now Available
East Daley has launched Energy Data Studio, a platform for our industry-leading midstream data and commodity production forecasts. Users can navigate detailed visual dashboards by region, pipeline, or individual asset to understand crude oil, natural gas and NGL supply at the most granular level.
Energy Data Studio leverages our G&P data set for insights into midstream assets across every major oil and gas basin in North America. The interactive dashboard allows users to easily navigate weekly, monthly and quarterly updates to individual producers, midstream assets, and midstream company financials. Energy Data Studio is available through data downloads from the visual interface, in Excel files, or as a direct feed delivered into subscribers' workflow via secure file transfer.
To learn more about East Daley's Energy Data Studio please contact insight@eastdaley.com.
Review the Year Ahead in Dirty Little Secrets
The 2023 Dirty Little Secrets is Now Available! Is Midstream on the cusp of another infrastructure wave? Find out in our new annual report.
Dirty Little Secrets reviews the outlook for Midstream and commodity markets in 2023 and the years ahead. East Daley discusses the outlook for crude oil, natural gas and NGLs and the impacts to midstream assets in our 2023 Dirty Little Secrets annual market report. Click here for a copy of the 2023 Dirty Little Secrets report.
The Daley Note
Subscribe to The Daley Note (TDN) for midstream insights delivered daily to your inbox. The Daley Note covers news, commodity prices, security prices and EDA research likely to affect markets in the short term.