The Daley Note: February 23, 2023
The Northeast has not seen its typical production ramp so far this winter, a possible bearish signal for natural gas supply in 2023.
In recent winters, Appalachian producers dialed up output through the fourth quarter to take advantage of higher seasonal demand and prices. This season, regional production instead has stayed roughly flat.
Northeast production has hovered around 33 Bcf/d based on pipeline samples, and supply was pushed even lower during weather events in late December and early February (see figure). Last winter, Marcellus and Utica gas production grew from ~33 Bcf/d on Oct. 1 to a peak of ~35 Bcf/d by the end of 4Q21. The winter of 2020-21 saw a similar ramp in regional production.
The Northeast has experienced an unusually mild winter, barring some brief stints of cold. January was particularly warm across the region, reducing the need for heating and potentially squelching a supply rally.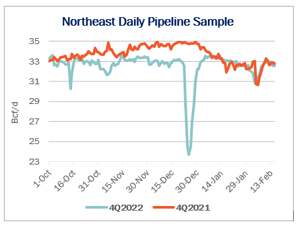 East Daley has been calling for an oversupply of natural gas in 2023, and we have just started to see the market respond. Henry Hub spot prices averaged 41% lower in January, significantly decreasing the incentive to drill across the US. We monitor several indicators of supply in our Macro Supply and Demand Forecast, and underwhelming performance in the Northeast could temper the outlook for growth.
Northeast production was flat Y-o-Y on average in 2022. In East Daley's Northeast Supply & Demand Forecast, our latest projections for 2023 show a 3% decline in regional production. We will be following guidance closely this quarter to see if Appalachian producers maintain the current "maintenance mode" mindset, or if some suggest pulling back on production. – Alex Gafford.
Dirty Little Secrets: After Hours – The Natural Gas Undoing Project
East Daley will host a webinar on Thursday, Feb. 23 at 1 PM EST to look deeper into the natural gas story. In "Dirty Little Secrets: After Hours – The Natural Gas Undoing Project," East Daley explores the short- and long-term supply and demand factors driving natural gas prices. Are market risks being accurately priced in the forward curve? East Daley explores the short- and long-term dynamics driving the natural gas market. Sign up to attend our latest webinar.
Stay Ahead of the Market with Natural Gas Weekly
East Daley Analytics' Natural Gas Weekly provides a weekly update to our monthly Macro Supply and Demand Forecast. The update covers rigs, flows, production, prices and capacity constraints that materially change our view on supply and demand. This update highlights what investors and traders need to monitor in natural gas to ensure they are on the right side of the market. Contact us for more information on Natural Gas Weekly.
The Daley Note
Subscribe to The Daley Note (TDN) for midstream insights delivered daily to your inbox. The Daley Note covers news, commodity prices, security prices and EDA research likely to affect markets in the short term.