The Daley Note: March 22, 2023
Public and private producers are parting ways on investments in the Permian Basin in 2023, with public companies on balance adding rigs as privately backed E&Ps have pulled back. The split is affecting activity on some G&P systems and creating winners and losers in the midstream space.
The Permian Basin rig count has increased by 2% (+8 rigs) year to date, totaling 338 rigs for the March 10 week vs 330 rigs at the end of 2022, according to Blackbird BI data (shown as red line in Figure 1). However, behind the modest overall growth is a more dramatic shift in commitments by public and private operators.
The most drastic change has occurred in the Delaware sub-basin in West Texas and New Mexico. Public operators have added a net 16 rigs in 2023, growing from 100 to 116 rigs (+16%) in the Delaware through the latest March 10 count. ExxonMobil (XOM; +4), Apache (APA; +3), ConocoPhillips (COP; +3), BP (BP; +3) and Permian Resources (PR; +3) have been among the most aggressive producers in ramping Delaware drilling programs this year.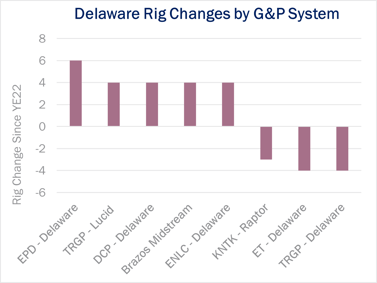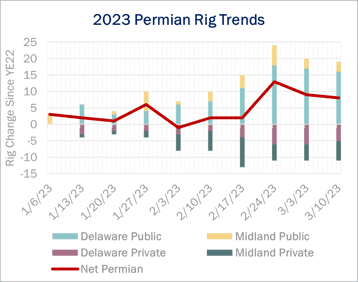 At the same time, private E&Ps have dropped 5 rigs from the Delaware through early March. On the private side, we have seen rig reductions from BTA (-1), Upcurve (-1), and Iskandia Energy (-1), according to Blackbird BI data.
The same public/private divergence is apparent in the Midland sub-basin, where public producers have added 3 rigs in 2023 while their private counterparts have dropped 6 rigs. Overall, the number of rigs in the Permian used by private drillers has declined by 7%, from 162 to 151 rigs through March 10 (shown in Figure 1).
Midstream systems in the Permian are seeing the impacts of the rig shuffling, depending on the producer clientele they serve. In Energy Data Studio, East Daley Analytics tracks rigs and forecasts volumes on some 45 discrete G&P systems in the Permian Basin.
Figure 2 shows notable changes this year in the Delaware using rig allocations from our Midstream Activity Tracker. The G&P systems benefiting the most from the recent rig shifts in the Delaware include Enterprise Products (EPD; +6) Targa Resources' (TRGP) Lucid S. Carlsbad (+4), DCP Midstream (DCP; +4), Brazos Midstream (+4) and EnLink Midstream (ENLC; +4). Conversely, Kinetik (KNTK; -3), Energy Transfer (ET; -4) and TRGP's Delaware system (-4) have seen drilling activity ease due primarily to the loss of private rigs. – James Taylor Tickers: APA, BP, COP, DCP, EPD, ENLC, ET, KNTK, PR, TRGP, XOM.
Request Access to Energy Data Studio
East Daley Analytics has launched Energy Data Studio, a platform for our industry-leading midstream data and commodity production forecasts. All clients have been given access to the new client portal. If you have not yet logged in, please fill out the form to request a registration email be resent.
Energy Data Studio leverages our G&P data set for insights into midstream assets across every major oil and gas basin in North America. Users can navigate detailed visual dashboards by region, pipeline, or individual asset to understand crude oil, natural gas and NGL supply at the most granular level.
Energy Data Studio is available through data downloads from the visual interface, in Excel files, or as a direct feed delivered into subscribers' workflow via secure file transfer. To learn more about Energy Data Studio, please contact insight@eastdaley.com.
Review the Year Ahead in Dirty Little Secrets
The 2023 Dirty Little Secrets is Now Available! Is Midstream on the cusp of another infrastructure wave? Find out in our new annual report.
Dirty Little Secrets reviews the outlook for Midstream and commodity markets in 2023 and the years ahead. East Daley discusses the outlook for crude oil, natural gas and NGLs and the impacts to midstream assets in our 2023 Dirty Little Secrets annual market report. Click here for a copy of the 2023 Dirty Little Secrets report.
The Daley Note
Subscribe to The Daley Note (TDN) for midstream insights delivered daily to your inbox. The Daley Note covers news, commodity prices, security prices and EDA research likely to affect markets in the short term.