The Daley Note: April 7, 2023
At East Daley Analytics, we're often thinking in two different commodity worlds: we maintain and regularly update two natural gas supply forecasts for our commodity and equity models.
One is our "Unbalanced" view. This is the world where commodity prices want to take us. In the Unbalanced view, we use the latest forward WTI and Henry Hub futures prices to model long-term rig counts and supply. East Daley takes a bottoms-up approach to forecasting oil, natural gas and NGL production in every major basin to develop a high-level view on North American supply.
Of course, supply ultimately must align with demand. Moreover, there must be infrastructure available to bring new oil and gas volumes to market. These considerations help shape our "Balanced" view on natural gas supply and the overall market. This is the world where we believe we're actually headed.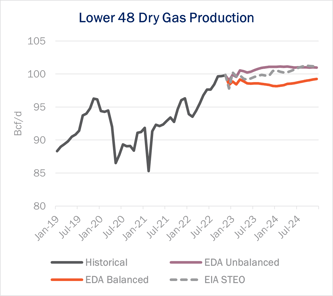 The contrasting views are shown in the figure, which compares our recent Balanced and Unbalanced forecasts for Lower 48 natural gas production with the Energy Information Administration's (EIA) latest Short-Term Outlook (STEO).
In our March 2023 Macro Supply and Demand Forecast, East Daley sees gas production growing by 3.4 Bcf/d from 2022 to 2023 (avg to avg), based on oil and gas prices and rig count activity at the time (late February). This is our unconstrained view on supply, which is above EIA's forecast of production during the same period.
In reality, we do not expect natural gas production to actually grow by 3.4 Bcf/d from 2022 to 2023. We have been bearish due to oversupply and, as outlined in the 2023 Dirty Little Secrets report, have long seen a need for lower prices in 2023. In February, we predicted gas prices would eventually trade below $2/MMBtu to keep storage facilities from overfilling.
Our Balanced supply model illustrates this other reality. We see a need for continued low prices at the Henry Hub and surrounding hubs (Houston Ship Channel, NGPL TXOK) to slow producer activity and incentivize a build-up of drilled but uncompleted wells (DUCs). As shown in the figure, our Balanced production forecast for 2023-24 was lower than EIA's Lower 48 outlook in the latest STEO.
So which view is the correct outlook? Both are useful, depending on what you're interested in discovering.
The Unbalanced view helps East Daley identify when gas prices along the forward curve do not reflect expected market needs. This perspective helps identify risks and opportunities from future imbalances. The Unbalanced view also points us toward opportunities where more infrastructure and investment are needed in the midstream space, whether for gathering and processing or long-haul pipelines.
The Balanced view reflects our best estimate of the future for energy and the midstream sector. We use the Balanced model in our company Financial Blueprints. We believe the Balanced view gives our Blueprints a leg up over other Street models, and helps better anticipate new trends before other analysts can identify them.
Living in two worlds has its advantages. East Daley recently released updated monthly Balanced and Unbalanced models for subscribers to our Macro Supply and Demand Forecast. Please reach out for more information. – Andrew Ware
Request Access to Energy Data Studio
East Daley Analytics has launched Energy Data Studio, a platform for our industry-leading midstream data and commodity production forecasts. All clients have been given access to the new client portal. If you have not yet logged in, please fill out the form to request a registration email be resent.
Energy Data Studio leverages our G&P data set for insights into midstream assets across every major oil and gas basin in North America. Users can navigate detailed visual dashboards by region, pipeline, or individual asset to understand crude oil, natural gas and NGL supply at the most granular level.
Energy Data Studio is available through data downloads from the visual interface, in Excel files, or as a direct feed delivered into subscribers' workflow via secure file transfer. To learn more about Energy Data Studio, please contact insight@eastdaley.com.
Review the Year Ahead in Dirty Little Secrets
The 2023 Dirty Little Secrets is Now Available! Is Midstream on the cusp of another infrastructure wave? Find out in our new annual report.
Dirty Little Secrets reviews the outlook for Midstream and commodity markets in 2023 and the years ahead. East Daley discusses the outlook for crude oil, natural gas and NGLs and the impacts to midstream assets in our 2023 Dirty Little Secrets annual market report. Click here for a copy of the 2023 Dirty Little Secrets report.
The Daley Note
Subscribe to The Daley Note (TDN) for midstream insights delivered daily to your inbox. The Daley Note covers news, commodity prices, security prices and EDA research likely to affect markets in the short term.