The Daley Note: April 6, 2023
Natural gas price spreads to the West Coast continue to blow out as a series of storms have pummeled the region this winter. The market premium is pulling gas from across the country as pipeline shippers look to capitalize on the opportunity.
Gas on the West Coast has recently traded for nearly triple the price in other US regions. The SoCal border traded for $5.44/MMBtu Thursday (April 6) while Malin and the Sumas border point were over $6.00, according to Bloomberg price data. With spot Henry Hub gas at $2.17, the spread to the West Coast is nearly double underlying commodity prices.
Strong winter demand in the West has caused flows to reverse on Tallgrass Energy's Rockies Express Pipeline (REX). Normally, volumes move from REX Zone 1 (CO/WY) to the Midwest and Northeast. But REX flows have reversed in the past at the Colorado-Nebraska border when the CIG-Opal price spread widens past $1.00.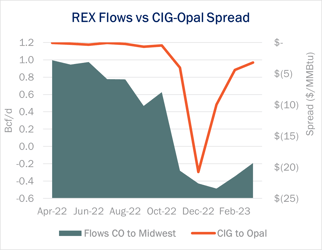 The CIG-Opal spread has averaged $7.40/MMBtu for the latest six months, drawing REX volumes westward. Westbound flows at the CO-NE border hit a high in January, averaging 488 MMcf/d, according to pipeline nomination data (shown as negative flows in the figure). In March, REX transported an average of 191 MMcf/d westbound.
Given REX's extensive pipeline connectivity, natural gas could be coming from several regions, including the Rockies, Western Canada, Midcontinent and Appalachia. Contract data filed with FERC shows at least one REX shipper, Stanchion Energy, recently booked backhaul agreements to move Marcellus and Utica gas from eastern Ohio to Opal, WY.
A cold winter in the western US has pushed regional demand well above average this heating season. Cumulative gas-weighted heating degree days have been 16% above normal in the Pacific region, according to National Weather Service data. At the same time, the extended outage of the El Paso system's Line 2000 cut off ~600 MMcf/d of gas flows normally available from the Permian Basin. West Coast prices spiked to over $40/MMBtu in December 2022.
The 18-month outage on Line 2000 ended in mid-February, bringing West Texas gas prices up and potentially displacing some backhauled volumes on REX. However, West Coast demand will likely remain elevated in 2023 to refill depleted storage inventories, which are well below normal in the Pacific region for this time of year. - Maria Paz Urdaneta
Request Access to Energy Data Studio
East Daley Analytics has launched Energy Data Studio, a platform for our industry-leading midstream data and commodity production forecasts. All clients have been given access to the new client portal. If you have not yet logged in, please fill out the form to request a registration email be resent.
Energy Data Studio leverages our G&P data set for insights into midstream assets across every major oil and gas basin in North America. Users can navigate detailed visual dashboards by region, pipeline, or individual asset to understand crude oil, natural gas and NGL supply at the most granular level.
Energy Data Studio is available through data downloads from the visual interface, in Excel files, or as a direct feed delivered into subscribers' workflow via secure file transfer. To learn more about Energy Data Studio, please contact insight@eastdaley.com.
Review the Year Ahead in Dirty Little Secrets
The 2023 Dirty Little Secrets is Now Available! Is Midstream on the cusp of another infrastructure wave? Find out in our new annual report.
Dirty Little Secrets reviews the outlook for Midstream and commodity markets in 2023 and the years ahead. East Daley discusses the outlook for crude oil, natural gas and NGLs and the impacts to midstream assets in our 2023 Dirty Little Secrets annual market report. Click here for a copy of the 2023 Dirty Little Secrets report.
The Daley Note
Subscribe to The Daley Note (TDN) for midstream insights delivered daily to your inbox. The Daley Note covers news, commodity prices, security prices and EDA research likely to affect markets in the short term.