The Daley Note: July 20, 2023
New Texas Railroad Commission (TRC) data indicates volumes continue to fall on NuStar's (NS) Eagle Ford crude pipelines, but one specific segment is seeing higher throughput that could help stabilize earnings.
NuStar lumps the Eagle Ford pipelines with its Corpus Christi Crude system on its financial statements, but TRC data allows us to break out volumes and tariffs on specific lines. According to East Daley's Financial Blueprints, the Eagle Ford Supply Lines at their peak generated $60MM and comprised 10% of NS' EBITDA. However, dwindling supply and expiring minimum volume commitments (MVCs) led to a sharp drop in earnings. We estimate earnings fell to $29MM in 2021 and made up only 4% of NS' total earnings.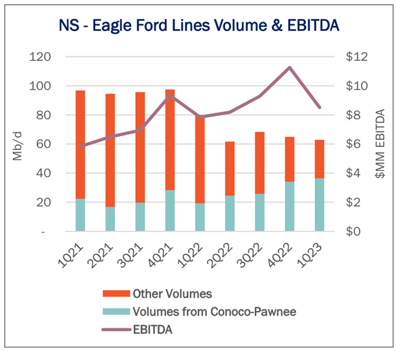 Volumes on the Eagle Ford pipes have further declined from 96 Mb/d in 2021 to 64 Mb/d for the trailing 12 months through 1Q23. Despite the decline, we estimate earnings have actually increased from $29MM to $37MM over this period. Although throughput fell 33%, volumes from ConocoPhillips' (COP) terminal in Pawnee, TX increased 39%, from 22 Mb/d to 30 Mb/d. The rate from the Pawnee terminal to NS' Corpus North Beach is $1.60/bbl, significantly higher than the rate of $0.89/bbl most other origin points receive.
We estimate there is a 25 Mb/d MVC on the Conoco - Pawnee route, but volumes are soaring past that. April 2023 data shows volumes from the terminal reached a record 45 Mb/d. Based on the new data, our forecast improved by ~$10MM annually due to increased volume at the higher rate.
The improved outlook for the Eagle Ford asset adds to our positive view of NuStar, along with a healthy 13.3% rate bump at its FERCregulated refined products systems. We expect the company to generate $766MM in 2023, 2% above consensus and slightly higher than management's guidance. - Ajay Bakshani, CFA Tickers: COP, NS.
Upcoming Webinar: Projecting US LNG Growth, Supply and Requisite Infrastructure
July 26, 2023 | 8 AM MT | Online Webinar
Bloomberg Intelligence and East Daley Analytics are proud to host a fireside chat discussing the outlook for US LNG export expansion and the massive infrastructure challenges that developers face in uniting global markets. The US LNG export boom and global demand growth will require significant investment and buyer commitments in a market shrouded by uncertainty stemming from regulatory pressure, political instability and an intensifying focus on renewables. RSVP HERE
Energy Data Studio
East Daley Analytics has launched Energy Data Studio, a platform for our industry-leading midstream data and commodity production forecasts. All clients have access to the new client portal. If you have not yet logged in, please fill out the form to request a registration email be resent.
Energy Data Studio leverages our G&P data set for insights into midstream assets across every major oil and gas basin in North America. Users can navigate detailed visual dashboards by region, pipeline, or individual asset to understand crude oil, natural gas and NGL supply at the most granular level.
Energy Data Studio is available through data downloads from the visual interface, in Excel files, or as a direct feed delivered into subscribers' workflow via secure file transfer. To learn more about Energy Data Studio, please contact insight@eastdaley.com.
Review the Year Ahead in Dirty Little Secrets
The 2023 Dirty Little Secrets is Now Available! Is Midstream on the cusp of another infrastructure wave? Find out in our new annual report.
Dirty Little Secrets reviews the outlook for Midstream and commodity markets in 2023 and the years ahead. East Daley discusses the outlook for crude oil, natural gas and NGLs and the impacts to midstream assets in our 2023 Dirty Little Secrets annual market report. Click here for a copy of the 2023 Dirty Little Secrets report.
The Daley Note
Subscribe to The Daley Note (TDN) for midstream insights delivered daily to your inbox. The Daley Note covers news, commodity prices, security prices and EDA research likely to affect markets in the short term