Natural Gas Weekly: July 20, 2023
Infrastructure
Earlier this week Permian Highway Pipeline (PHP) took just over 200 MMcf/d offline due to maintenance at the Coyanosa compressor station on July 18th. The Waha price for the day moved back by just $0.12/MMBtu relative to Henry Hub indicating egress out of the basin has more than 200 MMcf/d of capacity to spare. This is starkly different from maintenance events in May where we saw nearly 1.0 Bcf/d of capacity taken offline on PHP that sent Waha prices crashing below -$2.50/MMBtu.
Rigs
U.S. rigs decreased by 4 W-o-W with total count sitting at 655. The Permian is down 5 rigs, the Eagle Ford is down 1 rig, and the Anadarko is down 1 rig. The Bakken added 1 rig. On the midstream side Energy Transfer (ET) is down 8 rigs on its Permian, Anadarko, and Eagle Ford systems. Targa Resources (TRGP) is up 2 rigs across its Anadarko and Permian systems. EnLink Midstream (ENLC) is up 1 rig on its Anadarko system. Williams Partners (WMB) is up 1 rig on its ArkLaTex system.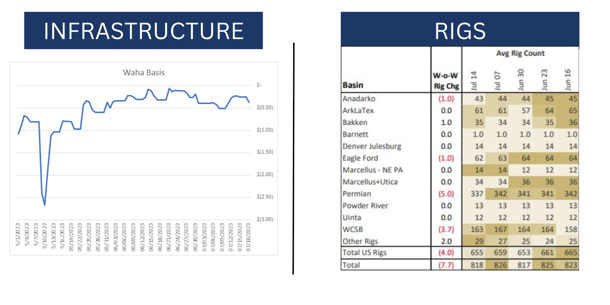 Flows
Dynamics in the Rockies region appear to have changed as westbound gas prices continue to be at a premium when compared to Henry Hub or Eastbound prices. This can be seen in the Rockies Express Pipeline (REX) Zone 1 (Colorado/Wyoming) in which we have seen flows continue to be reversed since January 2023. Flows averaged 1.4 Bcf/d in the last three months but overall, since Tallgrass acquired Ruby Pipeline at the beginning of this year, flows from Colorado tend to gravitate to the West. For East Daley, this market dynamic is mainly due to price incentives but may also be related to variations in local demand and Pacific Coast and Mountain West gas requirements.
Storage
EIA reported a 49 Bcf storage injection for the week ending July 7th, putting working gas inventories at 2,930 Bcf. In our monthly Macro, we forecast storage to exit July at 3,056 Bcf. Storage is 364 Bcf above the 5-year average following this latest EIA report.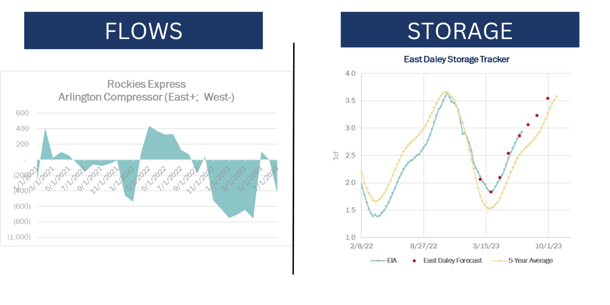 Natural Gas Weekly
East Daley Analytics' Natural Gas Weekly provides a weekly update to our monthly Macro Supply and Demand Forecast. The update covers rigs, flows, production, prices and capacity constraints that materially change our view on supply and demand. This update highlights what investors and traders need to monitor in natural gas to ensure they are on the right side of the market. Subscribe to the Natural Gas Weekly.