Natural Gas Watch: October 12, 2022
Updated 10/13/2022, 2:30 PM MT: EIA reported a 125 Bcf withdrawal for the Oct. 7 week following our post, bringing storage to 3,231 Bcf.
Natural Gas Watch is East Daley's weekly review of natural gas market fundamentals, provided free to subscribers each Thursday morning ahead of the EIA storage release. Subscribe to Natural Gas Watch. "Cut through the noise, take action."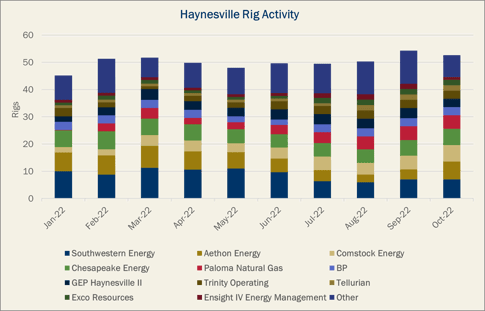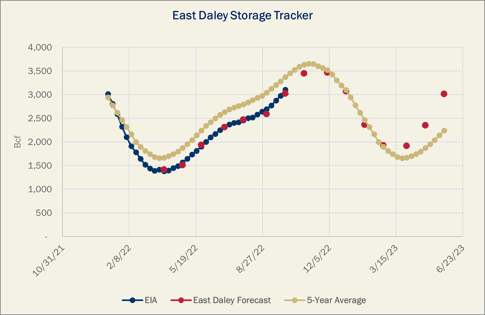 Rig counts continue to increase in the Haynesville,
prompting us to raise our supply forecast into year-end
and 2023
. Producers added 9 rigs in the latest two months, with Aethon Energy (+3 rigs) and Comstock Resources (+2 rigs) committing the most additional rigs to the play since early August.
Consecutive triple-digit weekly storage injections bolster our view that we will be structurally long supply by 1Q23. The latest 129 Bcf injection was the third straight 100+ Bcf build and the second largest in 10 years of weekly EIA storage data.
We expect at least one more 100+ Bcf post when EIA reports Thursday morning. Mild weather has prevailed so far in October while the Cove Point LNG terminal has been offline since Oct. 1 for seasonal maintenance, cutting ~0.8 Bcf/d of export demand.
East Daley forecasts storage fills to 3,447 Bcf by the end of October, implying 341 Bcf of injections during the month. Storage exits October just 189 Bcf short of the 5-year average. Much depends on when winter weather arrives, but our model shows storage continues to build into early November and returns to seasonal averages by mid-December.
Dry production for the 10/6 – 10/12 week averaged 100 Bcf/d. We estimate October production to average 99.3 Bcf/d in our Macro Supply and Demand Forecast.
Natural Gas Watch
Subscribe to Natural Gas Watch. "Cut through the noise, take action." NGW highlights East Daley's high-level perspective on weekly natural gas market changes.