The Daley Note: October 12, 2022
We anticipate 115 Mb/d of new Northeast ethane demand by YE2023, diverting ~320 MMcf/d of regional gas supply for use in petrochemicals. The additional ethane demand will create more need for midstream services while freeing up some room for additional supply growth during the next few years.

The Shell (SHEL) Monaca cracker under construction outside Pittsburgh, PA was anticipated to begin service in 3Q22, and when fully ramped will create ~90 Mb/d of new regional demand for ethane. The Shell project will be the first ethylene cracker located within Appalachia to take advantage of NGLs produced in the Marcellus and Utica shales. In our monthly NGL Network Model, we estimate 30 Mb/d of ethane demand in 3Q22 from start-up of the Shell project, and for the cracker to fully ramp by 1Q23.
East Daley is in the News. Click here to read a new Natural Gas Intelligence article highlighting East Daley market analysis ahead of last week's report of a 129 Bcf weekly storage injection. We noted unusual pipeline flows out of the Haynesville that point to large storage builds ahead.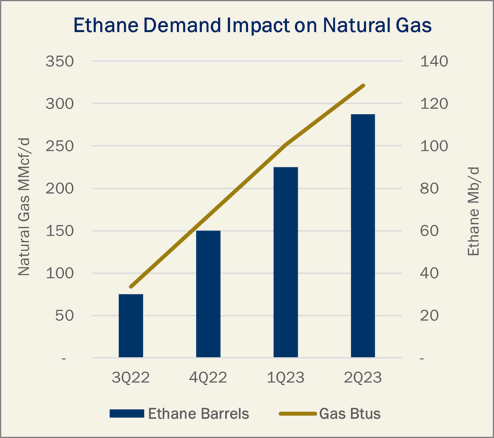 The Monaca plant will increase ethane recovery to 68% (up from 50%) for feedstock to the cracker. The project is largely supported by MPLX's 68 Mb/d de-ethanizer expansion at the Sherwood processing complex in West Virginia. More ethane will be recovered from the rich gas stream, effectively lowering the volume and Btu content of the gas supply and freeing up more space for supply growth. Additionally, we estimate Nova Chemicals' polyethylene facility to add another 25 Mb/d to ethane demand in 2023.
By converting the volume of the additional ethane recovered into Btus, we can approximate the gas flow impact on pipelines in the area. The figure shows the correlated ramp of incremental ethane demand and the corresponding impact to pipeline gas flows.

Currently, Northeast ethane supplies are sent away on purity pipelines to petrochemical demand centers in Sarnia, ON and on the Gulf Coast, or shipped overseas from the Marcus Hook terminal via Energy Transfer's (ET) Mariner East pipeline. The Monaca cracker will boost Northeast ethane demand by 30% in our NGL Network Model. This incremental demand helps alleviate the otherwise tight Appalachian gas egress outlook, setting up a more bullish production scenario in 2023.

Antero Resources (AR) is poised to see the most benefit from this dynamic as the producer is a major supplier to the Shell cracker and MPLX's Sherwood facility. The increased ethane recovery will allow AR to ship more production through its existing firm transport (FT) portfolio. This dynamic between ethane and natural gas could cause a drop in the pipeline sample as the de-ethanizers come online. We are monitoring gas quality data for signs the facilities are beginning to take volumes, and we have not seen any signals that the Monaca cracker has started to ramp yet. – Alex Gafford Tickers: AR, ET, MPLX, SHEL.
Webinar: Dissecting U.S. Natural Gas Production
Join us today at 12 p.m. ET on Wednesday, October 12 for a webinar discussion of U.S. natural gas supply and demand. In this 30-minute webinar, East Daley analysts will go behind the curtain and share our unique production methodology. Click here to register and for more information. For those interested in a deeper dive into natural gas market dynamics, we published an updated monthly Macro U.S. Supply & Demand Forecast Report and Dataset at the end of September. Please contact Zack Van Everen to request a copy.
3Q22 Earnings Previews Now Available
East Daley has published a first group of 3Q22 Earnings Previews and Blueprint Financial Models for midstream companies within our coverage. Quarterly Earnings Previews and Blueprints are now available for Antero Midstream (AM), Crestwood Equity (CEQP), EnLink Midstream (ENLC), Enterprise Products (EPD), Equitrans Midstream (ETRN), Kinder Morgan (KMI), Magellan Midstream (MMP), Plains All American (PAA), Summit Midstream (SMLP) and Targa Resources (TRGP). Our Earnings Previews include quarterly earnings forecasts compared to Street consensus, a detailed list of the top assets that will impact the quarter, analysis of near- and long-term risks to future earnings, along with forecasts for Adj. EBITDA by segments. Please log in to access these reports.
The Daley Note
Subscribe to The Daley Note (TDN) for midstream insights delivered daily to your inbox. The Daley Note covers news, commodity prices, security prices and EDA research likely to affect markets in the short term.

North American Energy Indicators and Equity Prices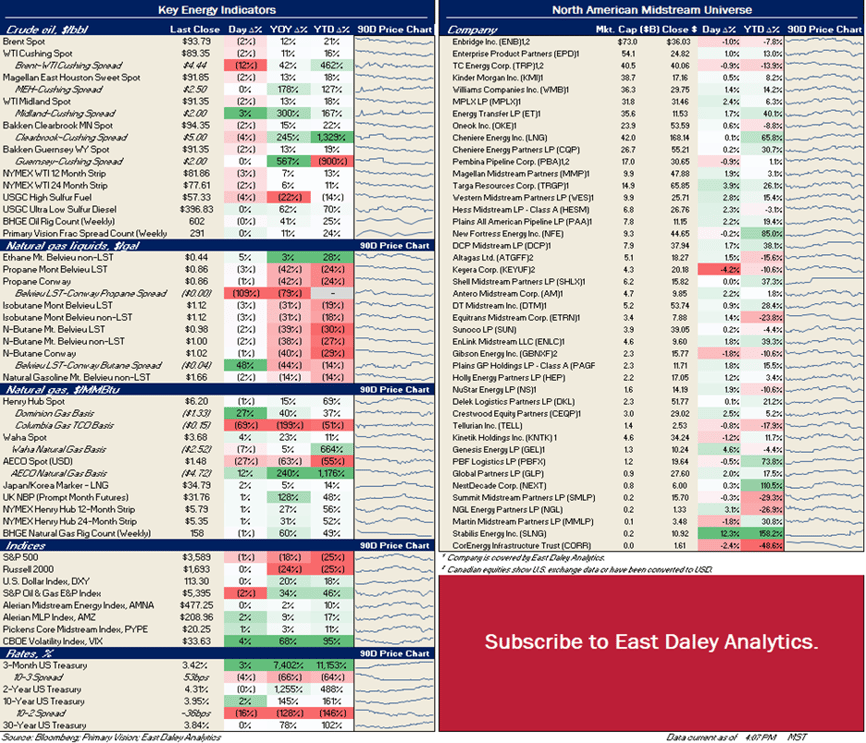 Key Private Debt Metrics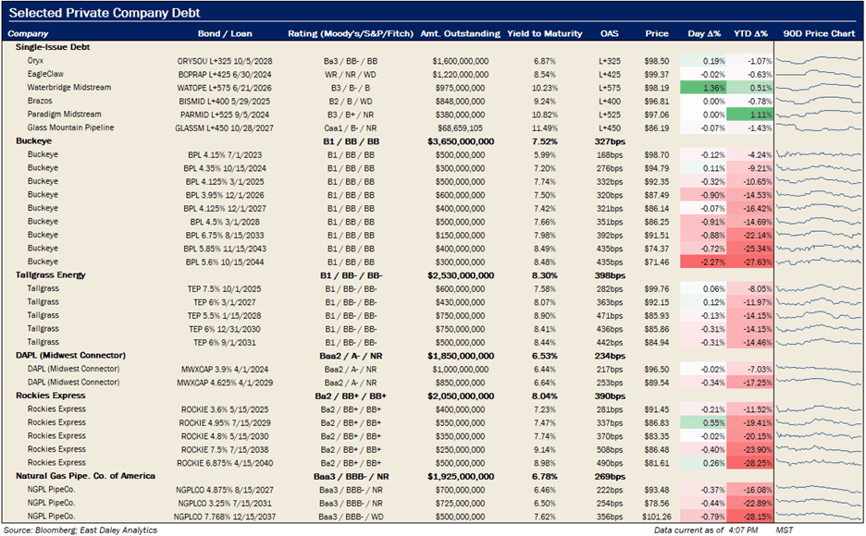 North American Natural Gas Prices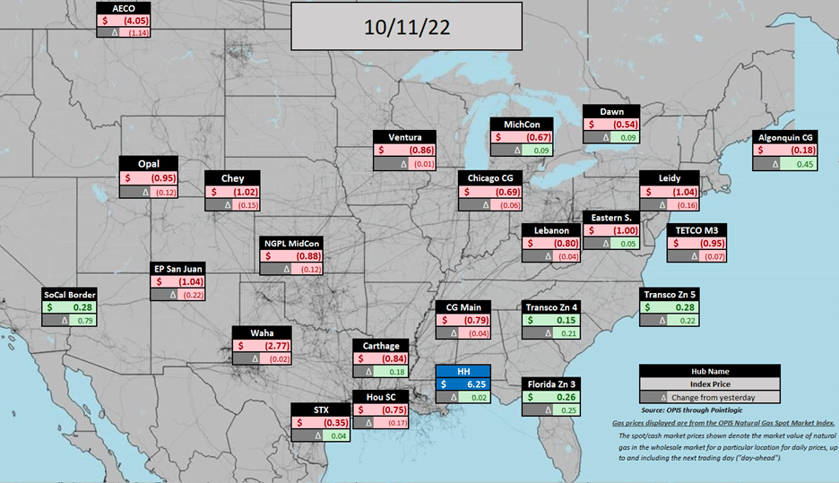 North American Crude Oil Prices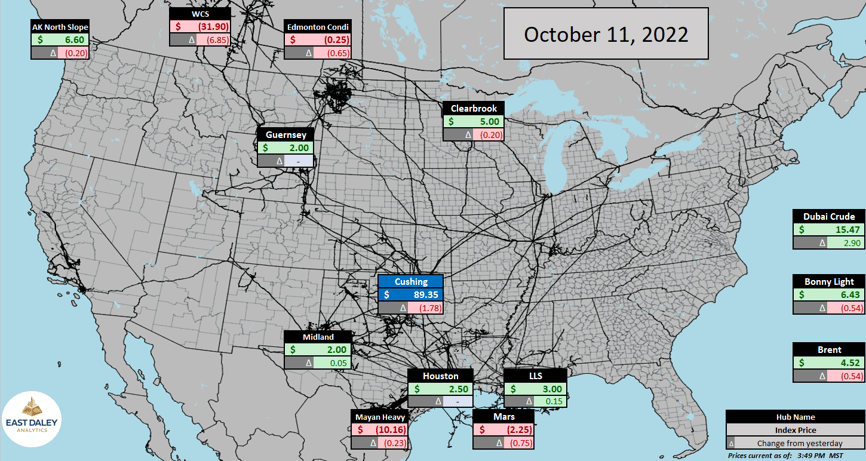 North American Natural Gas Liquids Prices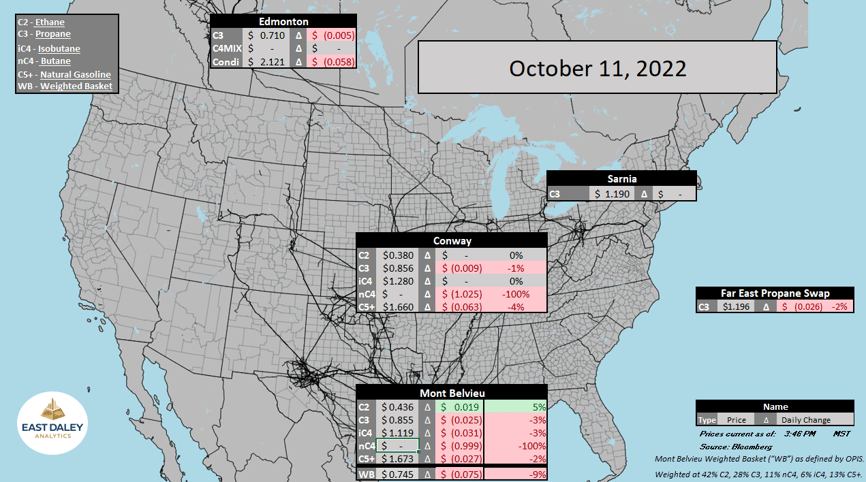 The Daley Note
Subscribe to The Daley Note (TDN) for midstream insights delivered daily to your inbox. The Daley Note covers news, commodity prices, security prices and EDA research likely to affect markets in the short term.