The Daley Note: September 9, 2022
Permian samples remain elevated through the first week of September, continuing the trend we observed through August. Average August-September volumes are 6% higher vs the first seven months of 2022.
As noted in last week's Natural Gas Watch, gas volume growth is showing up on the El Paso and Natural Gas Pipeline Company of America (NGPL) system samples. Waha-STX and Waha-SoCal basis differentials suggest spare Permian capacity is available on northern routes to Midcon and Midwest markets. Production growth usually flows north when east- and westbound pipelines are full.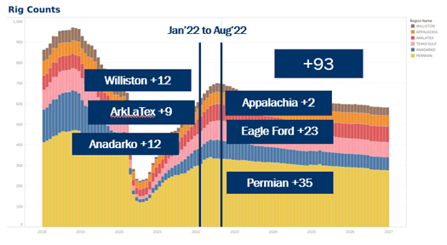 Pioneer's Scott Sheffield recently said oil production is less than what people are expecting, according to media reports. Nevertheless, we have seen a broad increase in rig activity, with 93 rig adds since January across six basins (see table below). We model increased producer activity will create a glut of gas supply that we expect to fill storage above 5-year averages by early 2023. The largest rig gains have occurred in oil-targeted basins with more modest increases in gas basins.
U.S. storage is poised to fill more quickly if a standoff between Cheniere Energy (LNG) and the Environmental Protection Agency (EPA) over turbine emissions leads to facility shutdowns. The EPA denied a request by Cheniere to exempt turbines at its Sabine Pass and Corpus Christi liquefacants from a hazardous pollution rule. A shutdown would reduce up to 6.1 Bcf/d of demand, leading to lower prices sooner than anticipated.
Dry production for the 9/1 – 9/7 week averaged 98.3 Bcf/d. We estimate September production to average 99.2 Bcf/d in our Macro Supply and Demand Forecast.
EIA reports weekly storage +54 Bcf, matching consensus estimates. Inventories for the week ended Sept. 2 total 2,694 Bcf, down 349 Bcf vs the 5-year avg. Storage is tracking with our forecast; we estimate inventories will rise to 3,091 Bcf by end-September. – Rob Wilson Tickers: LNG.
Welcome to East Daley Analytics
East Daley is excited to announce our transition to East Daley Analytics – reinforcing our commitment to driving transparency and connecting value chain analysis for energy markets.
We've updated our website to reflect our focus as a data and analytics company, and the new client portal will provide easy access to your subscription products. The portal also includes high-level search functionality to find historical and current products.
The existing client portal will remain live and accessible for 60 days as clients begin to navigate the new portal. All clients will receive an email to create a new password to access the new portal.
Along with this new website, we recently launched the East Daley Analytics Energy Data Studio. Energy Data Studio is a dynamic interface that allows users to access and filter a wide range of energy data dashboards. These dashboards are uniquely constructed to triangulate multiple datasets, provide context through geospatial visuals, and forecast infrastructure at an asset level across the oil, gas and NGL sectors.
If you have any questions about accessing the portal or Energy Data Studio, please contact sales@eastdaley.com.
Subscribe to The Daley Note (TDN), "midstream insights delivered daily," covers news, commodity prices, security prices, and EDA research likely to affect markets in the short term.
North American Energy Indicators and Equity Prices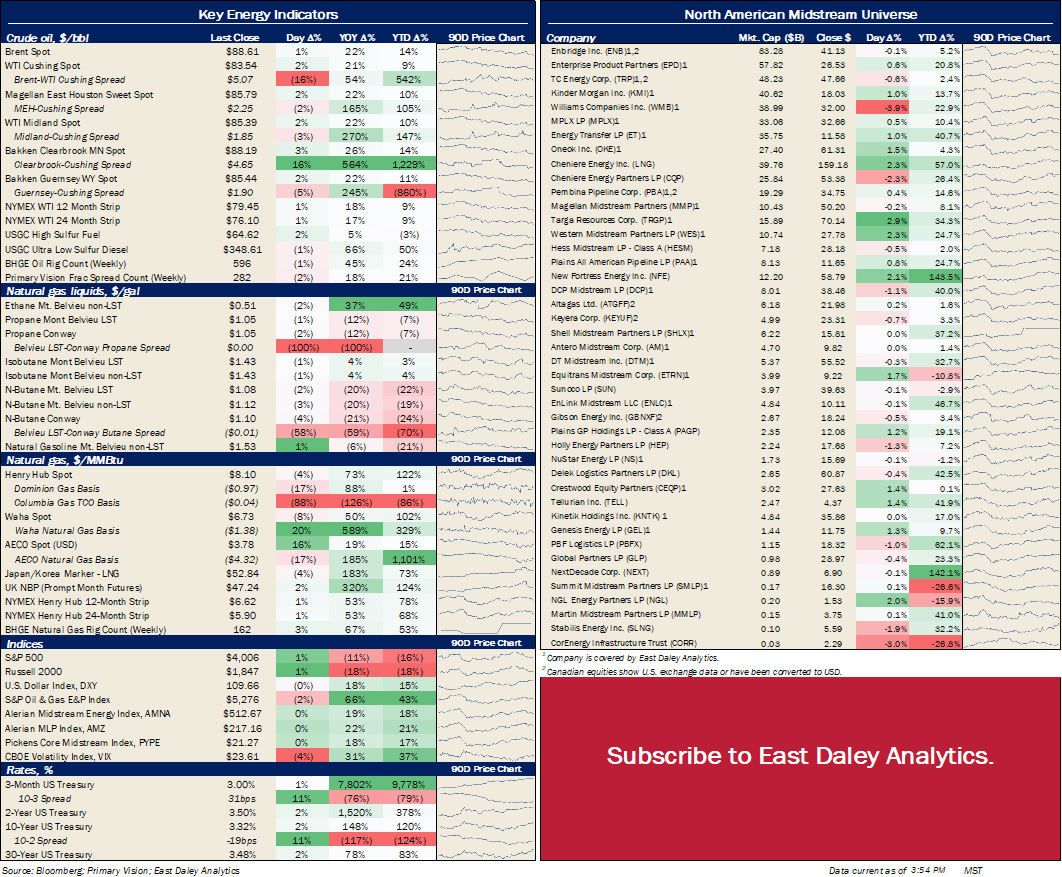 Key Private Debt Metrics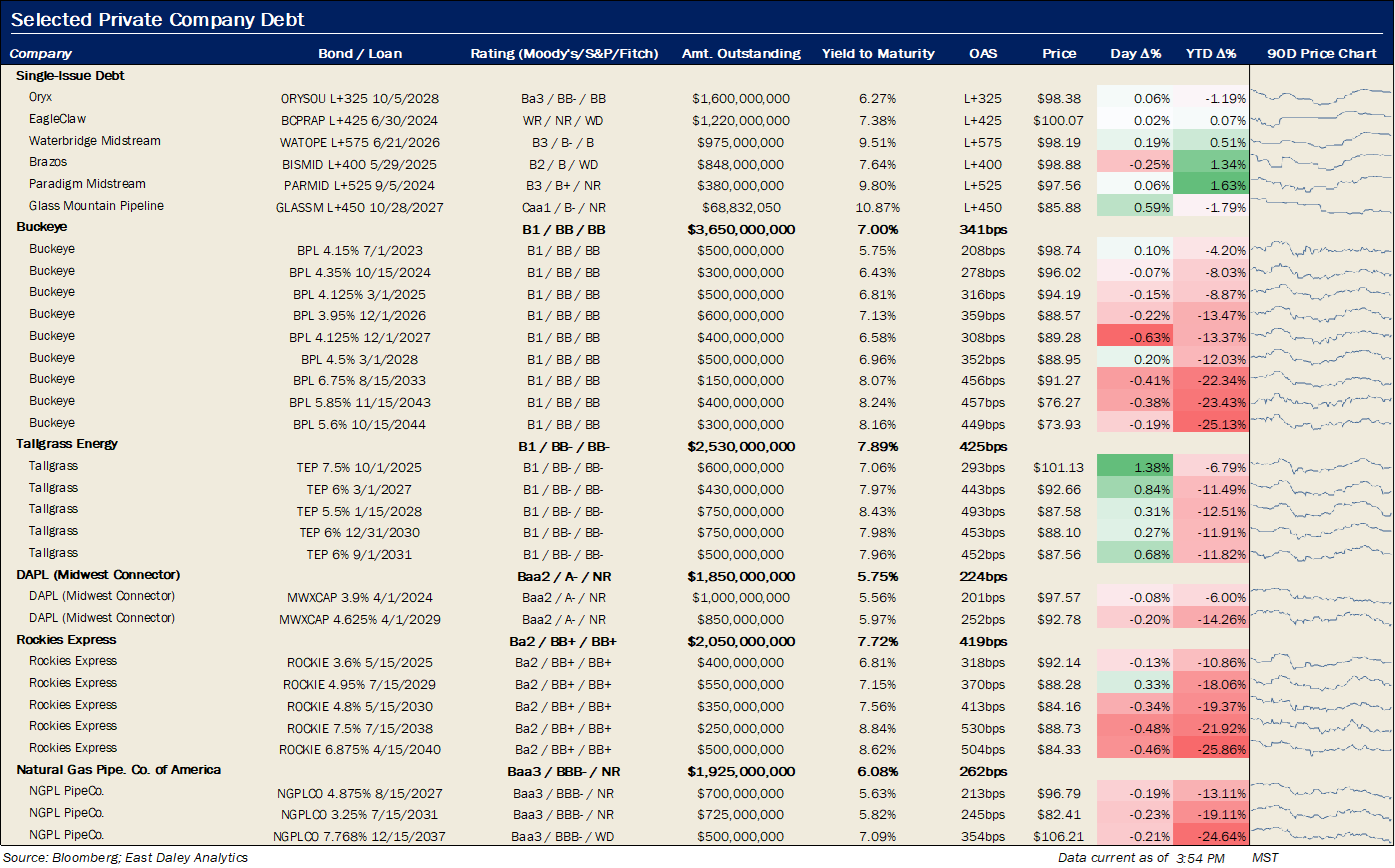 North American Natural Gas Prices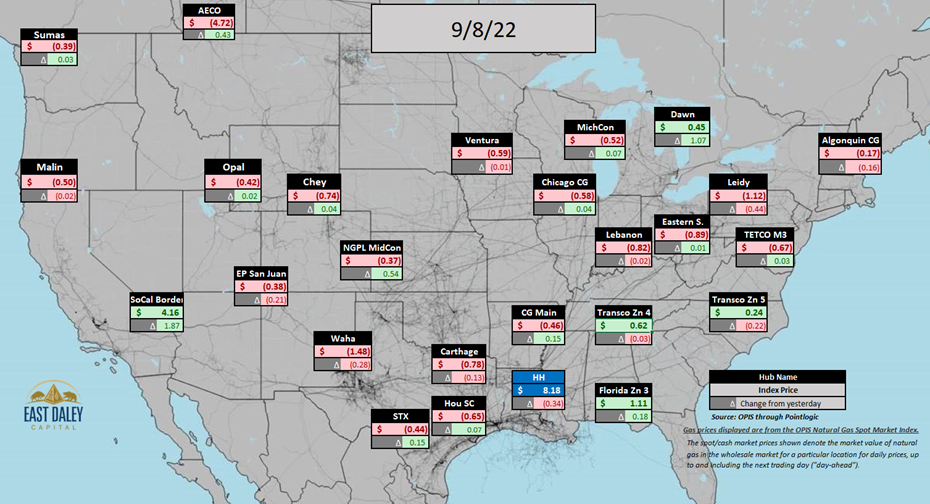 North American Crude Oil Prices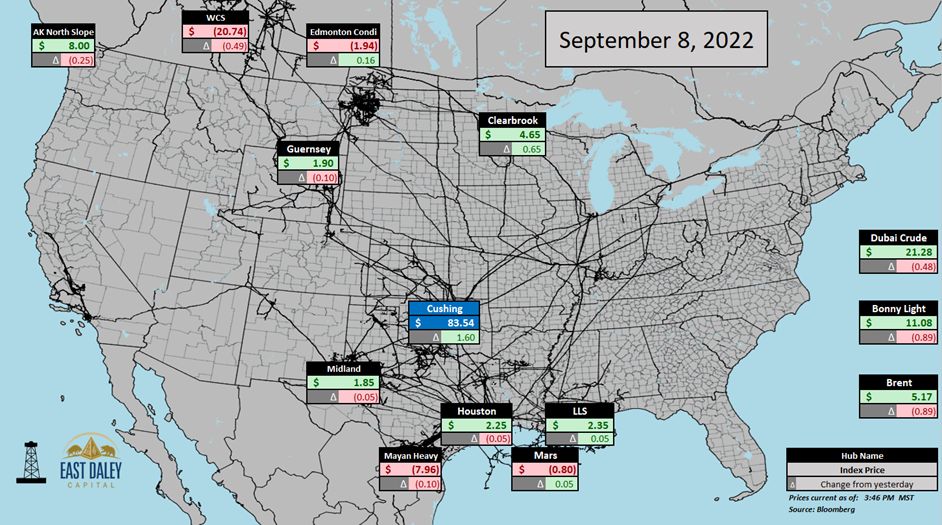 North American Natural Gas Liquids Prices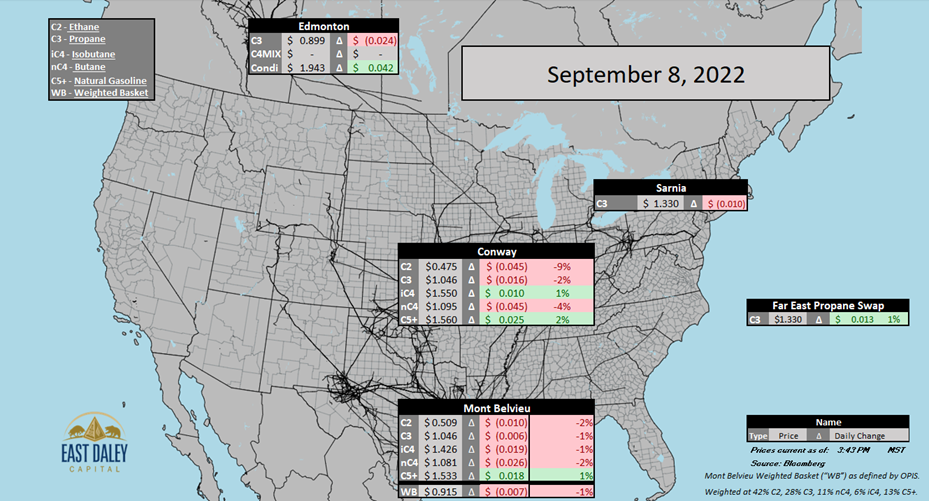 Subscribe to The Daley Note (TDN), "midstream insights delivered daily," covers news, commodity prices, security prices, and EDA research likely to affect markets in the short term.