Natural Gas Watch: September 9, 2022
The Natural Gas Watch highlights East Daley's high-level perspective on weekly natural gas market changes.
Permian samples remain elevated through the first week of September, continuing the trend we observed from August (see chart). Average August-September volumes are 6% higher vs the first seven months of 2022.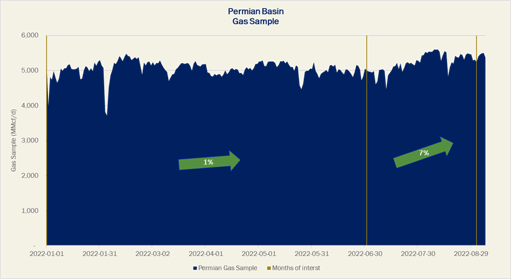 As noted in last week's Natural Gas Watch, gas volume growth is showing up on El Paso and NGPL samples. Waha-STX and Waha-SoCal basis differentials suggest spare Permian capacity is available on northern routes to Midcon and Midwest markets. Production growth usually flows north when east- and westbound pipelines are full.
Pioneer's Scott Sheffield recently said oil production is less than what people are expecting, according to media reports. Nevertheless, we have seen a broad increase in rig activity, with 93 rig adds since January across 6 basins (see table below). We model increased producer activity will create a glut of gas supply that we expect to fill storage above 5-year averages by early 2023. The largest rig gains have occurred in oil-targeted basins with more modest increases in gas basins.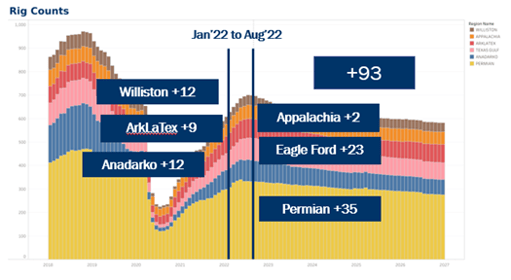 US storage is poised to fill more quickly if a standoff between Cheniere (LNG) and the EPA over turbine emissions leads to facility shutdowns. The EPA denied a request by Cheniere to exempt turbines at its Sabine Pass and Corpus Christi plants from a hazardous pollution rule. A shutdown would reduce up to 6.1 Bcf/d of demand, leading to lower prices sooner than anticipated.
Dry production for the 9/1 – 9/7 week averaged 98.3 Bcf/d. We estimate September production to average 99.2 Bcf/d in our Macro Supply and Demand Forecast.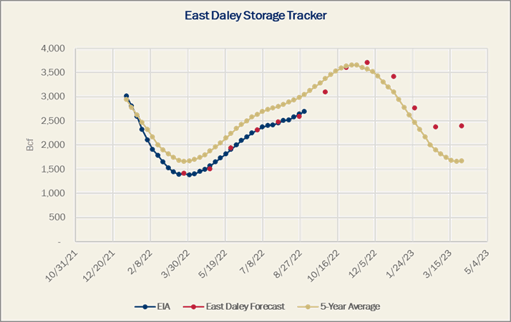 EIA reports weekly storage +54 Bcf same as the consensus estimates. Inventories for the week ended September 02 total 2,694 Bcf, down 349 Bcf vs the 5-year avg. Storage is tracking with our forecast; we estimate inventories will rise to 3,091 Bcf by end-September.
For a deeper dive into our September Macro Supply and Demand Forecast and basin-level reports including: Permian, Northeast, Rockies region, Bakken, and ArkLaTex contact Zack Van Everen or fill out the form to request a copy.
Subscribe to Natural Gas Watch, "cut through the noise, take action," highlights East Daley's high-level perspective on weekly natural gas market changes.