The Daley Note: March 14, 2023
Targa Resources (TRGP) reported 4Q22 earnings in line with East Daley Analytics. The company also guided to 2023 volume growth consistent with our Financial Blueprint forecast, though we are on the low side of 2023 EBITDA guidance. TRGP's results show how the company is built to maintain profitability amid choppy commodity markets.
Targa reported 4Q22 Adj. EBITDA of $840 million vs our TRGP Financial Blueprint forecast of $829 million and a Street estimate of $827 million. TRGP is guiding to a 10% increase in Permian inlet volume in 2023 from 4Q22 levels, matching our own forecast for the company's Permian assets.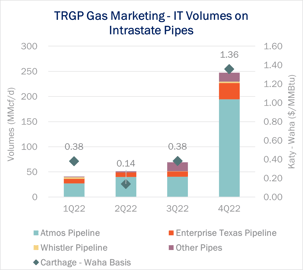 There were offsetting puts and takes on the quarter. Targa's 4Q22 G&P margin per Mcf dipped to $1.30 vs 3Q22 margin of $1.50/Mcf. Waha gas prices nosedived in 4Q22 from $6.42/MMBtu to $3.09, which explains much of the Q-o-Q decline in the midstream economics given TRGP's exposure to commodity-linked contracts. The plunge in Permian Basin gas prices also explains how a 645 MMcf/d increase in field throughput volumes resulted in lower overall segment margin.
What's interesting is the miss from Targa's G&P segment was more than offset by the beat from the Logistics & Marketing segment, due in part to volume growth on TRGP's downstream assets. Furthermore, Targa cited market optimization opportunities in NGL and natural gas marketing.
Based on data filed with the Federal Energy Regulatory Commission (FERC), it appears Targa Gas Marketing was able to capture some of the Waha-to-Carthage price differential in 4Q22 by moving more interruptible (IT) gas on pipelines like Atmos Pipeline (shown in the figure).
The FERC-filed data is not comprehensive, and Atmos did not disclose origin and destination points like most pipelines. Nonetheless, the data suggests Targa has been able to partly offset commodity price declines by capturing gas price arbitrage through its downstream marketing affiliate. - Rob Wilson, CFA Tickers: TRGP.
Energy Data Studio Now Available
East Daley has launched Energy Data Studio, a platform for our industry-leading midstream data and commodity production forecasts. Users can navigate detailed visual dashboards by region, pipeline, or individual asset to understand crude oil, natural gas and NGL supply at the most granular level.
Energy Data Studio leverages our G&P data set for insights into midstream assets across every major oil and gas basin in North America. The interactive dashboard allows users to easily navigate weekly, monthly and quarterly updates to individual producers, midstream assets, and midstream company financials. Energy Data Studio is available through data downloads from the visual interface, in Excel files, or as a direct feed delivered into subscribers' workflow via secure file transfer.
To learn more about East Daley's Energy Data Studio please contact insight@eastdaley.com.
Review the Year Ahead in Dirty Little Secrets
The 2023 Dirty Little Secrets is Now Available! Is Midstream on the cusp of another infrastructure wave? Find out in our new annual report.
Dirty Little Secrets reviews the outlook for Midstream and commodity markets in 2023 and the years ahead. East Daley discusses the outlook for crude oil, natural gas and NGLs and the impacts to midstream assets in our 2023 Dirty Little Secrets annual market report. Click here for a copy of the 2023 Dirty Little Secrets report.
The Daley Note
Subscribe to The Daley Note (TDN) for midstream insights delivered daily to your inbox. The Daley Note covers news, commodity prices, security prices and EDA research likely to affect markets in the short term.