The Daley Note: March 15, 2023
The restart of the Freeport LNG facility appears to be skewing pipeline samples out of the Haynesville shale and creating a distorted view of natural gas supply trends.
Market analysts who rely on pipeline scrapes may have noticed an inflection recently in the ArkLaTex Basin. While pipeline flows in East Texas and northern Louisiana were at an all-time high in February, receipts began to trail off at the end of the month and have remained much lower in early March. ArkLaTex pipeline samples declined by nearly 900 MMcf/d from Feb. 22 to March 6 (see figure).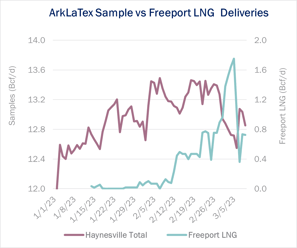 Most of the declines have occurred in samples from Energy Transfer's (ET) Tiger and Gulf Run pipelines. Several G&P systems have been delivering less gas, including ET's Enable Haynesville and Regency Intrastate Gas (RIGS), and Williams' (WMB) Louisiana/Haynesville system. The trend has sparked some speculation that Haynesville producers may have started to shut-in wells in response to lower gas prices.
Color us skeptical of the shut-in theory. East Daley believes declining samples instead are linked to start-up of Freeport LNG on the Texas Gulf Coast. With Freeport now cleared to resume commercial operations, pipeline deliveries have ramped recently. Volumes to Freeport jumped by ~1 Bcf/d from Feb. 27 to March 5, a period that coincides with the lower Haynesville samples.
The additional demand from Freeport LNG, located south of Houston, has caused Houston Ship Channel (HSC) prices to strengthen. HSC spot prices traded last week at a $0.14/MMBtu discount to the Henry Hub vs a $0.45-0.50 spread at the end of February. The Carthage hub has been trading $0.23 behind the Henry Hub, creating a healthy spread between East Texas and Houston natural gas prices.
East Daley believes more gas at Carthage is being redirected south on Texas intrastate pipelines to Freeport LNG rather than flowing east to Perryville in northeastern Louisiana. The shift of volumes from interstate to intrastate systems, which do not appear in daily pipe scrapes, creates the illusion of declining supply. We anticipate ArkLaTex gas production continues to run at a record pace, and will eventually require some pullback to balance the gas market this year. – Ryan Smith, Oren Pilant & Andrew Ware Tickers: ET, WMB.
Energy Data Studio Now Available
East Daley has launched Energy Data Studio, a platform for our industry-leading midstream data and commodity production forecasts. Users can navigate detailed visual dashboards by region, pipeline, or individual asset to understand crude oil, natural gas and NGL supply at the most granular level.
Energy Data Studio leverages our G&P data set for insights into midstream assets across every major oil and gas basin in North America. The interactive dashboard allows users to easily navigate weekly, monthly and quarterly updates to individual producers, midstream assets, and midstream company financials. Energy Data Studio is available through data downloads from the visual interface, in Excel files, or as a direct feed delivered into subscribers' workflow via secure file transfer.
To learn more about East Daley's Energy Data Studio please contact insight@eastdaley.com.
Review the Year Ahead in Dirty Little Secrets
The 2023 Dirty Little Secrets is Now Available! Is Midstream on the cusp of another infrastructure wave? Find out in our new annual report.
Dirty Little Secrets reviews the outlook for Midstream and commodity markets in 2023 and the years ahead. East Daley discusses the outlook for crude oil, natural gas and NGLs and the impacts to midstream assets in our 2023 Dirty Little Secrets annual market report. Click here for a copy of the 2023 Dirty Little Secrets report.
The Daley Note
Subscribe to The Daley Note (TDN) for midstream insights delivered daily to your inbox. The Daley Note covers news, commodity prices, security prices and EDA research likely to affect markets in the short term.