The Daley Note: March 16th, 2023
Midstream company Genesis Energy (GEL) is one of the most vexing to value due to its wide array of businesses. In addition to oil and gas pipelines, GEL operates a fleet of tugs, barges and tankers and runs a soda ash business.
East Daley Analytics covers the company's many businesses in our GEL Financial Blueprint model. Our Blueprints break down companies by assets, providing historical financials and expected future performance, but do not assess the market risk premium. Nevertheless, two recent transactions help shed light on the potential market value of these unusual GEL operations.
First, Turkey's Sisecam purchased 60% of Ciner Group's soda ash business in 4Q21. Now NGL Energy Partners is selling marine transportation assets to Magnolia Marine Transport and Campbell Transportation, providing another data point on these GEL business segments.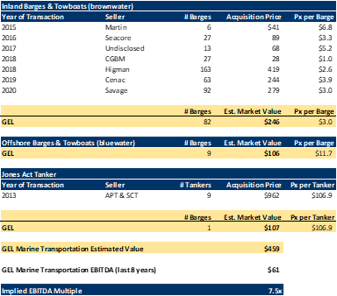 NGL Energy Partners (NGL) sold 13 towboats and 25 tank barges to Magnolia and Campbell for $112 million. We do not know how the counterparties split the assets. Like GEL, NGL uses its barges to transport crude oil and refined products along the Gulf Coast intercoastal waterways. The ratio of barges and tow boats is also similar. However, GEL owns a much larger fleet of 42 tow boats and 91 barges. Additionally, GEL owns internally heated barges designed to handle the heavier end of the barrel (asphalt and vacuum gasoil (VGOs)).
The lack of detail around this asset type makes it difficult to assess value. However, knowing historical transaction prices for inland and Jones Act tankers can help frame a reasonable estimate. Using historical transactions involving inland and offshore tow boats and barges, as well as for Jones Act tankers, the implied value could be ~$450 million (refer to the table of comparable historical transactions).
EBITDA from GEL's Marine Transportation segment has averaged $61 million over the past eight years, although the sector is cyclical based on refinery demand and a prior period of vessel overbuilds. A $450 million value would put GEL's Marine Transportation cost-to-EBITDA multiple at 7.5x. Admittedly, that value seems high since it would represent nearly one-third of GEL's total equity market value while generating less than 10% of the company's 2022 EBITDA. A similar multiple on NGL Energy's marine assets would have put annual EBITDA at about $15 million. – Rob Wilson, CFA Tickers: GEL, NGL.
Energy Data Studio Now Available
East Daley has launched Energy Data Studio, a platform for our industry-leading midstream data and commodity production forecasts. Users can navigate detailed visual dashboards by region, pipeline, or individual asset to understand crude oil, natural gas and NGL supply at the most granular level.
Energy Data Studio leverages our G&P data set for insights into midstream assets across every major oil and gas basin in North America. The interactive dashboard allows users to easily navigate weekly, monthly and quarterly updates to individual producers, midstream assets, and midstream company financials. Energy Data Studio is available through data downloads from the visual interface, in Excel files, or as a direct feed delivered into subscribers' workflow via secure file transfer.
To learn more about East Daley's Energy Data Studio please contact insight@eastdaley.com.
Review the Year Ahead in Dirty Little Secrets
The 2023 Dirty Little Secrets is Now Available! Is Midstream on the cusp of another infrastructure wave? Find out in our new annual report.
Dirty Little Secrets reviews the outlook for Midstream and commodity markets in 2023 and the years ahead. East Daley discusses the outlook for crude oil, natural gas and NGLs and the impacts to midstream assets in our 2023 Dirty Little Secrets annual market report. Click here for a copy of the 2023 Dirty Little Secrets report.
The Daley Note
Subscribe to The Daley Note (TDN) for midstream insights delivered daily to your inbox. The Daley Note covers news, commodity prices, security prices and EDA research likely to affect markets in the short term.