The Daley Note: November 01, 2022
Northeast natural gas storage inventories are at 5-year lows with only a few weeks left until the start of seasonal withdrawals. While we expect higher production in 4Q22, according to our Northeast Supply & Demand Forecast, low storage levels could lead to volatile regional markets in the 2022-23 heating season.
Northeast storage inventories totaled 825 Bcf for the week ending Oct. 21, according to the latest data from the Energy Information Administration (EIA), matching the lowest seasonal inventories over the past five years. A mild autumn since September has allowed for aggressive storage builds since September, averaging 30 Bcf/week vs the 5-year average of 24 Bcf/week over the same period. But winter eventually will arrive, and the Northeast could be on thin ice if the season is unusually cold.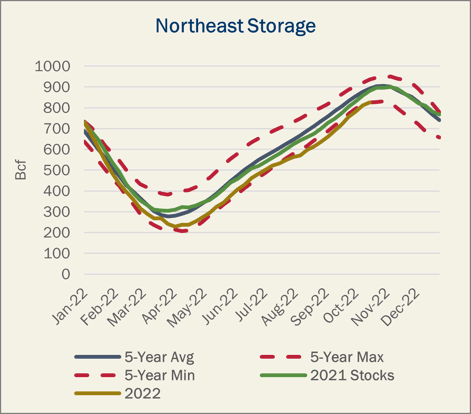 Regional storage asset owners include TC Energy (TRP), owner of Columbia Gas, and Berkshire Hathaway, which purchased Dominion Energy Transmission, Dominion Energy's (D) gas pipeline and storage subsidiary, in 2020. Most Northeast storage is located in depleted oil and gas reservoirs in the Appalachian Basin, remote to the large Northeast metropolitans that drive demand for heating and electricity. Even when regional storage is ample, downstream pipeline constraints can lead to price spikes in the market areas during cold blasts. But the stakes (and prices) are higher when regional storage is low.

Regional utilities have until around mid-November (weather permitting) to continue adding to storage. We forecast regional storage levels will climb within the 5-year range prior to the withdrawal season. If inventories fall short, markets will rebalance through higher prices; basis would improve in Northeast markets, incentivizing local production to stay local to meet elevated winter demand.
As a result, we may see more volatility in Northeast natural gas markets in response to weather events and cold spells this coming winter. Nationally, potential shortfalls would be balanced by growth from the Permian and Haynesville, according to our Macro US Supply & Demand Forecast. Our Northeast Supply & Demand Forecast, which forecasts Marcellus and Utica shale gas production, also predicts regional supply to ramp by ~920 MMcf/d in 4Q22, in line with the gains seen in recent winters. In addition to regional production, our Northeast Supply & Demand Forecast models rigs and supply by G&P system, as well as pipeline takeaway from the Appalachian region.
Given the good coverage in the Northeast pipeline sample, we will be watching for a ramp to begin by the first half of November, which would help boost regional supply to meet demand this winter. – Alex Gafford Tickers: D, TRP.

Join East Daley for a Spotlight Happy Hour
East Daley has published a complete group of 3Q22 Earnings Previews and Blueprint Financial Models for midstream companies within our coverage. Quarterly Earnings Previews and Blueprints are now available for Antero Midstream (AM), Crestwood Equity (CEQP), Enbridge (ENB), EnLink Midstream (ENLC), Enterprise Products (EPD), Energy Transfer (ET), Equitrans Midstream (ETRN), Kinder Morgan (KMI), Kinetik Holdings (KNTK), Magellan Midstream (MMP), MPLX (MPLX), ONEOK (OKE), Plains All American (PAA), Summit Midstream (SMLP), Targa Resources (TRGP), TC Pipelines (TRP), Western Midstream (WES) and Williams (WMB).
Our Earnings Previews include quarterly earnings forecasts compared to Street consensus, a detailed list of the top assets that will impact the quarter, analysis of near- and long-term risks to future earnings, along with forecasts for Adj. EBITDA by segments. Please log in to access these reports.
The Daley Note
Subscribe to The Daley Note (TDN) for midstream insights delivered daily to your inbox. The Daley Note covers news, commodity prices, security prices and EDA research likely to affect markets in the short term.