The Daley Note: May 23, 2023
Watch out, Enterprise (EPD), Energy Transfer (ET) and Kinder Morgan (KMI). The $18.8B acquisition of Magellan Midstream Partners (MMP) will place ONEOK (OKE) at the head table in Midstream.
The OKE-MMP merger, announced on Mother's Day (May 14), will create the second-largest US midstream company by market cap and the fifth-largest by enterprise value, behind only ET, EPD, KMI and Williams (WMB). The deal will be financed with 63% stock (0.667 OKE shares/MMP unit, or $8.8B total) and 37% cash ($25/unit for $5.1B total, debt-financed). OKE will assume $5.0B of MMP's existing net debt.
OKE shares dropped 8% last week as the market digested the combination, bringing the total value of the deal down to $18.1B and the premium to 16% compared to MMP's closing price last Friday (vs 22% before the fall in OKE share prices). MMP shares were up 13%.
Investors may be struggling to understand where OKE can find synergies from the asset combination. OKE management noted $200-400MM in synergies, only $100MM of which are from lower G&A, executives said. The remaining $100-300MM are from commercial synergies: bundling NGL and crude services, creating demand-pull dynamics around butane blending opportunities, and using MMP's expertise around exports.
Tulsa-based OKE is going wide with the Magellan acquisition, moving beyond its expertise in natural gas and NGLs into new sectors and services (crude oil, refined products, butane blending, exports). Indeed, the OKE-MMP merger is notable for the lack of overlap between the two companies' asset bases.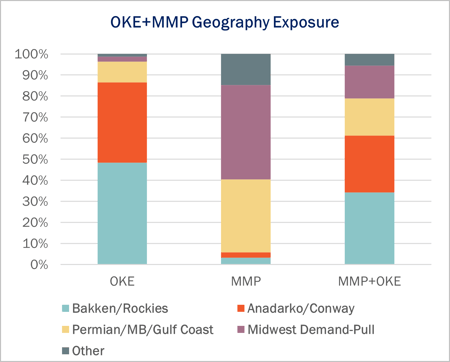 The OKE-MMP merger does add considerable geographic diversification. OKE's exposure in the Bakken and Anadarko will be reduced but still significant, down from 85% to 60%. However, OKE's Permian exposure doubles from 10% to 20% (see figure).
Using our OKE and MMP Financial Blueprints and commodity models, East Daley will explore the OKE-MMP combination in greater depth this week. Clients can use East Daley's Energy Data Studio to compare and contrast OKE's geographic and commodity exposure with that of its peers, as highlighted in a recent video by East Daley's Chief Commercial Officer. We also provided some initial thoughts with our friends at RBN.
One thing is for sure: the merger will create a fully integrated midstream solution resembling that of its larger peers, capable of providing a suite of midstream services from the wellhead all the way to export docks along the US Gulf Coast. –Ajay Bakshani, CFA Tickers: EPD, ET, KMI, MMP, OKE.
East Daley Analytics is Attending EIC
East Daley Analytics is excited to attend and host a fireside chat at the 20th Annual Energy Infrastructure Conference. Justin Carlson, East Daley Analytics CCO, will be hosting a Fireside Chat on Tuesday, May 23 from 3:40 - 4:15 pm discussing the Probability, the Pain, and the Potential for Energy Infrastructure in the U.S. Learn more.
Request Access to Energy Data Studio
East Daley Analytics has launched Energy Data Studio, a platform for our industry-leading midstream data and commodity production forecasts. All clients have access to the new client portal. If you have not yet logged in, please fill out the form to request a registration email be resent.
Energy Data Studio leverages our G&P data set for insights into midstream assets across every major oil and gas basin in North America. Users can navigate detailed visual dashboards by region, pipeline, or individual asset to understand crude oil, natural gas and NGL supply at the most granular level.
Energy Data Studio is available through data downloads from the visual interface, in Excel files, or as a direct feed delivered into subscribers' workflow via secure file transfer. To learn more about Energy Data Studio, please contact insight@eastdaley.com.
Review the Year Ahead in Dirty Little Secrets
The 2023 Dirty Little Secrets is Now Available! Is Midstream on the cusp of another infrastructure wave? Find out in our new annual report.
Dirty Little Secrets reviews the outlook for Midstream and commodity markets in 2023 and the years ahead. East Daley discusses the outlook for crude oil, natural gas and NGLs and the impacts to midstream assets in our 2023 Dirty Little Secrets annual market report. Click here for a copy of the 2023 Dirty Little Secrets report.
The Daley Note
Subscribe to The Daley Note (TDN) for midstream insights delivered daily to your inbox. The Daley Note covers news, commodity prices, security prices and EDA research likely to affect markets in the short term.