The Daley Note: May 24, 2023
ONEOK's (OKE) plan to buy Magellan Midstream Partners (MMP) has gone down like a lead balloon with investors. OKE shares fell 9% following the $18.8B announcement and traded about 7% lower as of Tuesday. Based on East Daley's discussions, investors are mostly in the dark about the potential commercial synergies from the midstream combination.
Indeed, the blockbuster OKE-MMP merger doesn't present obvious gains from the asset combination. Based on East Daley's OKE and MMP Financial Blueprints, we are struck by the lack of overlap between the two companies' asset bases. ONEOK's expertise is moving natural gas and NGLs, while Magellan's focus is crude oil and refined products.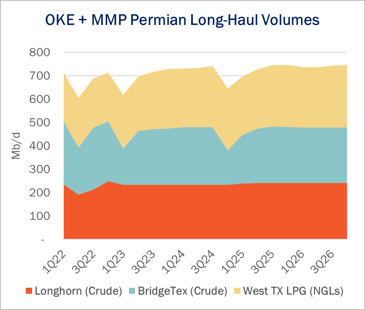 OKE made big claims for potential synergies but has provided little detail. Management guided to $100-300MM of revenue synergies from three main commercial buckets: the bundling of NGL and crude services, demand-pull dynamics for OKE's NGL production (via MMP's butane blending operations), and leveraging MMP's expertise in exports.
Fortunately, East Daley's Financial Blueprints and commodity forecasts are valuable tools for breaking down the OKE–MMP merger, allowing users to dive deeper. This week, we put the claim for synergies to the test. We start with NGL and crude bunding. Is there really earnings upside for OKE-MMP by merging the companies' crude and NGL assets?
Based on our asset Blueprints, we are skeptical of the potential for ONEOK from NGL and crude bundling. Outside the Permian Basin, OKE is already the dominant midstream company in the NGL business. Magellan does own the Saddlehorn crude pipeline out of the Denver-Julesburg Basin. But Saddlehorn already runs relatively full, according to our Crude Network Model, and so presents limited upside from bundling.
In the Permian Basin, competition for NGL pipeline takeaway is fierce from firms with strong G&P systems, including DCP Midstream (DCP), Enterprise Products (EPD), Energy Transfer (ET) and Targa Resources (TRGP). In our NGL Network Model, we do expect OKE's West Texas LPG volumes to grow slightly from overall Permian growth and as competing NGL pipelines (Grand Prix, Shin Oak) hit constraints until expansions come online (see figure). However, this growth would happen with or without MMP's crude assets.
Given the intense competition in the Permian and limited upside in other basins, we struggle to find an additional 100 Mb/d of volume growth across the asset base that, according to management, could add $75MM EBITDA.
Similarly on the crude side, there may be incremental volumes and rate improvement due to overall Permian Basin growth. However, Longhorn Pipeline already runs relatively full, according to our Crude Network Model, and we do not expect shipping rates to increase enough to return earnings to 2019 levels. In our asset Blueprints, East Daley estimates MMP's earnings from Longhorn collapsed from $172MM in 2019 to $73MM in 2022, with little growth expected through 2027.
BridgeTex Pipeline (MMP owns 30%) has more free space than Longhorn, but also has significant rate risk due to an anchor shipper potentially not recontracting in 3Q24. We forecast MMP's share of net income will fall from $64MM in 2022 to $19MM in 2025. We expect volumes to remain stable and even grow slightly, but it would take a lot of bundling to offset that rate risk, especially in an overbuilt egress environment. – Ajay Bakshani, CFA Tickers: DCP, EPD, ET, KMI, MMP, OKE, TRGP.
East Daley Analytics Presents at EIC
East Daley Analytics hosted a fireside chat at the 20th Annual Energy Infrastructure Conference. Justin Carlson, East Daley Analytics CCO, discussed the Probability, the Pain, and the Potential for Energy Infrastructure in the US. Learn more.
Request Access to Energy Data Studio
East Daley Analytics has launched Energy Data Studio, a platform for our industry-leading midstream data and commodity production forecasts. All clients have access to the new client portal. If you have not yet logged in, please fill out the form to request a registration email be resent.
Energy Data Studio leverages our G&P data set for insights into midstream assets across every major oil and gas basin in North America. Users can navigate detailed visual dashboards by region, pipeline, or individual asset to understand crude oil, natural gas and NGL supply at the most granular level.
Energy Data Studio is available through data downloads from the visual interface, in Excel files, or as a direct feed delivered into subscribers' workflow via secure file transfer. To learn more about Energy Data Studio, please contact insight@eastdaley.com.
Review the Year Ahead in Dirty Little Secrets
The 2023 Dirty Little Secrets is Now Available! Is Midstream on the cusp of another infrastructure wave? Find out in our new annual report.
Dirty Little Secrets reviews the outlook for Midstream and commodity markets in 2023 and the years ahead. East Daley discusses the outlook for crude oil, natural gas and NGLs and the impacts to midstream assets in our 2023 Dirty Little Secrets annual market report. Click here for a copy of the 2023 Dirty Little Secrets report.
The Daley Note
Subscribe to The Daley Note (TDN) for midstream insights delivered daily to your inbox. The Daley Note covers news, commodity prices, security prices and EDA research likely to affect markets in the short term.