The Daley Note: May 25, 2023
Investors are struggling to grasp the strategic logic of ONEOK's (OKE) acquisition of Magellan Midstream Partners (MMP). The skepticism is reflected in the 8% decline in OKE's share price since the companies announced the $18.8B cash-and-stock deal.
The caution is understandable given there is little to no overlap between the companies' assets and services. Yet if investors could look further under the hood, we expect ONEOK to find some compelling synergies once it integrates the Magellan assets.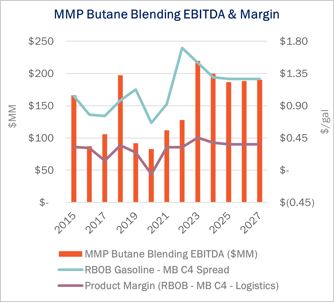 Using our OKE/MMP Financial Blueprints and commodity forecasts, East Daley Analytics breaks down the OKE–MMP merger this week to test the companies' claim for up to $300MM in operational synergies. We earlier swiped left on the upside potential from NGL and crude bundling. On a more positive note, our review finds a lot to like in a more under-the-radar business: butane blending.
Magellan is a midstream leader in mixing butane into gasoline. With its high octane content, butane is valued by refiners as an additive to make various grades of gasoline. East Daley estimates 8% (~$108MM) of MMP's 2022 EBITDA came from butane blending, according to the company Blueprint, with earnings growth expected in the years ahead (see figure).
While MMP brings demand, ONEOK is a top supplier and transporter of NGLs, including butane. Margins for the business will improve if OKE can generate savings from supplying, transporting, fractionating and blending its own butane. We estimate a $0.05/gal improvement in the product margin can generate an additional $25MM in EBITDA for the blending business.
On top of margin gains, there is volume upside if OKE can use its own supply of butane and NGL storage to expand MMP's blending activities. In the OKE Blueprint, we estimate the company's equity barrels of butane average 3 Mb/d. If OKE is not blending any butane currently and there is no overlap already with MMP's existing butane supply, we forecast OKE could earn an additional $10-15MM per year in EBITDA as a supplier.
In the search for synergies, East Daley anticipates butane blending will be an easy lift for the OKE-MMP combo. – Ajay Bakshani, CFA Tickers: MMP, OKE.
East Daley Analytics Presents at EIC
East Daley Analytics hosted a fireside chat at the 20th Annual Energy Infrastructure Conference. Justin Carlson, East Daley Analytics CCO, discussed the Probability, the Pain, and the Potential for Energy Infrastructure in the US. Learn more.
Request Access to Energy Data Studio
East Daley Analytics has launched Energy Data Studio, a platform for our industry-leading midstream data and commodity production forecasts. All clients have access to the new client portal. If you have not yet logged in, please fill out the form to request a registration email be resent.
Energy Data Studio leverages our G&P data set for insights into midstream assets across every major oil and gas basin in North America. Users can navigate detailed visual dashboards by region, pipeline, or individual asset to understand crude oil, natural gas and NGL supply at the most granular level.
Energy Data Studio is available through data downloads from the visual interface, in Excel files, or as a direct feed delivered into subscribers' workflow via secure file transfer. To learn more about Energy Data Studio, please contact insight@eastdaley.com.
Review the Year Ahead in Dirty Little Secrets
The 2023 Dirty Little Secrets is Now Available! Is Midstream on the cusp of another infrastructure wave? Find out in our new annual report.
Dirty Little Secrets reviews the outlook for Midstream and commodity markets in 2023 and the years ahead. East Daley discusses the outlook for crude oil, natural gas and NGLs and the impacts to midstream assets in our 2023 Dirty Little Secrets annual market report. Click here for a copy of the 2023 Dirty Little Secrets report.
The Daley Note
Subscribe to The Daley Note (TDN) for midstream insights delivered daily to your inbox. The Daley Note covers news, commodity prices, security prices and EDA research likely to affect markets in the short term.