The Daley Note: May 26, 2023
What might the market be missing in the ONEOK (OKE) and Magellan Midstream (MMP) combination? The $18.8B cash-and-stock deal has seen a tepid response from investors so far. Based on East Daley Analytics' review, the unappreciated value could come from exports.
OKE management is guiding to $100-300MM in revenue synergies once the two companies merge. Using our OKE/MMP Financial Blueprints and commodity forecasts, East Daley is putting those claims to the test. While we're skeptical of upside potential from NGL and crude bundling, we expect OKE has plenty of room to boost margins and sales in MMP's butane blending business.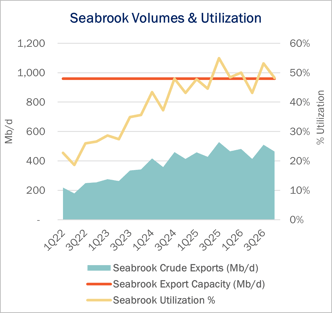 Our final analysis of the looks at the upside potential from exports. In our view, exports is the most exciting commercial opportunity from the OKE-MMP combination. MMP brings exports expertise to the table, and owns or has an interest in three facilities along the Houston Ship Channel that can handle a variety of liquids products. One of those facilities, Seabrook Logistics (50% MMP stake), can export 960 Mb/d of crude but was only 27% utilized in 4Q22, according to East Daley's Crude Network Model (see figure).
If OKE and its partner, LBC Terminals, can repurpose 50% of Seabrook's unused capacity for LPG exports, the company's Gulf Coast LPG export capacity would rival that of Targa Resources' (TRGP) Galena Park facility (460 Mb/d vs 444 Mb/d at TRGP - Galena Park). At 75% utilization, we estimate Seabrook could generate ~$200MM gross EBITDA annually, or $100MM net to OKE/MMP.
MMP also wholly owns its own Galena Park terminal, though East Daley believes it primarily supports MMP's refined products storage and blending business. Galena Park could also be an interesting LPG export conversion project, as OKE would have a one-stop shop for butane blending and LPG exports while retaining more of the upside. - Ajay Bakshani, CFA Tickers: MMP, OKE, TRGP.
Request Access to Energy Data Studio
East Daley Analytics has launched Energy Data Studio, a platform for our industry-leading midstream data and commodity production forecasts. All clients have access to the new client portal. If you have not yet logged in, please fill out the form to request a registration email be resent.
Energy Data Studio leverages our G&P data set for insights into midstream assets across every major oil and gas basin in North America. Users can navigate detailed visual dashboards by region, pipeline, or individual asset to understand crude oil, natural gas and NGL supply at the most granular level.
Energy Data Studio is available through data downloads from the visual interface, in Excel files, or as a direct feed delivered into subscribers' workflow via secure file transfer. To learn more about Energy Data Studio, please contact insight@eastdaley.com.
Review the Year Ahead in Dirty Little Secrets
The 2023 Dirty Little Secrets is Now Available! Is Midstream on the cusp of another infrastructure wave? Find out in our new annual report.
Dirty Little Secrets reviews the outlook for Midstream and commodity markets in 2023 and the years ahead. East Daley discusses the outlook for crude oil, natural gas and NGLs and the impacts to midstream assets in our 2023 Dirty Little Secrets annual market report. Click here for a copy of the 2023 Dirty Little Secrets report.
The Daley Note
Subscribe to The Daley Note (TDN) for midstream insights delivered daily to your inbox. The Daley Note covers news, commodity prices, security prices and EDA research likely to affect markets in the short term.