The Daley Note: April 18, 2023
Ovintiv (OVV) is pulling out of the Bakken while staking a larger claim in the Permian Basin. The producer's acquisition of three EnCap-backed producers could shift development on several Midland G&P systems as combined rig counts shrink.
OVV announced on April 3 a deal to acquire Black Swan Oil and Gas, PetroLegacy Energy, and Piedra Resources from EnCap Investments for $4.275 billion in cash and stock. As part of the deal, OVV is also selling its Bakken operations to Grayson Mill Bakken, LLC. The companies are targeting a close effective June 2023.
The oil-focused acquisition will give Ovintiv a larger Midland presence, adding 65,000 net acres and 1,050 new well locations in West Texas. The purchase will double OVV's Permian crude oil and condensate production to 125 Mb/d in 2023, the company said.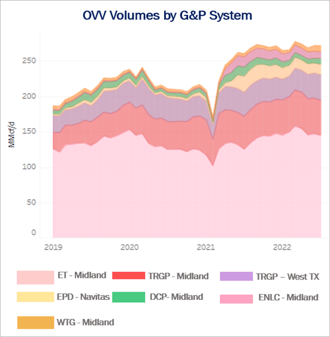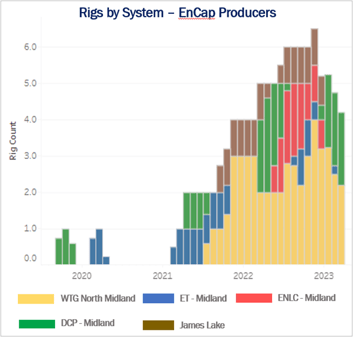 Together, OVV and the three EnCap-backed producers operate 10 of the 153 rigs currently active in the Midland sub-basin. However, OVV guided to reducing the rig count on the acquired acreage from 7 rigs to 2 as the producer normalizes its drilling schedule. Overall, OVV guided to a 5-rig program for its merged Permian operations.
The "Producer-to-System Analysis" screen in Energy Data Studio enables users to identify the midstream systems that could see rigs and volumes shift once the merger closes. East Daley currently allocates 7 rigs from the acquired companies in Martin County, TX while OVV has 1 rig in Howard County and 1 rig in Martin County (a third OVV rig is in an undetermined county).
OVV primarily produces on Midland G&P systems operated by Energy Transfer (ET), Targa Resources (TRGP) and EnLink Midstream (ENLC), as well as the Navitas system acquired by Enterprise Products (EPD). East Daley allocates ~270 MMcf/d of OVV gas production to these systems as of July 2022, with more than half of those volumes (146 MMcf/d) gathered by the ET - Midland system (see figure).
In the Energy Data Studio screen, we account for 4-6 rigs recently from Black Swan Oil and Gas, PetroLegacy Energy, and Piedra Resources. The three E&PS ran a total of 6 rigs in July-October 2022, and up to 7 rigs in November 2022. Activity appears to have declined in recent months along with lower oil prices; however, given that OVV cited 7 total rigs, we may be missing some recent activity in the allocations.
According to the Producer-to-System Analysis in Energy Data Studio, the private West Texas Gas – North Midland system sees the most drilling from the three EnCap producers. We've allocated a steady 2-3 rigs to WTG – North Midland since 4Q21. DCP Midstream's (DCP) Midland system has seen 2 rigs in 2023 from the EnCap companies. The James Lake system (acquired by DCP) and ENLC – Midland system also saw some rigs turning in 2022 (see figure).
The EnCap producers account for more modest gathered gas volumes of ~10 MMcf/d in Energy Data Studio, consistent with the liquids-heavy stream from the acquired leasehold.
Midland Basin rig counts are down by 4 since 3Q22, not including the 5 rigs to be released soon by OVV. It remains to be seen which midstream systems will bear these cuts, but the OVV guidance is consistent with our forecast for Midland rigs to decline in 2H23. - Kristine Oleszek Tickers: DCP, ENLC, EPD, ET, TRGP.
Request Access to Energy Data Studio
East Daley Analytics has launched Energy Data Studio, a platform for our industry-leading midstream data and commodity production forecasts. All clients have been given access to the new client portal. If you have not yet logged in, please fill out the form to request a registration email be resent.
Energy Data Studio leverages our G&P data set for insights into midstream assets across every major oil and gas basin in North America. Users can navigate detailed visual dashboards by region, pipeline, or individual asset to understand crude oil, natural gas and NGL supply at the most granular level.
Energy Data Studio is available through data downloads from the visual interface, in Excel files, or as a direct feed delivered into subscribers' workflow via secure file transfer. To learn more about Energy Data Studio, please contact insight@eastdaley.com.
Review the Year Ahead in Dirty Little Secrets
The 2023 Dirty Little Secrets is Now Available! Is Midstream on the cusp of another infrastructure wave? Find out in our new annual report.
Dirty Little Secrets reviews the outlook for Midstream and commodity markets in 2023 and the years ahead. East Daley discusses the outlook for crude oil, natural gas and NGLs and the impacts to midstream assets in our 2023 Dirty Little Secrets annual market report. Click here for a copy of the 2023 Dirty Little Secrets report.
The Daley Note
Subscribe to The Daley Note (TDN) for midstream insights delivered daily to your inbox. The Daley Note covers news, commodity prices, security prices and EDA research likely to affect markets in the short term.