The Daley Note: August 2, 2023
Energy Transfer (ET) announced last quarter that it is expanding its NGL export capacity at its Nederland terminal, positioning itself to take advantage of the growing international demand for US NGLs. Management stated the expansion will add up to 250 Mb/d of capacity and be in-service mid-2025, and the announcement came on the heels of a record quarter for ethane and LPG exports at the terminal.

Using East Daley's Blueprint Financial Models, we can estimate asset-level EBITDA at the export facility as well as connected infrastructure that will also be a benefit. Inclusive of the Mariner South pipelines that link https://www.eastdaley.com/energy-transfer-financialsET's Mont Belvieu facilities with Nederland, we estimate the expansion will add $140MM~$150MM of annual EBITDA at 90% utilization. The access to exports could also boost demand for capacity on ET's other NGL pipelines and fractionators, as well as expand the Company's marketing capabilities, which could lower that multiple.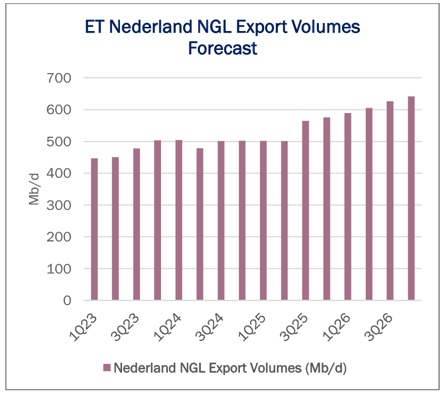 The expansion is unsurprising given recent EIA data: propane & propylene exports are 22% higher YTD vs. the same period last year, and 15% higher average FY22 levels. Exports hit a record high 1,895 Mb/d the week of 6/23/2023. With domestic demand growth slowing and higher production from the Permian and increasing GORs, we expect more gallons will need to hit the water. We forecast an additional 286 Mb/d of NGL production between YE23 through YE25. Post-2025, we expect higher gas prices to increase activity in the Anadarko and Eagle Ford, further boosting production. However, there is only one ethane cracker and PDH facility currently under construction in the gulf coast.

ET is not the only one increasing its Gulf Coast NGL export capabilities—competitors Targa (TRGP) and Enterprise (EPD) also have expansions underway. TRGP is adding ~33 Mb/d of propane export capacity to its Galena Park terminal mid-2023, and EPD is adding 120 Mb/d of LPG export capacity at its Enterprise Hydrocarbons Terminal (EHT) in 1H25. The competition is heating up, but at least it's over a rapidly growing pie. - Ajay Bakshani, CFA Tickers: EPD, ET, TRGP


Upcoming Webinar:

Organically Grown: The Shifting Landscape For Growth in the Midstream Sector
August 16, 2023 | 10 AM MT | Online Webinar
Understanding how the commodity markets are influencing the business risk of the assets midstream companies own is a core component of the East Daley process and key to understanding how the market will evolve. This webinar will focus on reviewing the Base Business Risk Indicator (formerly the Treadmill) a key East Daley analysis that ties fundamental commodity analysis to the commercial outcomes of assets across the gas, oil, and NGL sectors. We will review where commodity markets are headed and which assets are capturing value, which are losing value, and pontificate on what could change. RSVP HERE
Energy Data Studio
East Daley Analytics has launched Energy Data Studio, a platform for our industry-leading midstream data and commodity production forecasts. All clients have access to the new client portal. If you have not yet logged in, please fill out the form to request a registration email be resent.
Energy Data Studio leverages our G&P data set for insights into midstream assets across every major oil and gas basin in North America. Users can navigate detailed visual dashboards by region, pipeline, or individual asset to understand crude oil, natural gas and NGL supply at the most granular level.
Energy Data Studio is available through data downloads from the visual interface, in Excel files, or as a direct feed delivered into subscribers' workflow via secure file transfer. To learn more about Energy Data Studio, please contact insight@eastdaley.com.
Review the Year Ahead in Dirty Little Secrets
The 2023 Dirty Little Secrets is Now Available! Is Midstream on the cusp of another infrastructure wave? Find out in our new annual report.
Dirty Little Secrets reviews the outlook for Midstream and commodity markets in 2023 and the years ahead. East Daley discusses the outlook for crude oil, natural gas and NGLs and the impacts to midstream assets in our 2023 Dirty Little Secrets annual market report. Click here for a copy of the 2023 Dirty Little Secrets report.
The Daley Note
Subscribe to The Daley Note (TDN) for midstream insights delivered daily to your inbox. The Daley Note covers news, commodity prices, security prices and EDA research likely to affect markets in the short term.
Include all images below here, right align them and link to the hubspot image file - screenshotting charts works better than saving as image.